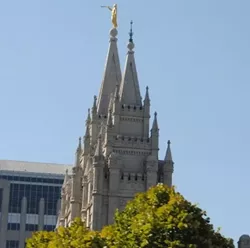 Sadly, I've been in Salt Lake City for about 15 months now and I still feel like I don't know squat about this town. However, this is entirely my fault -- after I graduated college, I made a solemn vow to never learn anything new again. I mean, hell, our brains can only fit in so much. I know I'm not the only one who feels this way...---
I also avoid walking up hills, so geographically, South Temple might as well be an impenetrable ice wall. But I work for a newspaper, so therefore I must be learned in things local. I figured the only way to remedy my ignorance as quickly as possible (without reading or using my legs) was to take a ride on that big-ass red tour bus -- you know, that thing you always honk/yell at: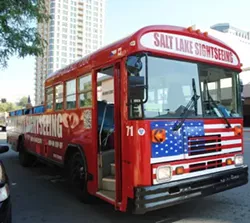 Welp, it's called the US Bus Utah, and just about everyday for a $31 adult pass you can hop on for a two-hour pre-recorded tour of Salt Lake City and learn about all the wonders that the Beehive State's capital city has to offer. The tour consists of over 19 stops and attractions, but we don't have time for all that. How about a highlight montage with some appropriate music?
The big red bus departs from The Salt Palace Visitor Center, across the street from the downtown Marriott. The dapper sir in the middle is Jerry, owner of US Bus Utah, and the gentleman on the right is George, our courteous driver:
We kicked off the tour by cruising through downtown, making our way up to the historic Beehive House. There's an ominous recording (that you're forced to listen to) and it plays throughout the tour. But when we stopped at Temple Square, the voice was muted and two Mormon missionaries got on the bus holding a PA. I had no clue what was happening and I started to panic. However, one was from Germany and the other was from the Philippines, so luckily, because of their accents, I couldn't understand anything they where saying.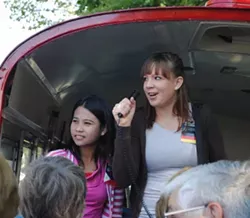 When we drove past the Pioneer Memorial Museum, the missionaries took a break and the pre-recorded tour mentioned that this spot is the home of "a bible that can crush you and a two-headed lamb." I wasn't sure if it meant a metaphorical crushing bible or a bible big enough to murder. Either way, I'm most definitely coming back for the freak show.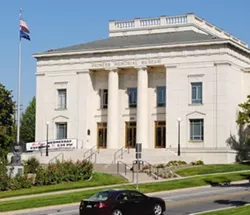 Next, we cruised around Capitol Hill; this is when Gov. Herbert jumped on the recording for some reason and started spittin' knowledge about the Capitol. I kinda spaced out here because all I could think about was this time I met Gary last December at his Christmas party. Long story short, he told my girlfriend and I to go upstairs and eat some "chocolate yum yums." That actually happened.
On our right was City Creek Canyon. The voice informed us this particular park is filled with coyotes and tarantulas. Thanks, now I'm never ever going down there. Speaking of places you shouldn't go, the Great Salt Lake was barely visible from Capitol Hill (because of the smokey air) and the voice went on to say how the water smells like poo, it's salty as hell and there are posses of shrimp that will eat your skin. Basically, don't go there either. I don't understand why we don't just kill this lake with fire.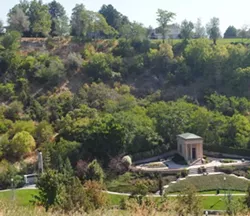 We then circled back down to Temple Square. The missionaries got off and we drove under the famous Eagle Gate Monument. Apparently, the eagle has no historical significance, it's just there because it looks badass. But if you look closely, it's standing on top of a beehive, which is an LDS metaphor for diligence, hard work, loyalty and swarms of annoying bugs with stingers. I fail to see the LDS connection.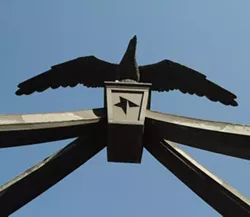 Going east on South Temple, we drove past the Cathedral of The Madeleine. I couldn't help but laugh when the voice mentioned that behind the holy cathedral was the Avenues, a neighborhood occupied by Salt Lake City's artsy youngsters and where most of the city's Democrats live. A few elderly chaps turned and snapped some pictures.
Next, we passed through the University of Utah campus and headed to Rice Eccles Stadium. At this point in the story, I should mention that every 10 minutes or so the tour was interrupted by a woman's voice saying, "Buuuzz from the beehive!" where trivial facts about Utah are stated. One of them was, "Things you should know about Mormons: They don't sprout horns, they drink beer and only some are polygamous." Even if I were Mormon, I would be pissed at this, but try and guess which statements are true and which ones are false.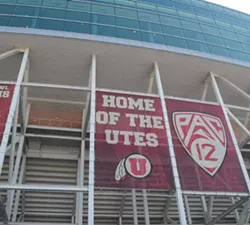 We then whizzed up to Hogle Zoo and all the spots north of Foothill Drive: Fort Douglas, This Must Be The Place park and a few other must-sees. After a brief stop at the Natural History Museum, the bus circled back down to Trolley Square, where we were given a lengthy spiel about how great Whole Foods is. Obviously, this made me scratch my head. It's a goddamned grocery store. It's like when you visit your cousin who lives in the middle of nowhere and he proudly shows you the town's McDonald's. Anyway, the downtown Harmons also got a shameless plug.
The concept of the bus is that it's a "hop on, hop off tour," meaning you can get off at any spot and get picked up later. However, no one got off during the tour until we reached our second-to-last stop, City Creek. At least 80 percent saw the Cheesecake Factory and decided they had had enough.
When we finally arrived back at the Salt Palace, I felt like I had just sat through a two-hour infomercial. Except, there wasn't any information. I understand that I learned as much as I possibly could from a talking bus, but it was all fluff and no facts. For example, when we passed the Union Pacific Depot, the voice mentioned that it used to be a train station and now it has cool shops nearby. Come on! Maybe I'm being too harsh, but if you're looking for stuff to do with your family and you haven't already read the hotel brochures, then this is your tour. Otherwise, this tour is in desperate need of a live tour guide (who isn't a missionary). It would make all the difference. Hell, I'll do it. I can talk for days and I love Whole Foods.