When I was in graduate school and living on a student's budget in New York City, one of my favorite (that is, cheap) places to eat was Manganero's Hero Boy. Their hero sandwiches are legendary. But, what I liked best was their pasta. ---
For the longest time, I tried to replicate Manganero's tomato sauce for pasta at home, with only sad results. Finally, on a trip back to NYC to visit a few years ago, I cornered one of the owners and discovered that the sauces I was making were too complicated. Theirs was very simple.
So, the sauce here is my take on Manganero's. It's a great all-purpose pasta sauce. If you like your baked ziti more "saucy," just double the sauce recipe and you'll have plenty left over to ladle on the baked pasta.
Ingredients:
2 Tbs. olive oil
2-3 cloves garlic, peeled and lightly mashed
1 28 oz. can good-quality peeled Italian tomatoes (You can also use crushed tomatoes or tomato puree.)
1 8 oz. can tomato sauce
1/2 tsp. red-chili flakes
a few fresh basil leaves
freshly ground black pepper
1/2 tsp. sugar
1 lb. dried pasta: ziti, rigatoni or penne (I used rigatoni here.)
8 oz. fresh mozzarella balls -- half cut into small cubes, and half thinly sliced
1 cup freshly grated Parmigiano-Reggiano cheese
Method
Preheat the oven to 400 degrees F.
Heat the olive oil in a medium sauce pan over medium-high heat. Add the garlic cloves and saute until lightly browned, about 5-7 minutes.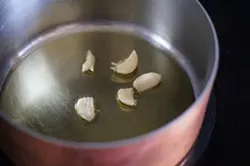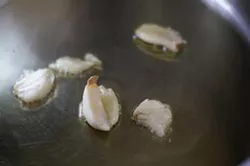 Remove and discard the cooked garlic. I learned this important tip about garlic from Vanina Pirollo, owner of Cucina Vanina: She taught me that you want to infuse the olive oil for the sauce (or sugo) with the garlic, but not have bitter garlic in the sauce. So, she cooks the garlic briefly and then removes it.
Remove the sauce pan from the heat and let it cool a few minutes. Then, add the peeled tomatoes, tomato sauce, fresh basil, chili flakes and a few grinds of black pepper. If you add the tomatoes to the hot pan it can splatter and burn you, not to mention make a mess. That's why I allow the olive oil to cool before adding the sauce ingredients.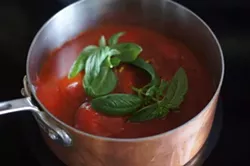 Use a spoon, spatula, or potato masher to break up the peeled tomatoes.
Bring the sauce to a boil, then turn down the heat and allow the sauce to simmer for 1/2 hour. Just before using the sauce, remove and discard the basil leafs and stir in the 1/2 tsp. sugar.
Chop half of the mozzarella balls into small cubes and slice the rest, thinly.
While the sauce is simmering, cook the pasta according to package directions in a large pot of boiling water, just to al dente.
Drain the cooked pasta and transfer to an oiled baking dish or casserole. Pour in the sauce, along with the cubed mozzarella and 1/2 cup of Parmigiano-Reggiano. Stir to mix well.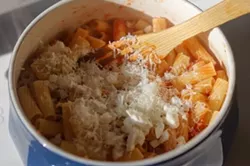 Top the pasta with the sliced mozzarella and the remaining 1/2 cup Parmigiano-Reggiano.
Bake in the oven for 1/2 hour, until the cheese is bubbly.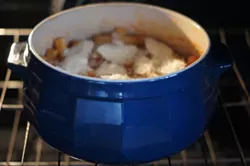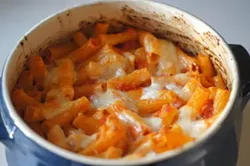 Serve with a fresh green salad. Mangia!