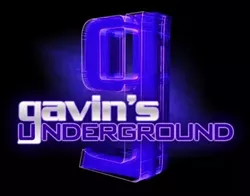 The performing-arts season is kicking off over the next few weeks, and the first ones out of the gate are the local dance companies who are looking to dazzle and shock you during the '12-'13 season. --- The first big performance comes to us from the Ririe-Woodbury Dance Company, who have put together an interesting set of shows beginning with Four, which starts tonight at the Rose Wagner. The show will include several performances such as "50 Years," "Lines to Read Between," "Grid" and "Turf" featuring RW's best and brightest.

Today, I chat with two of the dancers from the show, newcomer Mary Lyn Graves and longtime performer Jo Blake, about their respective careers and coming to the company, working on Four and their performances, thoughts on local dance and a few other topics. (All photos courtesy of Ririe-Woodbury, live shots by Fred Hayes)
Jo Blake & Mary Lyn Graves
Gavin: Hello to both of you. First thing, tell us a little bit about yourselves.
Mary: I'm originally from Oklahoma and trained there from the age of 3 onward. I just graduated from the University of Oklahoma  -- the eighth OU grad in my family; we have a long history in the state. When I'm not dancing, I read a lot and cook/bake, go to concerts -- favorites this summer have been White Denim, Wilco, Neko Case -- and have a newfound appreciation for the mountains here.  We definitely don't have those in Oklahoma.
Jo: What are you interested in knowing about me?! I am a military brat who has moved over and over in many states. The last true place I would consider home would be Parker, Colo., where I attended high school, "officially" came out of the closet and where I discovered my love for dance. After graduating from high school, I made the decision to live in Germany for a year to play, educate and travel. Following the year, I returned to the States and attended the University of Wyoming before transferring to the University of Utah modern dance department. In 2003, I graduated with a BFA and became a member of the Ririe-Woodbury Dance Company. The rest is history.
Gavin: How did each of you first take an interest in dance, and what were some early influences on you?
Jo: My interest in dance started when my high school theater teacher caught me doing a gymnastics routine in my backyard. She was across the ravine with her daughter in the midst of some girl-scout deal ... she heard music blasting and decided to take a peek. There was a little mixed boy flipping and dancing in his backyard. It was later on during the school year that she asked me to audition as a gymnast for the musical, Pippin. The following year, I found the guts to audition for the high school pom poms. Imagine Dallas Cheerleaders or the Utah Jazz dancers. Although I was taken on only to dance in a couple of numbers, I ended up dancing the entire season -- even getting mentioned at Nationals as the first male to be competing in this event.
Mary: Though I can't remember this, my mom says that I would "dance" while she was pregnant with me when she would play Handel's" Water Music." So, I guess that would be my earliest experience, but I obviously don't remember it at all. Like a lot of little girls, my first memory of dance is the Nutcracker. My mom and grandmother took me when I was 2 and I sat in the theater, completely mesmerized for the entire ballet. For the next year, I bugged my mom until she would let me start taking dance lessons. The aspects of discipline and nonverbal communication immediately enthralled me. I've always been a person who likes order and is shy to speak, much more so when I was a child. From those first classes at age 3, I made dance an defining part of my life. As to influences, I was early on influenced by the dancers I saw perform most, the dancers of Tulsa Ballet, especially Daniella Buson. Though classically trained, she could dance contemporary works like you wouldn't believe, and I admire and strive for that versatility. I have also been greatly influenced by my teachers including Cheyla Clawson, who introduced me to the work of Ririe-Woodbury. All of them instilled me with a respect for the art form as both expression and technique that I hope is visibly present in my work and performance.
Gavin: Mary, you received your BFA in dance: ballet performance from the University of Oklahoma. What made you choose OU, and what was its program like for you?
Mary: For a long time, I didn't want to attend OU, mostly because, literally, my entire family has gone there. It was too close to home and I didn't believe they could have the high level of training and repertoire to which I wanted to be exposed during college. However, it was only two hours away from where I grew up, so not at the very least auditioning seemed like a silly decision. When I visited the campus, took a class and watched a performance of their spring student-choreography showcase, I realized the school of dance at OU could very well give me the professional experiences I wanted. I especially remember watching Cheyla Clawson's "nosuchSymbiosis" and thinking, "If this is the kind of choreography OU is doing, I want to be here." At OU, I had the freedom to make my own degree path. Even though I was technically a ballet major, the professors and staff made it possible for me to investigate modern and contemporary dance, as well. It was a safe environment, where I could get the strong technical training I desired but still explore what kind of dance I wanted to do. I was given the freedom to do many side projects, from participating in scientific studies of dance to choreographing to performing in graduate and student-produced shows to attending review-writing workshops with Jack Anderson of the NY Times. My last two years of school, I had a performance every month. My ideas of dance and my goals were definitely broadened by the program and I am beyond thankful for that.
Gavin: You toured with a number of companies before coming to Utah. How was it for you performing on national circuits in Chicago and Texas?
Mary: Actually, my time in Chicago and Texas was spent training, not touring. From the time I was 12, I would spend my summers training outside of Oklahoma with companies during what's called a summer intensive. I have gone to Kansas City, San Antonio, New York, Washington, D.C. and Columbus, Ohio, in addition to Chicago and Dallas/Ft. Worth, though these last two are the most recent. While in Chicago and Texas, I would dance from 9-6, taking technique class and learning repertoire to be performed at an informal showing when the intensive ended. My two summers with Hubbard Street in Chicago really affected how I work in rehearsal. They are meticulous adherents to detail, and training with them made me very aware of the importance of nuance in dance, that it isn't always about the big movement or expression. Sometimes the arresting part of a dance is only a hand movement. My time with Hubbard also proved to me that ballet training can lead you to more than tutus and tiaras. The company takes ballet class every morning but spends the rest of their day pulling apart that technique and pushing it to its limits during rehearsals. As a classically trained dancer who is interested in contemporary work, it was both fascinating and encouraging to be in an environment that valued the mentality of using tradition to push beyond tradition.
Gavin: What eventually brought you to Utah, and how did you get involved with Ririe-Woodbury?
Mary: Cheyla Clawson asked me to start dancing with her during my freshman year at OU. I worked with her on many outside projects, and in 2010, she invited me to come to Salt Lake to perform in a memorial concert for her husband, who was originally from the Sandy area. We were here for a month preparing and during that time I took class with Ririe-Woodbury. I really fell in love with Charlotte Boye-Christensen's movement. It was, and is, unlike anything I have ever seen or done, and that challenge excites me as an artist. After that summer, I decided to audition for Ririe-Woodbury every time I could. Luckily, they had an opening while I was auditioning during the spring of my senior year and I immediately signed up and bought a plane ticket. I really came to Utah for Ririe-Woodbury, but am very lucky that I've grown to love the city itself and the amazing artists with whom I work.
Gavin: Jo, you received your BFA in modern dance from the U. What made you decide on the U, and how was it for you working with its performing-arts programs?
Jo: Why did I decide on the U?! Ultimately, the decision came down to the strong program that University of Utah modern dance has been known for for years. The faculty was sooooo diverse, the facilities were amazing and the students were from all over. I cannot say that my previous program did not push me ... it's just that I wanted to be pushed more. I mean, this program had men in it, they were creating pieces that at the time were "out of this world" to me and they provided me with soooooo many opportunities.
Gavin: You immediately joined up with Ririe-Woodbury after graduation. How did you originally become involved with the company?
Jo: I became involved with the company through my very first audition, for any company, prior to graduation. Actually, my first encounter to the company was when the Ririe-Woodbury Dance Company members would walk down the dance-department hallway during our lunches. Believe you me, when they walked that hallway, we all went silent. They were oohing and aahing for Juan Carlos Claudio -- I can say that, being that we have danced with "my brother" since 2003, teehee. Another encounter was when I was rehearsing a work by Alwin Nikolais for the university's Performing Dance Company performance. Sitting dead center and all alone was this tiny bird who delivered very meticulous notes after she saw the run of the pieces. Only later did I find out that she was Joan Woodbury ... and guess what?! For the last nine years, I have performed over 15 works by the late Alwin Nikolais.
Gavin: You've had an eight-year career tied to Utah without leaving the state. What made you decide to stay in Utah ,and how has your career been so far?
Jo: Eight years?! Now 9 seasons ... aaaaahhhh!!! I have to say that there are moments when I still question myself -- "why are you still here, Jo?!" I did it a ton when I took the year off from the company in 2009; for me, that year was the best decision I ever made. It allowed me to take a break, rejuvenate, consider and rediscover my love for dance -- especially with Ririe-Woodbury, with Charlotte Boye-Christensen ,whose choreography and passion is the reason I wanted to join and return to the company, and with Joan Woodbury and Shirley Ririe, who kept, still do, pushing me to rise higher. Plus, I have to tell you that I AM BEYOND SPOILED!!!!! I not only get paid to dance Monday-Friday, 9-5, I have had the pleasure to educate dance with thousands of elementary students statewide as well as nationally, have choreographed on some of the most talented Utah high school students, have toured nationally as well internationally in the most historical of theatrer, have worked with choreographers from all over the world, get to perform for our Utah audiences and have been able to fulfill a dream. That is still expanding now, knowing that there is still soooo much more to accomplish in the dance world.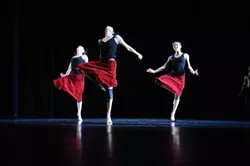 Gavin: What did you think of the work being presented for Four, and how has it been for each of you working on it?
Mary: The works in Four are incredibly diverse and give a kind of crash course in what contemporary dance can be and what we as a company can do. We do everything from vocalize the music ourselves to manipulate bungee cords stretching the length of the stage to interact with film and video via televisions in the stage space. The five works, "Grid" by Brook Notary, "Lines to Read Between" by John Utans, "Turf" by Charlotte Boye-Christensen, "50 Years" by Ann Carlson and a new duet by Charlotte also show our relationship as a company and the chemistry that comes from working with such a small group of dancers. An audience can very much observe and participate in our interactions as humans, friends, dancers, artists. The works are all incredibly physical and require complete mental commitment that makes the connections between us as individuals and a company interesting for an audience.
Jo: This new show is a physical and dance-theater doozy, in the best meaning of the word!! There are Ffive diverse works that demand a lot of the dancers, and I LOVE IT!!! Each piece means something different: personal, professional and as a family. Does that make sense?! I know for myself I always give the audience my "everything"; by the end of the show, you know/feel/devour my blood, sweat and tears -- well, I hope you do. As a professional, I want to make sure you see the detail of the choreo, the tightness of the technique and the flow of the group. As a family, I want the audience to "feel" the vibe of the company, that we are not just six dancers but we are a family united as one being -- kinda cheesy, but the truth. I have to say that this show will do that for you.
Gavin: What's been your personal favorite piece to work on from Four, and why?
Jo: My favorite work in Four would have to be "Turf." I was not in the original work, as that was the time that I took a hiatus from the company. But I was the there for the premiere and I have had the opportunity to be in the re-staging previously. I love the physical and mental push that drives us to want to not let go of what is ours -- to me, that role of being in command -- but then I thoroughly enjoy the latter section, where we all are taking over the "turf" as a whole. There is a sensuality and a care of each other while still pushing forward till the very end. It is demanding work to perform, yet so damned rewarding. Remember, I have been with Charlotte since 2003. She has helped me soooo much to be the dancer that I am today. With her growth and evolution, I have also grown and evolved. With each of her new Scrabble words, I have also had to create my own Scrabble words. This is not to say that the works by Ann Carlson, John Utahns and Brook Notary are not great works to perform. Damn, ! I love "Grid" by Brook Notary, too!!! And I love Charlotte's new duet, for sure!!! But you have to come to our performances to see those works. And later you can tell me what YOU think.
Mary: I really enjoy dancing "Lines to Read Between." The way the piece is constructed, performing it is incredibly different each time. Though there is a certain exactness and articulation to the movement, as a dancer inside of the work I feel I have a lot of freedom to make the movement my own within the boundaries John Utans created. That challenge of creating within limitations is very rewarding to me. The piece also has me partnering or interacting with every member of the company, something that makes the work more personally valuable to me.
Gavin: The two of you are coming at it from different perspectives as dancers, Jo being with the company for years, and Mary just joining. How is it for each of you working with the group in those respects?
Mary: As the only new dancer this season, I feel like observation is my best friend. The other five come from a wide variety of backgrounds and provide such different perspectives to the work. I can learn and grow so much by simply watching -- especially with a dancer like Jo, who is so comfortable with his own movement and how that fits together with the choreographers' ideas. Being the only new one can be difficult at times. All of the repertoire is completely new to me  but the other company members have had it in their bodies for at the very least a year. I have definitely had to do some outside studying to make sure I can keep up. However, the small size of the company is truly a benefit to every difficult aspect of starting this new job and moving away from home. There is such a culture of support in Ririe-Woodbury and a true family-like atmosphere. It makes going to the studio something to look forward to.
Jo: I am very blessed to have this opportunity to have been here as long as I have. To go through the transitions of dancers, repertory works, financial adversities affecting the arts communities and so forth can be strange, to say the least; but it has helped me to be a stronger individual. It has helped me to learn how to work with others from very different backgrounds of dance, life, schooling. Is it fun to be known as "grandpa?" Well, ask me on different days and I will surely let you know.
Gavin: What are your thoughts going into opening night?
Jo: Opening night?! We still have a week of rehearsals!!! I believe that we, as a company, are ready to perform these works for an audience. We have put sooo much time into each and every one of these works that we are just dying to let loose on all y'all. I also believe that our newcomer, Mary Lyn Graves, has stepped up to the plate in a big way and is ready for her premier with the company. And, as you know, Tara, Brad, Alex and Bashaun have made this transition into my final year such an easy one. They will carry the works, the love and the legacy of the company for sooooo many years.
Mary: I always get nervous. I've been performing since I was 3 but I always get nervous until the curtain goes up. Right now, I am a huge mixture of nerves, excitement, near blissful joy and a little bit of fright. My first opening night as a professional dancer has been a dream as long as I can remember. I'm still having trouble believing it is actually happening; also, that weekend is my mom's 50th birthday and my whole family will be here. So, between rehearsals and getting things together for the deluge of family that is about to happen, I'm a tad frazzled. Opening night will mark the time I can calm down a little and enjoy the experience of performing.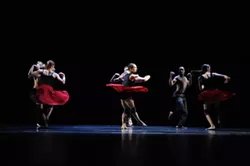 Gavin: Going local, what's your take on the Utah dance scene, both good and bad?
Mary: The Utah and Salt Lake City dance scene is much more vibrant than I imagined. There is a real community support for the arts that is uncommon. It seems a lot of this support comes from the realization that arts education and dance education are beneficial to children. Though reaching out to schools and kids is one of the most rewarding aspects of my job as a member of Rire-Woodbury, I think dance companies need to be equally valued for the works they produce. Utah has such high quality and diverse dance. If that continues to be supported by the community, I see no reason the region couldn't be the next hotbed of dance creation.
Jo: The Utah dance scene is pretty damned tight!! It's expanding more and more, just like the mindsets of the communities, outside of the Salt Lake City downtown area. It has been amazing to see smaller companies begin to flourish in their own light. It is nice to see new studios popping up that are presenting quality works; it is great being able to see new genres of dance creeping into the scene. Are we New York City?! No ... but at times, I am okay with that. Because although they have soooo much dance, they also have soooo much shit being created. Oops, did I say that?!
Gavin: Is there anything you believe could be done to make it more prominent?
Jo: Making the arts more prominent in Salt Lake City is already happening. Look outside your window, stop looking down at the sidewalk when walking downtown, open up your City Weekly ... but maybe you have had to be here as long as I have to see that there IS growth. It's just taking a bit o'time. I KNOW that there are amazing artists here in SLC "pushing the buttons" and wanting to make changes in the arts, but it seems that there is always this odd wall placed up somewhere to make one work a bit harder to climb over and rappel over the other side -- but THEY DO, and nothing is gonna stop them!!
Mary: Utah's dance scene deserves to be more prominent nationally, and I think this can be done by supporting more national and international touring of Utah-based companies and funding for companies to bring in nationally and internationally recognized guest artists. The support of both the community and government is vital to that goal. Dance companies are largely nonprofit and rely on the support of donors, grants, endowments, and patrons. Luckily, the potential and environment of advocation is certainly here and I hope Utah's support of dance continues.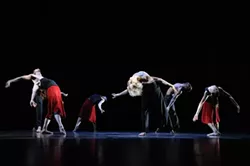 Gavin: What's your opinion on other local dance companies and the work they're doing to promote the art?
Mary: Utah is very lucky that its many companies cover every aspect of dance as an art form. A dance patron in Utah can see so many sides of the art and its history by surveying the seasons of Utah's local companies -- everything from classic story ballets to masterpieces of the 20th century to new and exciting creations. I think the best promotion of dance as an art form is live performance, and Utah's companies offer such myriad opportunities to experience live dance.
Jo: Soooo many questions ... this is like the beginning of my life memoir: Life As A Div a... Oops, Where Did She Go?! Love, love, love the local dance companies!! Each one unique in its own matter that they are presenting. Truthfully, some are more to my liking than others, but hey, not everyone enjoys black-and-tan ales like I do.
Gavin: What advice do you have for anyone looking to get into professional dancing for a career?
Jo: For those of you seeking life in the professional dance world, DREAM BIG AND ACHIEVE!!! Yes, technique is a plus. Yes, researching companies for auditions is a must. Yes, being yourself is a great thing. But passion is where this all begins. Passion pushes, passion drives, passion loves.
Mary: Something my dad told me when I graduated high school: "There is only one unforgivable sin and that is to selfishly keep for yourself the gifts that God and others have provided you." Dance is a communal art, and acts of creation require respect. Your life outside of the studio is as important as your life in the studio. Study the history and process of dance, because a smart dancer is much rarer than a talented dancer. Acts of creation require respect. Take class everyday and be thankful for the opportunity, even if the class sucked. Those are all pretty much unrelated, but if I had to break it down for a young dancer, that's what I'd say.
Gavin: What can we expect from both of you over the rest of the year?
Mary: I'm not sure if I can say exactly what you can expect from me, but I'll say without hesitation that Ririe-Woodbury's season will excite you, challenge you and leave you counting down the days until the next show. Although the best way to find out what we're going to do is to come out and see us dance.
Jo: This season expect PASSION. Teehee! Soooo cheesy, I am. But it is the truth. I perform onstage to deliver to the audience something unique and loved. I always leave the stage going, "What just happened?!" I never dance for me -- it is truly to give to the audience, the choreographers and the other dancers. No lie. That is why I freak out when I go into the lobby after shows. I feel like if you met me in person you would be, like, "Who in the world did I just meet." What if I ruined everything that you experienced?! When I go to see shows, the stage is this other world of illusion. And when I leave, I leave inspired; we will not mention the other feeling, but I WANT the audience to feel the same when they leave our shows. P.S. I always go into the lobby to meet with our audiences; I am not disrepectful to our audiences, by any means. But do know that if we meet, I will want to dig into your conscious and know what it is that you liked about the performances, not that you just liked it.
Gavin: Is there anything you'd like to promote or plug?
Jo: The last and final question. Probably best as I am just rambling the cheesiest of cheese. To those of you who are reading this site: KDA - KEEP DANCE ALIVE!! Do know that the company makes it their goal to make sure that everyone experiences dance in some form -- theater performances, parent/child night classes, blogs on our site and so forth. Wanna know something else? I direct the Ririe-Woodbury High School Dance Company, formerly Step UP, that has witnessed great accomplishments from its alumni. Do go and see dance performances at my alma mater, U of U, as they have great Performing Dance Company performances in October. Witness the professionalism -- and my choreo -- of the Rowland Hall Dance Department, as they perform multimedia, collaborative and choreographic works in February. That seems good 'n' plenty on plugs. Again, I cannot thank enough the Ririe-Woodbury Dance Company and the support of Salt Lake City audiences for making this time here dancing in Utah a dream come true. Hope to see you at Four!!!
Mary: If you could link anything you write about OU to the School of Dance website, I would appreciate it. Other than that, just the show and our season!
| | | | |
| --- | --- | --- | --- |
| Follow Gavin's Underground: | | | |