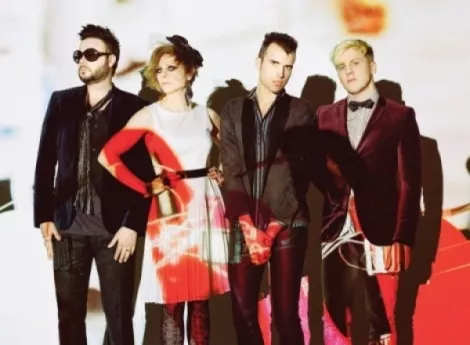 In celebration of the upcoming X96 Big Ass Show, the latest installment of stupid-ass questions with brilliant-ass answers is, well, all about asses, courtesy of Branden Campbell of the Neon Trees.---
You know those silly questions that some interviewers sneak in at the end of an interview with a band? Well, Beside the Question is a blog series at CityWeekly.net dedicated exclusively to those random, ridiculous wringers— because, after all, you can't be serious all the time.
So, Campbell, of Provo's own Neon Trees -- and, might I add, 2008 City Weekly Music Award winner (we're really proud of these folks) -- patiently and wittily answererd some booty-related questions. But before that, for more information on the band's latest album, Picture Show, go here. It gets a big fat CW stamp of approval.
The Neon Trees will take the stage with Orem-formed The Used and Las-Vegas-by-way-of-Provo Imagine Dragons, along with national touring acts Grouplove, Awolnation, Eve 6, The Wombats and Dead Sara at the X96 Big Ass Show. The performance begins at 1 p.m. Saturday, Sept. 29.
City Weekly: Well, based on the context, I guess the first question absolutely must be about asses. So, what do you do to man-sculpt your toosh, whether at home or on the road?
Branden Campbell: Well, since we found out Sketchers Shapers are bogus, I rely on lots of high kicks onstage to stay in shape.
CW: I hear that playing bass is all in the ass. Confirm or deny.
BC: Confirmed! You gotta stick that booty out!
CW: According to The Onion ("America's Finest News Source"), 67 percent of Americans have gigantic, fat asses. Brandon, what can be done?
BC: Where's Richard Simmons when you need him?
CW: As a side note, when I was trying to come up with that last question and Google-ing "The Onion + fat asses," some really awful things came up in the results. Gross.
CW: Well, I think one thing that makes Utahns have fat asses --we are, by and large, fit folk, though -- is funeral potatoes. But they are so good! What's your favorite recipe for funeral potatoes? And for those folks outside of Utah, can you describe what funeral potatoes are?
BC: It's an amazing potato casserole that is popular at, but not limited to, funeral dinners. Gotta include cheese, sour cream, scallions and corn flakes. Don't mess this up and use Frosted Flakes. People are already sad that they're at a funeral.
CW: Drinkify says that "The Neon Trees" cocktail is one PBR served cold, garnished with cucumber. I have to disagree. I'm thinking something like Spark's non-alcoholic "Ox Blood," which has Rock Star Energy Drink, blood-orange puree and cucumber. What do you think? Or is there a special drink concoction we should be privy too?
BC: Our singer, Tyler, invented a drink called the DDVM, which is basically lime juice and Red Bull. And it's a hit!
CW: OK, anyway. You guys have been on the road a lot. One of my favorite things about traveling would have to be all the weird gas stations and shops you chance upon. What is the strangest/most awesome purchase that you've made this year?
BC: The best is rolling in to your typical alpha-male truck stop and insisting they have a copy of "Legally Blonde" on DVD.
CW: I just attended the SLC Film Festival. I don't see many movies out --or plays for that matter, unfortunately-- but when I do, I'm always left wondering which arm rest is mine: left, right or both? Can you help me out with this one?
BC: Right. Final answer.
CW: Let's end with an actually relevant question, OK? What are your fondest musical memories? In your house? In your neighborhood or town?
BC: I like to think I'm actively having new experiences that will be on par with my "remember when" moments. Recently, we played a festival with Pearl Jam. I hadn't seen them in years. Watching Mike McCready play guitar was a real treat. It transcended trying to be flashy. He was into it, man. And it was believable. I had chills.
CW: Brandon, thanks for playing along. See you guys soon.