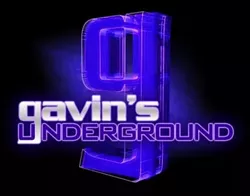 When looking at the poetry coming out of Utah today, the biggest name to strike a chord in 2012 is going to be Rebecca Lindenberg. --- Never to be at a loss for words, Lindenberg has already become known across the nation for her expositions, along with being a part of the
Best American Poetry Blog
, but this year she released her debut collection,
Love: An Index
. The book has propelled her onto a wider stage for its honesty, passion and subtle humor, with her locally receiving an Arty for her work and reviews from publications like
Vanity Fair
. Today, I chat with Lindenberg about her career and works she's created, her book, thoughts on local poetry and a few more topics. (
All photos courtesy of Rebecca Lindenberg.
)
Rebecca Lindenberg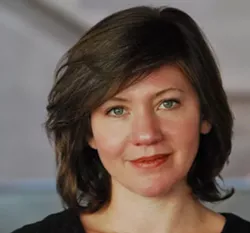 Gavin: Hey, Rebecca. First thing, tell us a little bit about yourself.
Rebecca: Well, I live with my bespectacled, bearded boyfriend, our little cat, our big pitbull and our many houseplants, next to a river in Logan. I teach a bunch of terrific and eager young people about the power of language to make change in ourselves and in the world. I enjoy Scrabble, hamburgers made with foie gras and homemade pickles, Buffy the Vampire Slayer, walking in the mountains, a strong bass line, Godard films, a good rye Manhattan, and shiny new shoes.
Gavin: What first got you interested in writing, and what were some early influences on you?
Rebecca: I suspect my interest in writing stems from my good fortune in coming from a family of readers. We always had books and magazines around the house – when I was a kid, we'd sit around after dinner and take turns reading aloud. My mother made giant posters of poems and hung them in our rooms. I remember, my sister and I weren't always allowed to watch naughty grown-up movies, but we were permitted to read anything we liked. I gave Mom's copy of Love in the Time of Cholera a try when I was about 12. It proved to be less sassy than the cover had suggested, but I still liked what of it I could understand. Both of my parents and my younger sister are terrific storytellers – they've got a great sense of humor, a real flair for drama and a genuine knack for the absurd. So, I'm sure that my predilection for trying to make a language for my own perceptions, experiences and inquiries began in that environment, which was rich and thick with interesting discourse, and very intellectually permissive.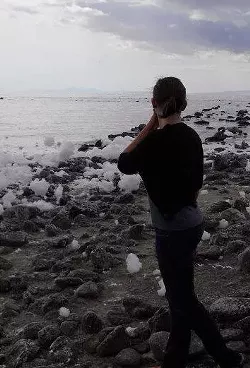 Gavin: Prior to college, what were some of your earlier works like while finding your voice?
Rebecca: I definitely would not go so far as to describe anything I did before -- or during -- college as "works" of any kind. I practiced writing, I would say. Though probably the written bits I most cherish now are letters – old-fashioned, creased-twice, hand-written letters to friends scattered all over the world. I think I am still finding my voice; I think my voice is always changing, so I suspect that will always be true. But sometimes my writing helps me to understand the motions of my own soul better, and an inkling that probably began in writing letters.
Gavin: You first earned your bachelors from the College of William and Mary in Virginia. What made you choose W&M and what was its program like for you?
Rebecca: The College of William & Mary, which dates back to 1694 and includes such illustrious alums as Thomas Jefferson and Jon Stewart, is a public institution – since my parents were Virginia residents when I started college, I could pay in-state tuition rates there. I wanted a world-class education, and I got it, but as is the case for most American families, the financial aspect definitely factored into the decision. I really enjoyed my time at William & Mary – I had amazing professors, many of whom I'm still in touch with -- in fact, I'll be reading there in April -- and I made lifelong friends, who in addition to being there for me through thick and thin, have become successful movers and shakers in their various fields.
Gavin: During your time there, what drew you most toward poetry as a medium and how did it influence your writing?
Rebecca: I've often described my undergraduate education as splendidly surreal. Williamsburg might well be the most anachronistic place in North America – a hungry student buying diet Coke, macaroni and cheese, and shampoo from the Food Lion at three in the morning could easily cross paths with a tavern wench from the nearby "living museum" of colonial life, as she walked out in her petticoat and bonnet with cat litter under her arm, climbing onto the back of her boyfriend's Harley-Davidson motorcycle. In such an environment, the surreal or juxtaposed is part of daily life, and one doesn't have to look at the world this way for very long to see that much of reality can be considered a little alien. Since my professors generally encouraged unorthodox thinking, I came to value the unexpected, the candid, the uncanny, the collapse of seeming binaries, the unique lyric logics of sound and association.
Gavin: What made you decide to come to the Univeristy of Utah to earn your Ph.D, and how did the U's program differ from what you had experienced with W&M?
Rebecca: I chose to come to the U for several reasons – firstly, I knew I wanted a Ph.D. and not an MFA, because I have always also considered myself a literary critic, not just a creative writer. It so happens that the program here at Utah is one of the top five -- really, one of the top three -- in the country. And unlike many other programs, the creative-writing program at the U did not seem to have a dominant aesthetic; it did not aspire to turn out a bunch of people who could easily be identified as having come from the same program or worked with the same people. That's not to say I was encouraged to "just be myself" – the program is rigorous and I often had to really fight to do it my way. But that, to me, was part of the benefit of it, having to explain so meticulously to myself and others what "my way" is, and why I value it – why anyone should value it. I think that's really the difference between creative writing at the undergraduate level and at the graduate level – the background, context, and ability to situate your own work, or at least your ambitions, in the larger conversation of literature. The program also had, at least while I was there, a really strong sense of community. It's hard work, getting a Ph.D.; it's a bit like boot camp, so you become close with your comrades. And since you see a lot of each others' writing, you see a lot of each others' vulnerabilities, which I think also forges unexpected bonds. I wanted to be somewhere where those bonds were acknowledged and valued; I did not want to be at one of the many programs where students snipe, compete, backstab and whine. In graduate school, especially, you learn at least as much from your comrades as you do from your advisors, so I wanted to be somewhere with a conversation that was rich and demanding, but also warm and generous and genuinely close-knit. I had that at the U, when I was there.
Gavin: Seeing how everyone had their own method, what's the writing process like for you when creating a new piece?
Rebecca: Well, as you rightly observe, there's definitely no prescription for "how to start a poem," though there are things like formal structures -- sonnets, or aphorisms, or recipes -- or specific occasions -- a wedding, an election, a song you hear on the radio -- that can help, if you're looking to write and you don't already have something going. And there's no formula for revision. I think sometimes you just have to walk away from a poem, become a slightly different person, then come back and decide from that more objective viewpoint if, in fact, there's anything there. But mostly, talking about process is just looking over your own shoulder at what you do, day and day out. Writing, I think, is not a "craft" or even a "process" – it's a practice. Like Buddhism, or yoga, or environmentalism is a practice. It informs how you pay attention, what you do with that extra 30 minutes at the airport, which choices you make about who to love, and what to risk, about what movie to see on a Friday night, about how you vote. I tell my students, over and over, compassion is creativity's finest enterprise. Because imagination is not a switch you flip on and off, it's a way of being a better person that you try -- desperately, falteringly, if you're me -- to cultivate. So like any practice, you have to practice doing it. You have to write fearlessly and aspire bravely and know that most of it will be very, very, very bad before any of it is any good. Give yourself permission to have ideas about beauty, and the gruesome, and, you know, cities and gods and black holes and how language interacts with thought, and about your very own self. And you have read hungrily and thoughtfully. And all of the time.
Gavin: How much of your work do you end up tossing out compared to what you keep and publish? And do you find yourself learning any lessons from discarded material or do you view it simply as material that didn't work?
Rebecca: I don't really toss things. You never know when something that just didn't work in that poem would be absolutely perfect for ending this one. I do a lot of self-recycling, I keep open documents of notes and fragments and "refusé," I try to learn from things that didn't work by spending time with them – sometimes they didn't move fast enough, or turned the wrong corner, or I just couldn't end it, I wasn't ready to say good-bye to that idea yet. Sometimes, the poem was just too forced – I wanted to write something, so I manufactured a problem I could solve, instead of paying original attention to the real problem at hand. There are almost as many possible reasons a poem can go wrong as there are possible poems. But sometimes, one poem's garbage is another poem's treasure. Except when it's just garbage, and then you probably never go back for it, anyway.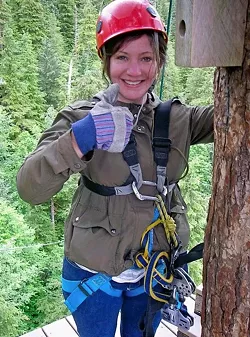 Gavin: How did you come to get involved with The Best American Poetry blog, and how has it been for you working with them in publishing some of your works and other thoughts online?
Rebecca: A good friend, poet Jessica Piazza, put me in touch with Stacey Harwood who, with David Lehman, runs The Best American Poetry project. I'd never "blogged" before, but it was fun to have the company and discipline of a week's worth of themed entries. Though, of course, it's terrifying to write online, in an age when everything you've ever written can be found on the Internet for all of eternity. Even interviews like this are a little intimidating, since I imagine I'll shift my perspectives and opinions on these things someday, and then I'll have to contend with the proof that I once thought differently.
Gavin: Your works and essays have gained national exposure and received a general amount of praise, as well as its own criticism. What's your take on how your work is received? Or do you simply ignore it?
Rebecca: I find it pretty hard to ignore, good or bad. And I want to know what people think, though it doesn't necessarily change anything about how -- or more importantly, why -- I write as I do. In any case, I never write for anybody, but I always write to any one of a number of beloved interlocutors – you know who you are.
Gavin: What was it like for you putting the collection together for Love: An Index, and how did you pick and choose what to include?
Rebecca: Well, the book comprises a sequence of poems from which a fragmentary narrative emerges about my life with my partner, Craig, and his son, Robin, Craig's disappearance on a small island in Japan in 2009, and the aftermath of that sudden, dramatic loss. Through the lens of this narrative, the manuscript examines the relationship between language and experience – both the experience that language purports to describe and the one it purports to elicit. The title poem of the book is one of many that employs a species of scholarly or quotidian "gloss" – footnote, index, definition, catalog, telegram, list, Facebook "status update" – addressing themselves the relationship -- as gloss -- between word and world. I started the book in 2006, when Craig and Robin and I were living in Rome – in fact, Craig read -- and liked -- about the first half of the book, including early drafts of parts of the centerpiece poem. It was always a book about love, family, gender politics, the uses and failures of language between people. I worked on the book on and off while I was reading for my doctoral exams and doing other work towards my Ph.D. When Craig disappeared in 2009, obviously the direction of the book changed, as did my sense of urgency about it. I finished the book in a state of incandescent, high-frequency need, while I was at a marvelous place in Cape Cod called the Provincetown Fine Arts Work Center – a funded residency for emerging artists and writers, where you live with 19 other working artists in a kind of splendid, ramshackle commune in Massachusetts, and you just work. And hang out and talk about what you're working on. Because I was there with terrific people, the process of finishing the book was much more of a comfort and much less of a catastrophic effort than I think it would have been elsewhere, or otherwise.
Gavin: How did you end up working with McSweeney's to publish it, and what's you relationship been like with them?
Rebecca: I sent some poems to one of their magazines, The Believer, and they published a few sections of the poem "Love, an Index" in the September 2011 issue. Very shortly thereafter, they told me they were starting to publish poetry books -- something that McSweeney's had not previously done -- and asked me if I would consider sending them a manuscript. I had just finished the manuscript, so I sent it off. To my shock and delight, they wrote to me about two weeks later to say they'd like to accept it. I was utterly bewildered! Usually, it takes quite a while to find a good home for a book of poetry, and even longer for the book to get to print. It all happened very fast for me, which was a little unnerving, but mostly hugely relieving – I don't think I could have lived with and continued to work on this manuscript for many more years. It's a kind of offering, and I am enormously grateful that McSweeney's saw fit to give me a way to lift it up.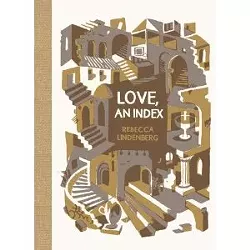 Gavin: What's been the general reaction to the book since its release back in March, and how has it been for you seeing a response from such a big audience?
Rebecca: As far as I can tell, from the things that people send me and what "Google Alerts" has to share, mostly the response has been generous. Which I'm grateful and very relieved to see – I know I took a lot of risks with the manuscript, and I'm happy to see that at least some readers feel they were worth taking.
Gavin: What are you looking to do down the road with your writing -- more books, or perhaps your own blog?
Rebecca: I'm working on a couple of other poetry manuscripts, and some essays. I'm not really planning on starting a blog anytime soon – I am up to my eyeballs in other projects – but I do think it's really important to pay attention to the way the publishing industry, and just the way that information is being distributed and curated, is constantly evolving. And I follow a lot of blogs – Ron Silliman, the Harriet Blog at the Poetry Foundation, Smitten Kitchen -- I love to cook, the Talking Points Memo and many more. But I'm definitely not ready to commit to my own – I hugely admire those -- like you! -- who do so!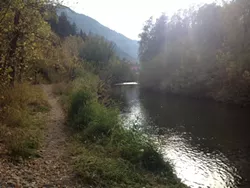 Gavin: Moving a little statewide, what's your take on the local literary scene and the writers coming out of it?
Rebecca: Salt Lake City, and Utah generally, has a really incredible literary scene – and literary history. Wallace Stegner, for instance, Edward Albee, and even Vladmir Nabokov -- author of Lolita -- spent time in Utah. Today, we have great reading series' organized through the terrific City Art Reading Series, and through the University of Utah Guest Writer's Series and Westminster College's Weeks Poetry Series. We have a handful of independent bookstores that should be the envy of the nation – King's English Bookshop, Ken Sanders, Sam Weller's, for instance – all of which host readings and literary events. BYU, in Provo, brings in terrific authors all year, and then, of course, there's the Utah Humanities Council-sponsored Book Festival, and the Utah Arts Festival, annually. As a city, we host Pulitzer Prize-winners and National Book Award-winners, and our university programs and communities produce major writers in every genre.
Gavin: Is there anything you think could be done to make it more prominent?
Rebecca: Sure. People should go to readings, and read books and magazines, and buy published works, and support this tremendous effort to lift up the literary arts. America -- and Utah -- has never had a problem with literary talent, but we sometimes have a problem believing in its importance, encouraging its growth and innovation, and lifting up its practitioners. We live in tough times – tough for all families and tough for all dreamers. But statewide, funds are always being taken from English and humanities departments at colleges and universities, and from arts programs in public schools, and from after-school programs and individuals and nonprofit initiatives. We need to come together as a community in support of literature and the arts. We need to vote and write letters to our elected representatives to encourage them to support funding to the arts and humanities. Sometimes, we think of things like literature and the arts as a "luxury," but we're wrong. Let me explain: I've taught students who plan to major in business, or economics, or math. They're ambitious, and they're often very capable. But they do not learn the same invaluable skills my English students learn. English students learn to read critically and closely, to write not only fluently, but eloquently, and to logically analyze information and processes, and to empathize, to listen, to address. I am quite confident that in any given job interview, my English students make the better impression, and demonstrate more convincingly that they are capable of learning and growing. Economics or sociology or math might sound sexy to parents paying for college, but what, really, is the advantage unless you pursue yet another degree above a bachelor's? I think there's a terrible misconception that the arts and humanities are elite, rarefied, useless, out-of-touch disciplines. It could not be less true! If ever you wish to do anything that involves humans, the humanities is where you belong. If you want to live in a humane world, the humanities is what you should support, and encourage others to support, as well. This is by no means to suggest that we should not support the hard sciences, or technology, or engineering, or architecture, or mathematics. But we should not siphon support away from the disciplines that are most likely to benefit future thinking, inquiring, inventive citizens, humans, entrepreneurs, employees, scholars, and -- ahem -- journalists and other media types.
Gavin: Do you have any local authors or poets you believe people should be checking out?
Rebecca: Well, of course, I do! We have writers in all genres just taking the nation by storm – so much so that, for now, I will focus on our poets. Consider the great writers teaching in Utah's colleges and universities– among poets at the U and Westminster in Salt Lake City, specifically, we have avant-garde wunderkind Craig Dworkin, Guggenheim Fellow and state poet laureat Kate Coles, Amy Lowell-winner Paisley Rekdal, renowned poets Jacqueline Osherow and Natasha Saje; in Logan, T.S. Eliot award-winner Michael Sowder, and others. We've got Joel Long, who also runs City Art in Salt Lake, and we've got terrific young writers like Dawn Lonsinger, whose book just won the Idaho Prize for Poetry and is now forthcoming from Lost Horse Press, and Lillian-Yvonne Bertram, whose award-winning book is out from Red Hen Press. We've got the stunning, precocious poets Malachi Black and Sara Eliza Johnson, who also were both fellows at the Provincetown Fine Arts Work Center, and we've got so many more that I must beg their forgiveness for not making a proper list of them all here.
Gavin: Do you have any advice for other local writers about their work and getting published?
Rebecca: Write like you mean it. Mean it. Read everything. Love fearlessly. And be more generous, in all that you do, than you thought yourself capable of. Don't mistake scorn for discretion. Scorn is the worst vice of the uninformed. Don't write to be cool. You'll be so disappointed. Never let anyone, including me in this interview, tell you what to think. Motherfuck them all and do it your way, if that's what feels right to you. Practice the fine art of forgiveness – you have to forgive yourself, to be able to write. But before you can forgive yourself, you have to forgive a whole lot of other people who messed up your life almost as much as they made it possible. Keep a sense of humor about you. The more attuned to the absurdities of life you are, the more entertaining they become. Keep your wits about you. However entertaining it might be, at times, the story should never come at the expense of anyone besides possibly yourself. Work incredibly hard. You have no idea how hard. When you thought you were working harder than was possible for any human being to work, you were getting started. In fact, unless sleep feels like an impossible afterthought, you're doing it wrong. Sleep. Even though it seems like an impossible afterthought, you are going to need your rest.



| | | | |
| --- | --- | --- | --- |
| Follow Gavin's Underground: | | | |