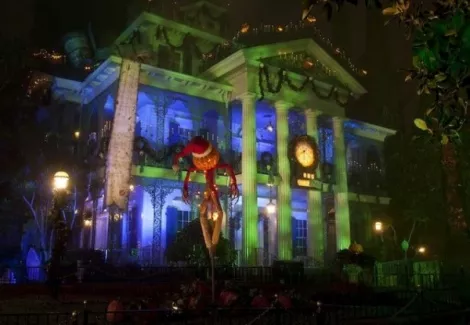 Leaves are turning, pumpkin patches are filling up, and the Magic Kingdom is getting ready for Halloween. You're probably aware that the Haunted Mansion is decked out every year in the style of The Nightmare Before Christmas --- (complete this year with a 9-foot-tall real gingerbread house and more than 400 pumpkins found throughout the ride), but there's even more spooky fun happening all over the park. From the huge Mickey Mouse-style pumpkin at the park's entrance to Space Mountain's eerie transformation to Ghost Galaxy, Disneyland has a wide variety of Halloween activities, rides and other attractions available for everyone in the family this October.
In our article in the latest issue of City Weekly, we wrote about how the UEA Fall Break is the time when Utah heads to Disneyland, and it coincides with the Halloween fun.
The Big Thunder Ranch Jamboree has gotten into the spirit with a Halloween Carnival, with craft stations to make masks, pumpkin carving and carnival games. You can also visit the Magic Cauldron Sideshow to try your hand at conjuring your favorite Disney villain. Across the street at California Adventure, guests can stop by and see some sets and puppets from Tim Burton's new film Frankenweenie, and an exhibit on stop-motion film technology.
If you're looking for even more Halloween fun, Mickey's Halloween Party takes place after normal park hours on select nights throughout October. Along with trick-or-treating and access to most rides and attractions, guests can enjoy the Halloween Screams fireworks show, dance parties with favorite Disney and Pixar characters, photo ops with Disney villains and a costume parade.
For more on what's going on at the Disneyland resort this month, check out this video.
The Travel Tramps write about their treks near and far in City Weekly and host the weekly Travel Brigade Radio Show.