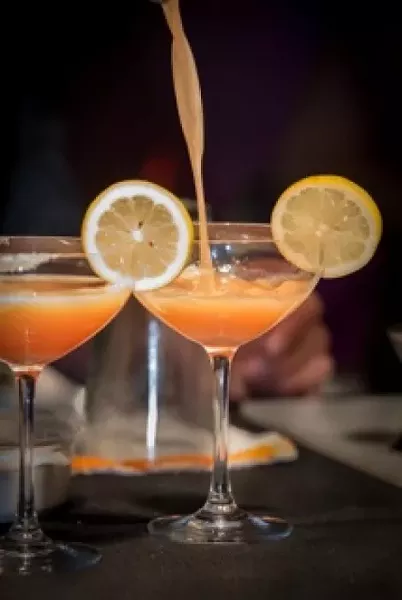 At the annual Park City Cocktail Contest, held last Friday night at The Sidecar in Park City, I was privileged to be among the judges and got to taste a number of very creative cocktails, including one with bacon(!). ---
When all of the cocktail shakers were emptied, the winning cocktail -- crowned as Park City's "Signature Cocktail" for fall and winter 2012-13 -- was the Mountain Derby, which was prepared by mixologist Dave Wallace, representing the Montage Deer Valley.
In addition to bragging rights, Cocktail King Dave Wallace took home a $100 cash prize, and the People's Health Clinic benefited from this charity event, organized by the Park City Area Restaurant Association.
If you'd like to make a Mountain Derby to drink at home, here is the recipe:
Spirits:
1 oz. Woodford Reserve bourbon
Other ingredients:
1 oz. fresh grapefruit juice
1 oz. lavender/chamomile honey
1/4 oz. fresh lemon juice
Method: Shake, strain and serve up. Garnish with a lemon wheel
Glassware: Martini glass with half of the rim sugared
Lavender/chamomile honey:
2 cups organic clover honey
2 cups water
2 1/2 cups "loose" chamomile tea
1 cup "loose" lavender Earl Grey (or English Breakfast) tea
Photo courtesy of Park City Area Restaurant Association