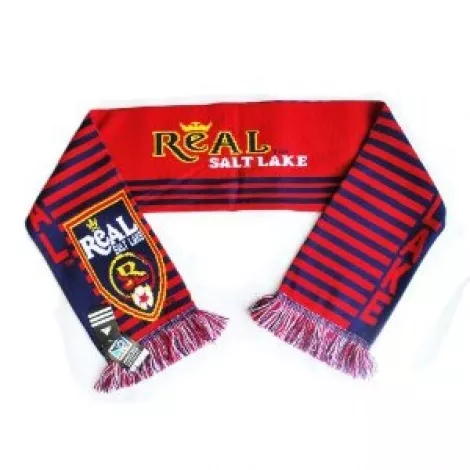 Sadly, the man of the match in Real Salt Lake's away game against the Seattle Sounders on Oct. 17 wasn't a player.
It was the referee, Ricardo Salazar. ---
Salazar is well known to both these Major League Soccer teams and their respective fan bases. Well known -- but not well liked. Red cards seem to fly from his back pocket like festive confetti. This game would be no different.
Both teams were without their top goal scoring forwards, Real's Alvaro Saborio and Seattle's Eddie Johnson, due to international-team commitments. From the first whistle, though, it was apparent the Sounders had come to play.
Salazar did the best he could to stop them. It was at the 10-minute mark when Sounders defender Zach Scott raced up behind Real's forward Fabian Espindola and pulled him back to stop an attack. He was awarded a yellow card for his trouble.
The game continued, a physical bout played amidst the soundtrack of boos provided by the 38,000 in attendance at CenturyLink Field. The deafening sound of their wrath descended on Salazar in the 30th minute and didn't let up for the rest of the game. (Perhaps it was because he awarded Seattle's Scott a second yellow card and sent him off the pitch following a fairly mild challenge on Real's midfielder, Javier Morales.)
Down 10 men and in dire straits, the Sounders played admirably for the next 60 minutes. In the 38th minute, the Sounder's other goal scoring phenom, forward Fredy Montero, got behind RSL's backline, but defender Nat Borchers' quick feet and clear head saved the visitors from what could have been. Montero shot again from 30 yards out during stoppage time of the first half, but Real's goalkeeper Nick Rimando managed to close his legs around the ball after it slipped through his gloves.
Salazar's whistle rang out and the half was over: nil-nil. Thankfully.
Seattle weren't done yet. Just after halftime, in the 52nd minute, Sounders midfielder Christian Tiffert angled a free kick onto the feet of fellow midfielder Mauro Rosales, who missed the shot.
The hearts of Real fans were in their throats. Unfortunately for them, RSL didn't seem all that interested in pressuring the home side. So for the next 40-odd minutes, supporters of the claret and cobalt were forced to endure countless opportunities from a team that was a man down. But it was Real who was playing as if they were a man down. Seattle had twice as many shots as they did.
Yet, hope was about to be renewed.
In the last 10 minutes of the match, the chances finally came for Real Salt Lake. In the 83rd, Real defender Tony Beltran was right in the box when he sent a ball forward, only to have it miss. The excitement was only just beginning, though. During stoppage time, RSL defender Chris Schuler kicked the ball right at Sounders goalkeeper Michael Gspurning, who made a brilliant one-handed save. Moments later, Real midfielder Sebastian Velasquez shot a screamer, which deflected off Gspurning…
And that was the game: a goalless draw, but a draw, which must've felt like a victory for Seattle.
Salazar was lucky the Sounders had so much fight left in them. He walked off the pitch, serenaded by the jeers of the Emerald City faithful. The Sounders esteemed manager, Sigi Schmid, said, "We have our 12th man, and they have theirs -- Ricardo Salazar."
But, that wasn't much consolation for an uninspired Real team. Despite the help from Salazar and their late-game awakening, they were still unable to find their teeth amidst a sea of rave green.