As the end of the gardening season nears, I find myself with an overabundance of fresh San Marzano tomatoes and basil. I can only eat so many Caprese salads, so I decided to make some sauces from the tomatoes. ---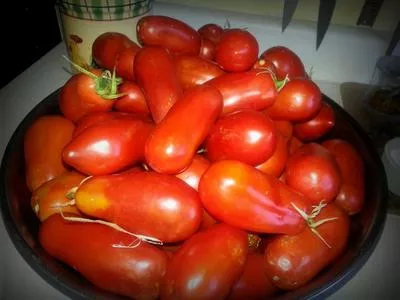 I used some of them to produce simple sauces for Margherita pizza. But then, still with too many tomatoes on hand, I decided to experiment with using fresh tomatoes for pasta sauce.
First, I made a Bolognese sauce, a recipe which I will share with you at some point. But, an even better use of the garden tomatoes was a very simple, incredibly fresh-tasting sauce for pasta that is vegetarian-friendly. It wonderfully captures the final savory flavors of the season.
Please, though, don't try this unless you have really ripe tomatoes. Store-bought tomatoes are rarely ripe enough; you're better off using canned most of the time for sauces.
Fresh tomatoes must be peeled and seeded before cooking. This typically involves scoring the tomatoes, blanching them in boiling water, then dunking the tomatoes in an ice-water bath, peeling the skins, cutting the tomatoes in half and removing the seeds. That's a lot of effort. I've discovered an easier method for peeling and seeding fresh tomatoes, although it's still a fair amount of work.
Here's what you do: Cut the tomatoes in half, lengthwise. Then, working over a bowl or the kitchen sink, scoop out the seeds from the tomato%uFFFDhalves%uFFFDusing your fingers (discard the seeds). Next, place a box grater over a large bowl and grate the tomato, pressing until only the skin is left in the palm of your hand. Discard the skins.%uFFFD
One benefit of this tomato technique is that you're left with grated tomato pulp; there's no need to mash or chop the tomato pieces or use a food mill.%uFFFD
Ingredients:
25-30 ripe plum tomatoes, preferably San Marzano, peeled and seeded (see preparation note above)
1/3 cup extra virgin olive oil
1 tsp. kosher salt
1/2 tsp. freshly ground black pepper
a pinch of crushed red-pepper flakes%uFFFD
1 lb. good-quality dried pasta or 1 1/2 lbs. fresh pasta%uFFFD
1/2 cup freshly grated Parmigiano-Reggiano
1 Tbs. unsalted butter
8-10 fresh basil leaves, cut thinly into strips (chiffonade) %uFFFD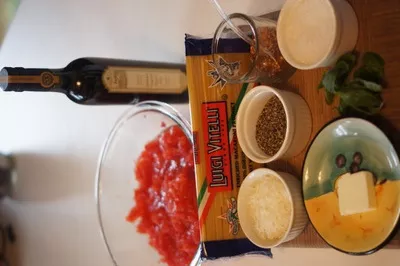 Technique:
In a large, wide pan, heat the olive oil over medium-high heat.
Add the tomatoes, salt, pepper, and chile flakes to the pan and simmer for half an hour until the sauce has thickened a bit.
Meanwhile, bring a large pot of salted water to a boil. Cook the pasta according to directions until not quite al dente. You want the pasta to be a little firm because you're going to finish cooking it in the sauce. Reserve about 1/2 cup of the pasta-cooking water.%uFFFD
Drain the pasta well and add it to the pan with the tomato sauce, over medium-high heat.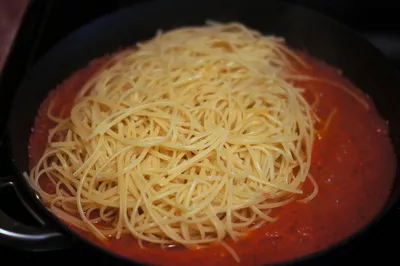 Toss the sauce and pasta together well and continue to cook until the pasta is%uFFFDal dente.%uFFFD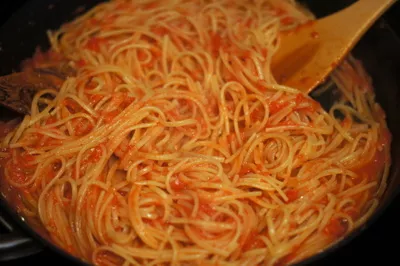 Add the butter, basil, and Parmigiano-Reggiano to the pasta and toss some more. If the sauce is too thick, add the reserved pasta water to thin it out a little.
Serve immediately with extra grated Parmigiano-Reggiano on the side. %uFFFD
Photos by Ted Scheffler