This month's Gallery Stroll was a bit of a surprise, as the downtown area had sparse activity, mostly pockets of people walking around, with no big groups. --- Which shouldn't be shocking, as it is now fall, but at the same time, it's not freezing fall. You could have thrown on a hoodie and been just fine -- further proof that Stroll needs to start setting up random coffee/hot chocolate vendors around the neighborhoods.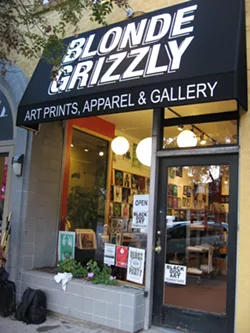 This month was mostly Halloween material that caught the eyes of art fans, as several galleries went all out for horror-themed works and artists, the biggest of the bunch being Blonde Grizzly, which launched its third annual Halloween showcase with over 30 local artists on the walls with their own take on pop-cultured items. Today, I chat with the owners about the brand-new space on Broadway and the exhibition you can check out throughout this month, which you can see in the photo I took in this gallery here.
Hillary, Caleb & Lily Barney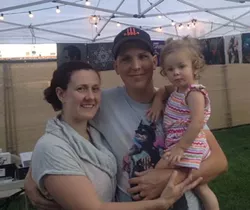 Gavin: Hey, guys. How have you both been since we last chatted for the blog?
Caleb: Good ... busy. We recently moved from Layton to South Salt Lake. We love our new house, but it took us a while to get settled.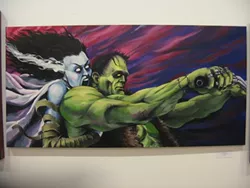 Gavin: You've both become parents since the last interview. what has life been like with your new daughter?
Hillary: She is adorable. She changes every day -- learning new things, figuring out her boundaries, etc. We love being parents. And Bear, our dog, loves being a big brother.
Gavin: Getting to the shop, you became a success pretty quickly over the past few years. What did you think of the attention you received?
Caleb: Shocked. The attention/support is great. We love having the shop and gallery. We are doing what we love and think it's great other people love it, too.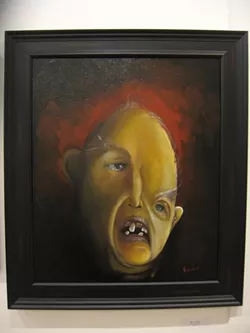 Gavin: How was it for you to become one of the hottest galleries along Stroll every month?
Hillary: Well ... I don't about hottest, but we do always have cookies!
Gavin: You had done very well at the 400 South location. What made you decide to move?
Caleb: Our 4th South location was awesome. We loved the space and exposure we received there. Unfortunately, the space above us was apartments, and the people living there had a lot of water problems. The leaking water somehow worked its way in to our space every time there was an issue. They tried to fix the problem, but it never seemed to fully resolve. We had to get out of there.
Gavin: How did you come across the location on Broadway, and why did you decide to move there?
Hillary: When originally looking for spaces for Blonde Grizzly, we had looked into the spaces on Broadway. It didn't work out for us to be there originally, but we always thought it would be a good spot. After the last leaking incident, we thought we would check and see if any Broadway spots were available. Luckily, there were, so we jumped at the chance to be there. We always knew the Broadway location was a great spot. We loved the parking and the supporting businesses.
Gavin: What was it like moving everything in, and how has the new space worked out for you as a business?
Caleb: We had only a week to move out of the old space, move into the new space and set up for our first show. It was a crazy week! We couldn't have made it through without friends who helped us out. We like the set up of the new space. Having a separate store and gallery space is nice. We love that there is parking, and it's fun to be in the heart of Gallery Stroll. Unfortunately, sales haven't been as good as the old location. We are trying to figure that out and hope to be around as long as we can.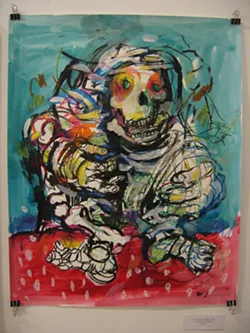 Gavin: What's the reaction been from artists and customers to the new space?
Hillary: People seem to like it. They are positive about the space and seem to think that we will do well here. Artists like the gallery space separate and feel like there is more room to display.
Gavin: On the T-shirt front, you've kind of become the local one-stop shop for geek wear in SLC. Who are some of the latest designers you've brought on board?
Caleb: We always have new stuff coming from Alex Pardee and his company Zerofriends. We also try and get as many local artists in the shop as we can. We have shirts from Panda Propaganda, Shark Robot ,and will be getting some new shirts in from HamburgrHotdog.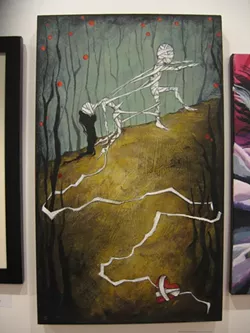 Gavin: You've also carried over a lot of the other materials, like books and smaller trinkets. What else can people check out in your shop that they may not know about?
Hillary: We do have some great artists books. You can also find prints from various artists, journals from Denik and many other things. Black Dog Art has moved into our basement. We are thrilled to have them. You can find all sorts of Skulls, Skellies and Dia de Los Muertos goods. Make sure and check out their shop in the basement when you come by.
Gavin: This month, you're throwing your third-annual Halloween show. How did this showcase start?
Caleb: We love having theme shows and enjoy seeing what the artists come up with. Being October, it just sort of worked out to do a Halloween/Monster show. We had great success in the years past with this show and want to continue it each year.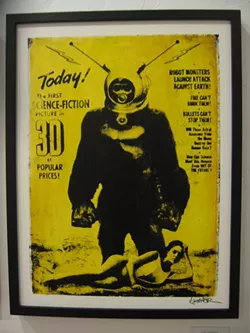 Gavin: Who have you selected for this year's display, and who are you most excited for people to check out?
Hillary: We have over 30 artists participating -- some you have seen before in our gallery, others are new to the gallery. We are excited for people to see the whole show all together. It's amazing to get so many artists showing their pieces, all at the same time. I think a lot of artists have a passion for Halloween and they seem to put their all into this show every year.
Gavin: How has it been working with Gallery Stroll and becoming a highlight to its program?
Caleb: We love Gallery Stroll. It's awesome to have one night when every gallery is open, showing a new show for the public to see. It's a great event and we appreciate the organizers of it.
Gavin: While we're on the topic, how is it being in an area with so many galleries and seeing the outpouring of talent?
Hillary: It's great. That is why we wanted to move to this location. We wanted to be closer to other galleries and shops. Being on 4th South, we weren't able to check out many other shows on Gallery Stroll night; it was hard to get away. Now that we are closer to other galleries, we can step out and check out what they are showing.
Gavin: What can we expect from both of you and the new location over the rest of the year?
Caleb: Of course there is the monster show in October. We will be taking a break in the month of November, so there will not be a new show. Then December is our 2nd annual Nutcracker Show curated by Vic Back.
Gavin: Aside from the obvious, is there anything you'd like to promote or plug?
Hillary: For sure check out Black Dog Art in our basement. If you are shopping on Broadway, make sure and check out Urban Vintage Antiques. It's an awesome store, and they have a little gallery in the basement open on Gallery Stroll. Buy local when you can. Gavin is awesome. Find us on Facebook to get updates on our shows, etc.



| | | | |
| --- | --- | --- | --- |
| Follow Gavin's Underground: | | | |