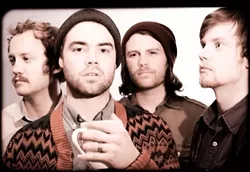 Today, we're looking at a few releases under the radar, a grand return, and a release show happening up in Ogden tonight! --- The first on the list is a release from Exigent Records, which you're going to be hearing a lot from in the next couple months, as it is happy to release the brand-new album from
Accidente
. This came from out of nowhere, and I'm sure I'm not the only one surprised to see a new album with no build-up or fanfare from the hardcore trio. Granted, they're no strangers to the SLC music scene, as the band are all former members of Form Of Rocket, but the last time this band released an album was in early 2008 with their debut full-length album, 
Exotic Payday
. But as of last week, it looks like the band is back and fully pissed with their sophomore album,
Headless
. It is every bit the loud and unabashed rock we remember from the first album, filled with even more vigor than the last. You can download the whole thing for $8 off
Exigent's Bandcamp page
.
Moving up north to Logan, we see the debut EP from the band Good Blood. The indie-rock band (seen above, photo from Good Blood) are made up of experienced Logan natives including Nate Sorensen, Clint Holgate, Riley Holgate and Andrew Tolman. The four-piece recorded the self-titled EP over at Why Sound, one of the first big albums we've seen come from the studio (or at least the biggest that's been announced). The band have got some chops but still have some room to grow; it would be nice to know what a full-length would have sounded like. You can download the album for a "name your price" tag on Bandcamp.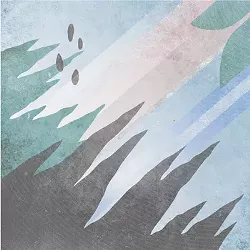 Traveling down to the other end of the state, we see the debut release from the project Nightspring. The St. George native simply going by "Cody" has put together his own electronica project with himself playing all the instruments. Not necessarily an original concept, but the fact that it came from St. George is noteworthy, as a lot of the electronica musicians don't release anything. His debut album, The Winter House, has its share of pop and '80s throwback style while keeping it in the modern throes of sound effects and danceable beats. I'ts at least worth checking out. You can buy the album for $7 several ways, but for you online lovers you can download it from his Bandcamp page.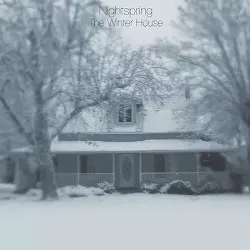 Next up, while I'm discussing indie, I'll move into folk and talk about the debut EP from One Way Life. This is a pretty little folk group out of Taylorsville, playing more off the conversational vocals between Amelia Dallton and Derek Wooley, with Skippy Hepworth and Scott Schilling completing the ensemble. They haven't been together very long, but they play like a band that's got about three years under their belts. Their debut EP, The World On Fire, came out just last week, and if you're a folk fan of any kind you need to take a listen. You can download the album for a mere $3 off their Bandcamp page.
And finally, moving into shows, tonight in Ogden we'll see the latest release from Krisdagong. The Ogden native got his start years ago when he was signed to Empire Productions in 2000, playing with the band The Others while working hard in the underground hip-hop scene around the country. Over the past decade, he's produced several albums, but with the exception of 2008's 100% Legal (which got mild attention on local radio and a spot in iTunes), most of his music hasn't caught on beyond the hometown. Hopefully, that will change with his sixth full-length album, Feel Good Music, set to come out tonight with his release show at The Copper Club in Ogden. Just $5; starting at 10 p.m.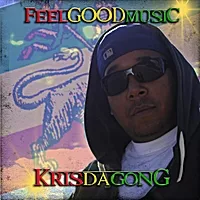 Love music, head out, buy local!