This past summer, the fashion scene was abuzz; lots of events and catwalks and private gatherings showed off what Utah designers had been creating during the winter. --- Now, as the seasons change and we start to see winter apparel come out, we're now taking a look back at some of the names that stood out over 2012 and helped this year thrive with local love.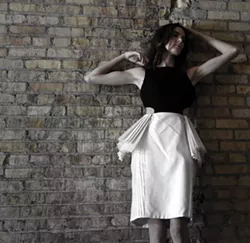 One of the more prominent names to come out of the season was Zoe Zoberski, whose designs and makeup additions landed her a few runway shows this year, culminating in a run at the Raw Couture show and her second appearance on Art Meets Fashion at the end of the summer. Today, I chat with Zoberski about her works, as well as her thoughts on the local fashion scene. (All pics courtesy of Zoberski.)
Zoe Zoberski
Gavin: Hey, Zoe. First thing, tell us a little bit about yourself.
Zoe: I'm 22, born and raised here in Utah. These days, school and work occupy most of my time, but when I get the chance, I enjoy snowboarding, biking, and general outdoor activities. You can say I'm a pretty average college kid when it comes to my personal life.
Gavin: How did you first take an interest in fashion, and what were some early influences on you?
Zoe: The first time I remember designing clothing, was when I attended Catholic preschool in Ogden. We were restricted from wearing anything but the school's plaid skirt and white shirt uniform. During the one-hour-per-week drawing period, I would illustrate dress after dress, and I dreamt of wearing something other than the school's identically bland get-ups. My first influence in fashion definitely came from my mom. She has this very quirky yet tailored sense of fashion that I found so inspiring. She has a closet full of clothes that anyone would be jealous of!
Gavin: You attended the Fashion Institute at Salt Lake Community College. What made you decide to go into its program, and what was that time like for you?
Zoe: I decided to attend the Fashion Institute because, at the time, it was the only one in the state. I was originally attending the University of Utah and I realized that what I really wanted to do was fashion. So for a while, I actually went to both schools, fashion at SLCC and business at the U. Eventually, I decided to work on one at a time, and dedicated myself to design. My time in the Fashion Institute has been beyond my expectations. I had my doubts about a fashion school in Utah, but once I started the program, I realized how credible it is and how much they had to teach me.
Gavin: During that time, you were working retail, mainly in winter apparel. How was the contrast for you creating designer wear in the spare time while selling practical and sportswear as your job?
Zoe: It made me really critical of outerwear designers, and I found it hard to find styles that I could identify with. I felt that women's collections were an afterthought, and as a result styling was marginalized. That lack of style and variety almost led me to designing ski/snowboard outerwear exclusively.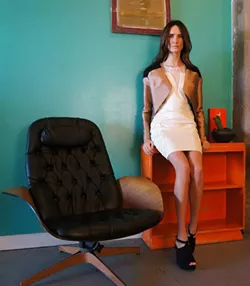 Gavin: How did the opportunity come about to start working with Fresh and expand into both selling and modeling more designer wear?
Zoe: I actually knew the co-owner Ian Wade before the shop was open. We had talked about the ideas he and his sister, Helen Wade, had for the store, and once those ideas came into a physical state, I was asked to model for their first shoot. I stayed a consistent model for the store for a couple of years, which led into modeling for other companies and designers. It was through modeling and the personal friendships I made with the owners that I was asked to work the retail end.
Gavin: You also worked with Facade and then Obemeyer on a seasonal basis. How was it for you to be a part of those different companies?

Zoe: Facade was a pretty intense experience. There were months that we couldn't get the heating to work, and I did my styling job in a mid-layer, coat and gloves. Other times, the residential quarters upstairs had plumbing problems and we'd work around buckets of water leaking through the roof. I think it was a beneficial experience for me because, it was the first time I really worked alongside a designer. It taught me that sometimes you have to tough it out and use what you have for the sake of what you love to do. Obemeyer, on the other hand, was a job that taught me to know both sides of an industry. Before this job, I was a snowboard buyer for Alpine Sports in Ogden. When I was hired on as an assistant West Coast rep for the company, I found out how much goes on behind the scenes, from designing the collection all the way to the reps tailoring those designs for each store's clientele. It opened my eyes to the process it took getting those products to the consumers. This became useful knowledge when I began designing my first collection.
Gavin: What made you decide to start up your own fashion line, and why did you choose to use just your name rather than create a company to go by?
Zoe: I wanted to start my own line for several reasons, but mainly because it was so hard to find things that I wanted to wear. With everything I bought, I would have to modify it to fit the way I imagined. People seemed to appreciate my tastes and so it made for an easy transition to start a line for others and myself. When it came to picking a name for the line, I knew I wanted to incorporate something personal. I decided on my name because in the end, the design and creation of each garment is done entirely on my own. I think my name matches my design's ambiance, and I wanted to be careful not to use something that was trendy or had a time limit.
Gavin: What were some of your early designs like, and why go for full ensemble rather than focus on any one specific article or clothing?
Zoe: My earlier work was much more abstract. I liked things that were very avante garde, more art than clothing, like Alexander McQueen or Viviane Westwood. My earlier pieces were apparel that you would consider wearing for more formal events, like a gallery opening or fashion shows. With my most current line, I've definitely taken a turn toward a more minimal design element. I think this happened because I wanted apparel I could wear everyday but still stay very fashionable -- the same reason I design full outfits instead of tailoring to an exclusive item.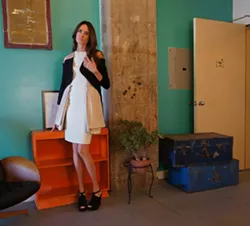 Gavin: What's the process like for you when creating a new design, from the initial concept to the final product?
Zoe: I like to start with finding inspiration from something that I can relate to through my personal experiences. I use word association to examine what my subject really means to me. This gives me all the inspiration I need to create a full line. Next is the illustrating process. I'll draw about 30 outfits then narrow it down to my favorite 10. From there, I start the pattern-making for each piece, in each outfit, making muslin mock-ups of every single item. I'll fit those items to a model I've previously picked and modify the pattern to fit. Once I have my sizing nailed down, I decide on specific fabrics, notions -- buttons/closures/zippers -- and any other elements I want to incorporate. Construction of the garment starts, and once an outfit is finished, I schedule a second fitting with my model to make sure the piece fits the way I've designed them.
Gavin: Do you tend to play around with your designs a lot while in the creation phase or do you stick to an idea all the way once you've started?
Zoe: I like to stick as close to my original designs as possible. If changes are needed, I will primarily make them in the illustration process. Occasionally, though, during the pattern-making development, I'll have a piece or idea that physically won't work. This leads to some slight alterations to the design and then I'll continue on from there. After that point, the only variations I make will involve what accessories are incorporated with each piece or the entire line.
Gavin: How was it for you when you started entering fashion exhibitions and runways and having your work seen by the public and press?
Zoe: It wasn't a drawn-out, carefully prepared experience, that's for sure. Last year, the Fashion Institute was asked to participate in the national Vitamin Water fashion competition. Ten students were nominated to design a piece representing a Vitamin Water flavor. Somehow, I was nominated as one of the contestants even though I was basically brand-new to the program with only two semesters under my belt and had never made anything more elaborate than a pillowcase. I showed up to our first meeting and realized that the other students had at least a year of schooling on me. It was nerve-wracking! I decided to tough it out and accept the nomination anyway. I designed the dress from the flavor I picked -- energy -- had some tough trial-and-errors with the construction process, but somehow managed to finish the morning of the show! Leading up to the event, I was worried how the dress would be received. I was stressed that it wouldn't be relatable to the crowd or judges. In the end, I took first-runner-up in the competition and received amazing feedback about my work from people I had never met. It was incredible! The whole experience taught me to not dwell on what others perceive about your creations because the only opinion that matters is your own. Just like one of my favorite instructors, Eugene Tatchini always quotes: "To live a creative life, we must lose the fear of being wrong" -- Joseph Chilton Pearce. My participation in this contest opened many doors, and as a result, I received invitations to design dresses for the 2011 and 2012 AMF shows, and I was the opening designer for the 2012 Raw Couture show at the Rose Wagner.
Gavin: Locally, you've been involved with shows like Fashion Stroll, AMF and Raw Couture. What has the local reaction been to your work, and how has it been seeing that kind of support from the hometown audience?
For the most part, it has been a really positive response from the community. However, I've heard and read reviews that didn't think so highly of my work, too. It's been something I've had to get used to, since fashion itself is so subjective. Attending shows and events in Salt Lake, I've had the pleasure of meeting a wide variety of people who have given me encouraging feedback on my work. It makes me smile when they take time to introduce themselves, explain how they were inspired by certain pieces and talk about all the unique designers we have in the Utah fashion scene.
Gavin: Aside from fashion design, you also consult and create as a stylist. How much of a change is it for you to switch from creating works to consulting on them?
Zoe: I find the change to be fairly minimal; as a designer, I believe that you need to be both. I'm always interested in other people's work, especially when it comes to garment construction. I've picked up a bad habit of examining peoples clothing while they're still wearing it, but I just find clothing construction fascinating. I have a deep appreciation for the clothing that I work with when I style, and that styling is just as important as designing. You can design all the garments you want, but if you don't know how to style them to hit your target customer, you're going to have an incredibly tough time selling it to them.
Gavin: Do you have any plans to start working with local retailers to highlight your work, or do you prefer creating the one-of-a-kind pieces for specific clientele?
Zoe: I'd have to say I like doing both. It's always flattering when an individual hires you for special designing purposes, but I want to invest time into creating a line that multiple people can own and appreciate. I've talked briefly with Helen Wade at Fresh about making a small line they could carry. I've even discussed a men's-specific accessory line with managers at Bastile. I'm just finishing up my last semester of school in Utah, and once that's over, I'll have some time to focus on those projects!
Gavin: What are you looking to achieve down the road as a designer, and where do you hope to see yourself in the next few years?
Zoe: Even though I'm graduating this fall, I feel that I still have a long way to go in design education. I'll be applying to Central St. Martins in London, F.I.T -- Fashion Institute of Technology -- and Parsons New School, which are both in New York. I'm also taking an internship with one of my favorite designers, Karen Walker, under consideration. Regardless of where I end up, I eventually want to design under an established name, expand into accessory design -- shoes/sunglasses/hats -- and maybe even design in different fields, like interior and textiles.
Gavin: Going local, what are your thoughts on the Utah fashion scene, both good and bad?
Zoe: I think we were nominated again this year as the worst state for fashion in the nation. In my honest opinion, it's both true and false. You'd have to be blind to not see some of the appalling fashions that are exclusive to our state, but I also think we simultaneously have an astounding amount of individuals with fashion-forward street style. I see people daily that influence and inspire the way I dress and design. We even have stores that make a conscious effort to bring us fashions from companies that haven't yet been integrated in Utah. I see the awareness of current fashion in the state constantly growing! Even though I try to keep an observant eye on our state's fashion, I still get caught off guard by the surprising amount of Utah fashionistas!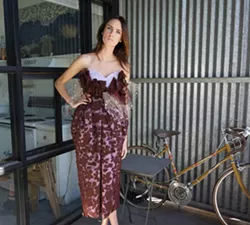 Gavin: Is there anything you believe could be done to make it more prominent?
Zoe: I believe we need to keep educating individuals with the products that we sell, and I also believe that we as designers in the state need to keep pushing our work to be imaginative and original. Thankfully, we have shows like AMF that offer a venue for designers. These events promote creativity, exposure, and provide local designers with an opportunity to develop their clientele. On a more personal level, I think we need to support the local retail businesses that help promote current fashions. The retail side is so important because it is the middleman between designers and our customers. They bring the designs in, and a lot of times, it will be the first experience the customer has to that fashion.
Gavin: What are your thoughts about local retailers and how they deal with local products?
Zoe: It's a struggle to promote a local brand when national products that come with an established name can make for an easier sale. When you take a local product that might not have the same following, but the same quality, it's harder to convince some customers of its worth. This forces most local retailers to work on a consignment basis. I've found this discouraging at times, because as a designer you are so invested in your work, but in the end it's an inevitable process local producers go through.
Gavin: Do you have any favorite shops you like to work with or shop from?
Zoe: Definitely! I worked for Alpine Sports for a few years as a buyer and also in retail. They are by far the most amazing snow-sport retailer in the state! They also offer the widest selection of goods, I've found, that tailor toward a more fashion-forward crowd. It's the only place for outerwear that I'll even bother to check out.
Gavin: What's your take on events like AMF and Fashion Stroll and the part they play in supporting local fashion?
Zoe: AMF and Fashion stroll are both about showcasing talent in Utah but are targeting different results. With Fashion Stroll, I feel that it is more about the masses, getting the community informed on local fashion talent and different types of boutiques, like second-hand vintage and thrift. With AMF, the focus is on the designer. It's more about building connections with other individuals in the field such as photographers, editors, writers, etc. Their focus is on helping the local talent display their work to the right people.
Gavin: What can we expect from your over the rest of the year?
Zoe: Well, for the rest of the year, I'm completely booked with my last semester of school. I even had to, unfortunately, turn down a design job for the sake of keeping my sanity. Once the school year's up in mid December, though, you can expect a women and men's fashion-forward line for retailers, a lookbook, as well as some more fashion shows!
Gavin: Is there anything you'd like to promote or plug?
Zoe: I want to definitely promote Tissú Fine Fabrics, which is located on Pierpont Street in downtown Salt Lake. The owner, Teresa Gilmore, provides the most incredible selection of fashion fabrics, notions, and sewing tools offered in Utah. It is such a relief from trying to buy fabric in any of the corporate textile stores, which cater mostly to the quilter crowd. She also does alteration and specialty design work, which is impeccable! If you need a tailor, you just found the one! I also really need to give credit to the SLCC Fashion Institute and the director of the program, Mojdeh Sakaki. If it wasn't for her dedication to the Institute, the Fashion Program would still be a certificate and not a degree, like it has deserved to be for quite a while. She treats her students like family, mentoring them years after they leave the course, and has created a program that continues to change lives of many individuals, including my own. Lastly, I want to thank City Weekly for their promotion and coverage of local arts, music, and fashion. Thank you!



| | | | |
| --- | --- | --- | --- |
| Follow Gavin's Underground: | | | |