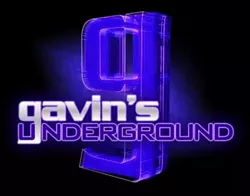 The Pickle Factory has been an iconic structure in the Granary District of Salt Lake City for decades, first as a symbol of business but in more recent years a large performance space for art and music. --- For many, it has been THE place to be for massive events, but over the course of the past 10 years, the ownership has switched hands frequently with various visions of what could become of the place.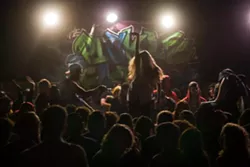 Most recently, new ownership took over, and with a little influence transformed the building back into a venue and artspace for people to check out massive shows. As part of the reopening that's been taking place this week, a massive Halloween show has been planned for the new venue just north of the Factory now dubbed The Salt Haus. Today, I'm chatting with venue owner and Pickle Factory runner Hilary Barrett about the building's new changes and what's in store for the venue. (All pictures courtesy of Hilary Barrett.)
Hilary Barrett
The Pickle Factory on Facebook
Gavin: Hey, Hilary. First thing, tell us a little bit yourself.
Hilary: Ha ha. Well, my name is Hilary Barrett and I own a venue called The Salt Haus and I also run the venue at my parent's building, The Pickle Factory. I just started and also own Pickle Productions with my best friends Harrison Montgomery and Shelby Washington -- of the hip-hop group the Dine Krew -- and Lexi Foutz. Pickle Productions oversees organizing the events that go on at the venues and both venues are also located in the Granary District area of downtown Salt Lake. I'm a full-time student at the University of Utah studying political science and campaign management. I am an artist and absolutely adore everything about the world of underground music, art, street art and graffiti. Truthfully, I love to party, listen to good music and have a damned good time.
Gavin: What did you think of the local scene growing up here, and when did you first get involved with it?
Hilary: I had a rather eclectic childhood. My parents owned Wasatch Furniture and the three buildings next to it that housed Decades, various businesses like Burton Snowboards and a bunch of art-studio spaces and shops all right in a row on 6th South and State Street. We lived in a loft apartment above Wasatch Furniture; growing up right in the middle of downtown Salt Lake gave me the opportunity to experience all of the different scenes at a young age and, even more so, to appreciate it, whether it was a punk chick working at my dad's front desk, the hippies at the yoga studio next door, the kitsch scene that Decades attracted, the snow bros partying over at Burton's showroom, Bar Deluxe and The Bayou playing music down the street, or the local artists who would paint murals on the walls at Wasatch furniture and rent space from my parents. I got a taste for it all -- this was normalcy to me, it was my little neighborhood. I first got involved in the local scene by going to shows at Kilby Court, from age 13 on, and I can truly say I just have had a lot of really good friends I have grown up with who have become big players in the local art and music scene. My booking agents at my venues are, as I mentioned, both part of a very talented hip-hop group called the Dine Krew, and I truly believe that the music scene in this town is ridiculously underrated.
Gavin: You're currently seeking a degree at the U, which involved some time with the Copenhagen Business School. How has it been working with its program t achieve your bachelor's?
Hilary: I am currently seeking a degree at the University of Utah, but it's completely irrelevant to what I'm trying to do right now, ha ha. I am close to being done with my degree in politics, and it's something I'm very passionate about, but with the trouble kids my age are facing with getting those "real jobs" once they graduate, I'm going to try and see where the Pickle Factory and The Salt Haus take me instead. I don't think it's worth it to settle for a cozy 9-5 job; I want to do something that makes a difference, and I have put my heart and soul into these venues. I went on a study-abroad program through the university for the 2009 school year to Copenhagen Business School, so I'm not really working with their program, my credits simply transferred back when I was done. Copenhagen is a beautiful city with a very interesting subculture and art scene. It's mellower, similar to Salt Lake, when compared to other European capitals, yet is beaming with creativity and openness. My time there has greatly influenced what I am trying to do at the Pickle Factory and Salt Haus with art and music and it also opened my eyes to the world around me. While I lived in Denmark, I traveled around Europe and Russia on the weekends and school breaks, and I have since returned on backpacking trips. In total, I have been to over 30 countries and experienced the vibrant nightlife everywhere from Stockholm and Prague to Budapest and Madrid.
Gavin: When did you first learn about the Pickle Factory, and what were your first impressions of the venue?
Hilary: I first learned about the Pickle Factory when I was invited to "Halloween at the Pickle Factory," a massive party/rave some of my friends played sets at in 2009. I thought it was an amazing place, like anyone does when they see it. The next year, I went on a backpacking trip, and while I was in Krakow my parents called and told me they had bought the Pickle Factory. My first impression was, "Oh, God – I thought you guys were done buying commercial properties that need a little 'too much' work done to them." However, I was very excited because I knew the potential the building had. I have come to decide it was one of the best decisions my family has made.
Gavin: The space itself has come under several ownerships over the past few years. How did you end up acquiring it as its current owner?
Hilary: Growing up, my family owned a number of buildings on 6th South and State Street; five years ago, we sold them, and two years ago, we was decided to re-enter the business of restoring old property. Our family saw the Granary District as a promising and upcoming neighborhood to purchase property in. The Realtor who processed the sale of previous buildings we have owned found the Pickle Factory -- a building that had been listed a number of times that no one was willing to purchase because of the large amount of work required. As restoration was nothing new for our family, we saw the potential to bring this piece of Salt Lake history back to life. At the beginning of this year, my family, along with their partners, bought four more buildings on the same block as the Pickle Factory. I opened my venue The Salt Haus, two doors north of the Pickle Factory last Friday ... along with a crowd of 400 people.
Gavin: What was the condition you found the building in and what areas needed the most work?
Hilary: Both the Pickle Factory and the adjacent property where the Salt Haus is located were in a similar condition. The reason behind the amount of work they needed was that they have not been well-utilized in the past nor had any amount of maintenance performed. Yet, still there has always been a great need in the downtown area for buildings like the Pickle Factory; young artists need a positive space to create their art and perform. People like me and my family are aware of this need and are happy to foster the thriving underground culture and make it accessible to people while promoting the interests of young artists and the community as a whole. There hasn't been one area in particular at the row of buildings that need work, we have just been slowly revitalizing, rejuvenating, restoring them all.
Gavin: What made you decide to reopen it as a music venue and art space rather than convert it into something else?
Hilary: I wanted to reopen the Pickle Factory as a music venue simply because, it's the perfect place for it and because I believe so much in the success of the art scene and the Granary District's role in it. The building is industrial, gritty, urban, wacky and awkwardly beautiful -- DIY venues are just what downtown needs. It has an incredible history as a venue, studio, theater, gallery, and factory and as a haven for all types of art. The space can also house a very large number of people, and there's no one around to think it's a nuisance. Why not have a venue there? Carpe diem.
Gavin: Considering some of the renovations it's gone through over the past couple of years, how much did you decide to keep and what absolutely had to go?
Hilary: We try to keep as much of the original integrity of the old buildings as possible to maintain its history. Owning aged property is like an extreme form of recycling, keeping and reusing everything you possibly can.
Gavin: You've given the place a new coat of paint, so to speak, with graffiti artists coming in and redesigning sections of the interior. What made you decide to go that route, and who have you been working with on the art?
Hilary: Yes, we have had some very notable graffiti artists come and do live art during our shows out back of the Pickle Factory throughout the summer. Graffiti is something that intrigues me and I think it is a very under estimated art form. We believe in supporting all types of art and providing a space to showcase all the underground, grassroots art in SLC. The shows my amazing team and I put together at the Pickle Factory consisted of live graffiti art, local clothing company vendors, local pottery and art vendors, dancing, food and all sorts of other types of music and art. We made a commitment to not turn any artist away who wants to show and sell their art form at the Pickle Factory concerts -- booths are free, we don't take a fee, and we provide tables and lighting to the artists and their booths. Graffiti is raw and not the mainstream -- it gets people's attention, stems from a rejection of the normal and is something that gives the Pickle Factory an edge.
Gavin: You've been holding some shows outside while the building has been worked on. How have those shows gone over, and what have you learned about throwing events at the Factory?
Hilary: All of the shows that Shelby, Harrison and I organized this summer were outside in the back courtyard of the Pickle Factory, where the trains once pulled into to load pickle jars. We have now opened a new venue to be the winter and indoor component of Pickle Productions, also in The Salt Haus. We have made such a splash with our scene that we figured we would try an indoor venue; I could not have done any of this without the support of my parents or the incredible amount of hard work Harrison, Shelby and our newest member of Pickle Productions, Lexi, have put in. Every show has been extremely successful; we have a built in crowd of around 300 people, a plethora of local musical talent that we assemble on the lineups and amazing art to see all around.
Gavin: What made you decide to officially reopen in late October and what's the reaction been from the community to it?
Hilary: The reason I decided to relocate in late October was so that we could have our opening of the Salt Haus be the same night that we first went to a show at the Pickle Factory -- years before on Halloween weekend for an event that was called "Halloween at the Pickle Factory."
Gavin: Recently, you've added an art garden to the property. What made you decide to expand outside and what can people expect to see in the garden?
Hilary: We are planning on adding an art garden to the Pickle Factory next year -- my parents were inspired by a moving metal-art show they went to in Springville and would like to recreate something similar out back of the Pickle Factory. We also plan on sprucing the back up a little more while still keeping the urban, rundown feel of it, and adding a small community garden.
Gavin: As of this blog, you've opened up The Salt Haus, combining the venue and art aspects into one performance hall. What was it like putting it together, and where did you get the name from?
Hilary: My employees and I had a ridiculously hard time coming up with a name for the new venue; we didn't know whether or not to associate it too much with the Pickle Factory because it is not actually at the Factory, but next door to it. We ended up picking "The Salt Haus" because it is homage to Salt Lake, and the Haus instead of House was meant to make it a little wacky. We took a month off from organizing shows at the Factory and completely redid the space The Salt Haus is located in and had over 20 graffiti artists and underground artists come contribute burners and murals to the walls. The space looks utterly insane. Our opening night was Friday, Oct. 26 ,and a huge crowd turned out. We had an awesome lineup and we are looking forward to this winter.
Gavin: With all the space the Factory has to offer, what are your plans for the upstairs section and are there any new expansions people can expect to see over the next year?
Hilary: As always, the Pickle Factory and adjacent property are in a constant state of updates and transformation. The moment a space is finished, it gets filled. There are currently many artists who have studios at the Pickle Factory, from architects to graphic designers and clothing makers. Over the next year, we hope to have many more studio spaces completed, as well as two retail spaces and a coffee shop open. We also plan to begin the process of turning the next-door building into both studio space and loft space for residential tenants in the future.
Gavin: Going local for a bit, what are your thoughts on our music scene, both good and bad?
Hilary: The local music scene is a monster brewing right now, and I think it is going to blow up in the next few years. Because of the view of Salt Lake as this highly religious sleepy town in the West, people forget how vibrant our art and music culture is. With the conservative oppression that comes with living in a town like this, I believe it breeds an amazing anti-culture or underground scene, from the punk scene in Salt Lake in the 80's to the hip-hop scene right now -- both are flourishing and I think the sky's the limit for our local talent here. The bad I see is only that more people in the entertainment industry should work together instead of try to compete, and there should be bigger push towards positivity.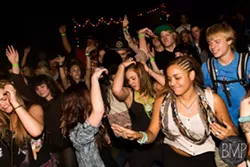 Gavin: Is there anything you believe could be done to make it more prominent?
Hilary: Collectivize. Since I started doing shows, I have noticed all these small facets, musicians or production companies of the various scenes that have one of the various crowds, like hip-hop kids, on lock down. If everyone worked together and promoted each other and all the scenes combine, I think it can be unstoppable. There are too many small productions and collectives; however, at the same time, this notion is the whole beauty of the grassroots scenes and feel in Salt Lake, so I don't know if it's really a bad thing.
Gavin: What's your take on the art scene and how it's grown the past few years?
Hilary: I love the art scene and music scene in Utah and I think it has been growing exponentially. This month alone, I heard word of four other venues also opening in October, and I think it's a good thing. I think art and music should always be combined -- they are one in the same to me and are meant to inspire.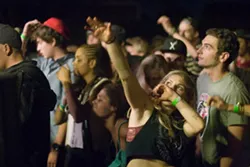 Gavin: What's your take on Gallery Stroll as a whole and how it's doing today? And will you be taking part in it, like previous tenants have done, or will you move away and do your own thing?
Hilary: As of now, we have not been asked to be a part of the Gallery Stroll in Salt Lake, but we would be more than down to support and be a part of it. Things get pretty weird in a good way at the Pickle Factory and the Salt Haus, and we need a little bit more of that in Salt Lake!
Gavin: What can we expect from both yourself and The Pickle Factory the rest of the year and going into next?
Hilary: I'm hoping that the sky's the limit. Pickle Productions is trying its hardest to consistently put on awesome, solid shows, team up with other production companies, keep a positive name, and we have made a commitment to always have something original and different to offer to our followers. We have made our success on hip-hop and EDM music shows, but we are really hoping to expand this year into many other types of music -- last night we had our first ska band play!
Gavin: Aside from the obvious, is there anything you'd like to promote or plug?
Hilary: Come support local art and music, follow us on Facebook and on Instagram via @picklefactoryslc. Don't be shy to hit up Pickle Productions, we do not turn away any musician or artist who wants to be on a lineup or included in a show. Much love, make mind and get weird.



| | | | |
| --- | --- | --- | --- |
| Follow Gavin's Underground: | | | |