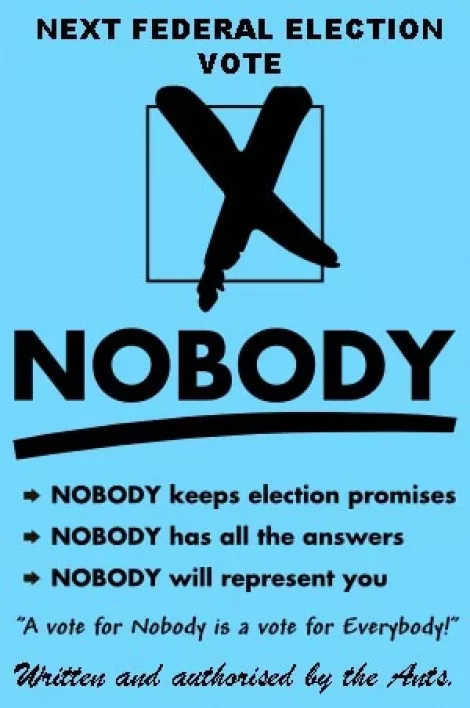 You could look at it as checking a "none of the above" box if one were available on the ballot, but instead, activists with the anarchist group Vote Nobody are advocating for people to do their duty on Nov. 6 by not voting.---
"Nobody has a right to tell another person how they're going to live their lives, so by that definition, voting for political rulers is you telling another person how they're going to live and we disagree with that concept," says Mark Van Gelder, a member of Vote Nobody SLC.
Van Gelder is quick to point out he's not a spokesperson since the anarchist group is highly decentralized and there are no real leaders in the group. He argues that the anarchist way of life would have more traction with people if they realize that the principle is not an absence of laws but organization that comes from the bottom up instead of the top down.
"We believe governments are inherently violent and taxation is inherently theft," Van Gelder says, "So, any government program paid for with taxes is immoral." Van Gelder, who himself spent years in the Navy, says the idea that the authority of government as being immoral even if programs do good sometimes is a hard one to grasp.
"If a burglar steals your TV and pawns it for $200, if he gives $5 to charity it doesn't mean he did a good thing," Van Gelder says.
While the alternative to traditional government is an idea that confounds some people, Van Gelder says the concept is not without precedent. He points to Native-American societies that were organized around decision making through consensus that was not authoritarian. Chiefs in a number of tribes he says acted less as decision makers and more as people who helped resolve disputes. "A number of Native-American tribes were good examples of anarchism in practice," Van Gelder says.
The SLC Vote Nobody Campaign, Van Gelder says, is part of a national movement aimed at teaching people that communities can effect more change by organizing communities more than just checking a box on the ballot once every election year. As such, the practice is less about parties and politics and more about a world view and a way of living.
"Anarchy is not about establishing this kind of government or this kind of society," Van Gelder says. "Anarchy is more or less a philosophy."
The SLC Vote Nobody movement is not just a movement tied to the political season. People interested in learning more about the principles of anarchy and how to apply them can attend regular meetings the group holds in Salt Lake City. Visit the group's Facebook page here to find out more.