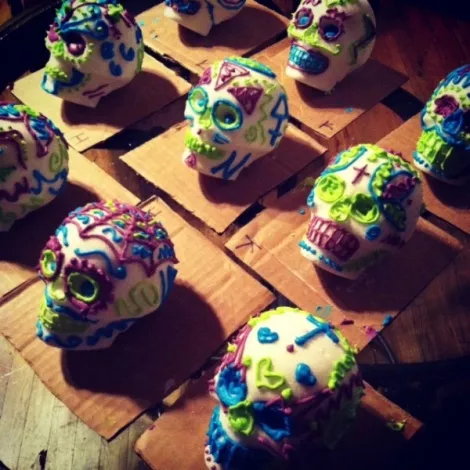 Shake off your Halloween hangover by enjoying a celebration of community spirit and spirits—Dia De Los Muertos is a Mexican celebration of ancestor spirits ,and you can support the art and culture of Salt Lake City communities at three great celebrations happening this weekend.---
Get your dead on this weekend and learn more about the culture of your community with dance performances, sugar-skull painting, and story time for the kiddies, courtesy of the Salt Lake City Public Library:
Rose Park Elementary, 1105 W. 1000 North, Thursday Nov 1, 6 p.m.
Day of the Deaders will be treated Thursday to dance performances by Adelante's Ballet Folklorico. There will also be sugar-skull painting (pictured are a couple of skulls created by me and some peeps who actually knew what they were doing) music, an interactive ancestor altar, music, pan de muerto and an art show by local teens.
Sprague Branch, 2131 S. 1100 East, Saturday Nov. 3, 2 p.m.
The east side will be ringing in some Day of the Dead fun for the whole family with songs, sugar-skull crafts, stories and films
Main Library, 210 E. 400 South, Sunday, Nov. 4, 2 p.m.
Come out for a community altar, Aztec dancing and more as the Day of the Dead comes downtown, with celebrations hosted by the Mexican Consulate of Utah and the Federation of Mexican Clubs in Utah.
For more info on Day of the Dead festivities, visit the Salt Lake City Public Library events page here.