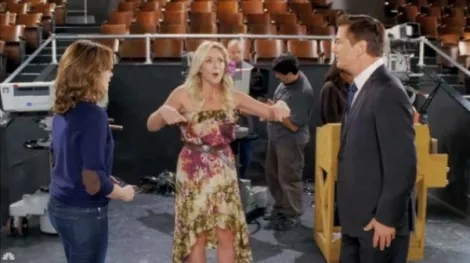 What's new on the spooky box tonight:
30 Rock (NBC) Election, Not Halloween, Episode: Sorry, Animal Practice—NBC has to put an election-themed 30 Rock on tonight because … Hurricane Sandy? Sure, that makes sense. ---Anyway, enjoy "There's No I in America," wherein Liz and Jack attempt to sway undecided Jenna toward Obama or Romney. Happy Halloween!
American Horror Story: Asylum (FX) Speaking of big-ass storms, one hits Briarcliff tonight and a bunch of the crazies seize the opportunity to escape. Also, expect more sexy-creepy time and/or creepy-sexy time. Happy Halloween!
Also new tonight:
The Neighbors, Modern Family, Suburgatory, Nashville (ABC); Survivor, Criminal Minds, CSI (CBS); Guys With Kids, Law & Order: SVU, Chicago Fire (NBC); The X Factor (Fox); Arrow, Supernatural (The CW); WWE Main Event (Ion); Face Off (Syfy); South Park, Key & Peele (Comedy Central); The Soup (E!)