While panel shows still reign supreme in local podcasting, interview-based shows are starting to gain prominence, as people are getting tired of group discussions and looking for more one-on-one. --- Granted, it isn't a new concept as another facet of talk radio since has fit nicely into the new broadcast format ever since it was started, but rather the desire for shows that sound nothing like the over-hyped political or standard news shows that are fueling the new brand of shows coming out.
Take for example, the I Am Salt Lake Podcast that started a few months ago, where host Chris Holifield heads out into the valley armed with nothing more than an iPhone, some questions and an appetite for conversation. In just a short time, his shows have already gained notoriety for interviewing musicians, organizations and local personalities who normally wouldn't see the spotlight on other shows. Today, I chat with Holifield about his show and thoughts on local podcasting in general. (All pictures courtesy of Chris Holifield.)
Chris Holifield
Gavin: Hey, Chris. First thing, tell us a little bit about yourself.
Chris: I'm 34 years old and live in beautiful Sugar House with my wonderful wife, Suzanne, and our dog, Falcor. I'm a sleep-deprived, over-thinker, over-analyzer, and I'm always coming up with some crazy new idea that I have to try out. I've lived on both the West Coast and the East Coast and the only place that I can truly call home is Salt Lake City.
Gavin: You're married to Suzanne Holifield of Sorry Clementine. What's it like for you helping her out with her business?
Chris: One word: inspiring. Being able to watch her grow her clothing line into what it is today has been truly amazing. Sometimes it gets rough to get up at 4:30 a.m. on a Saturday to help her get ready for a downtown farmers market -- or some other random event she is doing -- but I know she truly appreciates me and that's all that really matters. She continually pushes me to always create, do my own thing,and be my own person. I really couldn't have found a better person to grow old with.
Gavin: When did the idea come about to start up your own podcast, and how did you come up with the name?
Chris: For the past couple of years, I have been taking pictures of Salt Lake City and posting them on Instagram, trying to show off a side of SLC that people weren't maybe as familiar with. -- the raw and gritty side of the city; trying to show both locals and nonlocals sides of the city that usually was overlooked. The response to my photos I would post online was amazing. It was like people started seeing Salt Lake City with a whole new set of eyes. One day, I was sitting and people watching at the local downtown farmers market and it hit me -- why not do a podcast showcasing all the people within the city who are actually making stuff happen? Basically the same idea as my photography, showcasing a side of Salt Lake City that most people aren't maybe as familiar with. There are a lot of people in this area who don't get the recognition they deserve. Everyone has a story to tell and now I'm just on a quest to record it. Suzanne actually came up with the name. When I told her my idea, she told me I should name it, "I am Salt Lake." Basically, meaning that each person makes the city what it is today. Everyone plays a role here, and if it wasn't for one person doing something, maybe someone else wouldn't be doing something else; like a domino effect. I talk more about this in depth in my introductions episode that you can listen to on the website.
Gavin: How did you come up with the format for the show and why specifically solo-host interview?
Chris: I wanted to showcase people in the Salt Lake City who were making stuff happen and have interviews and conversations with them, so this format made the most sense. As far as the solo-host aspect of the show, I'm still trying to convince Suzanne that she should do it with me. Maybe one day I will find the perfect person to do the podcast with me; until now, it's just me.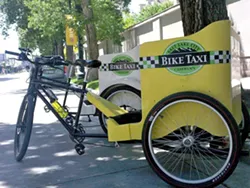 Gavin: What kind of equipment did you get for the show, and what kind of challenge is it running and producing it alone?
Chris: When I first started, all I had was one of those attachable mics that you can plug into your iPhone, a cheap microphone to plug into my Macbook, and, of course, my laptop. I didn't really know what I was doing, all I knew is I had a quest and I had to start recording. Well, I learned very quickly that horrible audio isn't any fun to listen to, as you can tell in some of my earlier episodes. A few episodes into this project, I picked up a couple of better mics and have learned how to use Audacity a lot better to edit my audio. Each episode, I think I get better. Some of my biggest challenges have just been learning about audio recording in general, which before this I had really no experience with.
Gavin: What was the first episode like for you, and what early lessons did you learn about making an episode?
Chris: The first episode was super-fun because I was just sitting and talking with my wife; it was the couple of episodes after that that were the hardest. Trying to convince someone to talk to me when I really didn't have anything to show them was very difficult. Seriously, a big thank you to the first people and bands I interviewed for believing in me and trusting me. The biggest lesson that I've learned overall with this project is to never give up.
Gavin: How do you decide who you want to interview, and how do you go about recording a show?
Chris: I will pretty much talk to anyone who is making something happen in the local area. I am portable when it comes to recording at this point, so I will record just about anywhere. I think there is something beautiful about being able to capture the sounds of the city in the background in some of these recordings.
Gavin: How much of what you ask is planned and how much comes out on the spot?
Chris: I like to jot down a few notes and do some research on the person or business I am interviewing, but other than that, I like to just talk to the person and get to know them. I figure it's their story and they are going to do the best job telling it.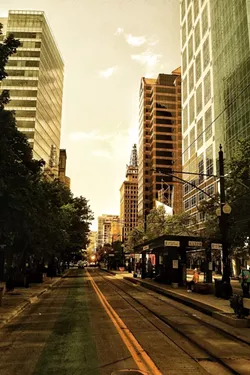 Gavin: What's the reaction been like from the guests, as well as the audience tuning in?
Chris: Amazing. Seriously amazing. The e-mails and voicemails that I have gotten so far from the public have blown me away! The guests, of course, seem to like it because it gives them a chance to be in the spotlight for a small moment, which a lot of them might not have otherwise.
Gavin: You made the move to broadcast on Stitcher very early on. What made you decide to go with its service rather than hit up iTunes first?
Chris: Actually, I made sure to be on both from the very start. I knew going into the project that I would need all of the exposure that I could get. If you are doing a podcast, being on iTunes is a given, I think, but I love Stitcher because you can find a lot of really cool podcasts within the app and I wanted people to, hopefully, stumble upon this project. Also, Stitcher is nice for Android users and people who might not want to deal with the hassle of iTunes. If you are doing a podcast, you really need to be on both.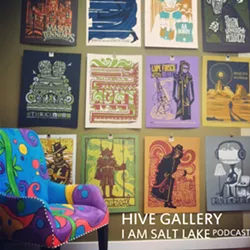 Gavin: Your show has received a lot of attention in a short amount of time. What's your take on the local reaction and how it has been received by the podcasting community?
Chris: Like I mentioned before, it's been amazing and I truly am humbled. I really didn't expect this kind of reaction from it so fast. One of the neatest things about it is being able to connect with people who used to live in this area and have found my podcast and enjoy listening to it for the memories of the area. The podcasting community has seemed just as welcoming to me, as well, and has been there for me to help me along the way with the gazillion questions I had.
Gavin: Do you have any plans to expand the format beyond what you're doing now, or are you going to keep going with what's working for a while?
Chris: Right now, I plan on just sticking with what I am doing. It seems to be working, and interviewing is what I love.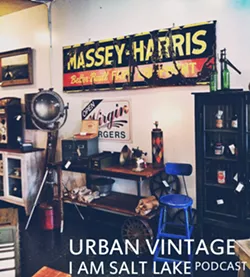 Gavin: Going more local, what are your thoughts on the podcasts coming out of Utah these days, both good and bad?
Chris: I only know of a small handful ,and the ones that I have listened to seem awesome and on the right track.
Gavin: Is there anything you believe could be done to make these shows more prominent?
Chris: Get your name out there a little more. Make sure you are on iTunes and Stitcher and easy to find.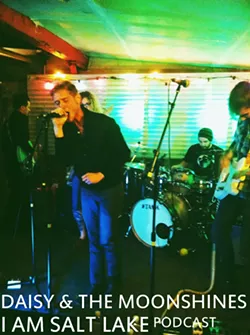 Gavin: Do you have any favorite local shows you listen to and recommend?
Chris: The Let's Go Eat Show is probably in my top-five all-time-favorite podcasts -- and I listen to a lot of podcasts. Also, I really like the Salt Lake Pubcast when Benny gets around to recording an episode.
Gavin: Where do you see the medium going both locally and nationally over the next few years?
Chris: I think podcasting is still in it's preteen stages. It's just going to keep growing and growing. I don't think we have even skimmed the surface with it, as there is so many more things that need to be podcasted about. Blogging will always be there. but I think at the end of the day, people have more time to listen to stuff rather than read it.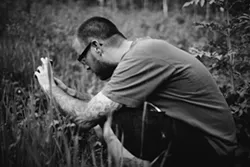 Gavin: What can we expect from you and the show over the rest of the year and going into next?
Chris: More interviews; lots more interviews. Conversations with people who you didn't even know probably existed. I also would love to make some audio tours of Salt Lake City so people can just download them onto their MP3 players and I would show them areas around the city that they didn't even know maybe existed.
Gavin: Aside from the obvious, is there anything you'd like to promote or plug?
Chris: Check out the Sorry Clementine shop that my wife just opened up at 366 S. 500 East #104 in downtown SLC. Also, check out every single one of the bands, people, or businesses that I have talked to on the podcast. Without any of these people willing to sit down and talk to me, I wouldn't be here today. Support local and love the city you live in.



| | | | |
| --- | --- | --- | --- |
| Follow Gavin's Underground: | | | |