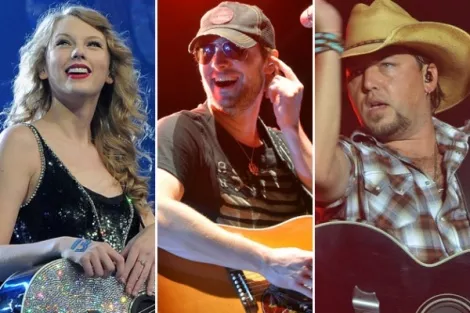 What's new on the electronic zombie-maker tonight:
The 46th Annual CMA Awards (ABC) Like country music? Me neither—but here's three (!) hours of what's popular in C&W these days, ---including Tim McGraw, Faith Hill, Jason Aldean, Dierks Bentley, Little Big Town and … Kelly Clarkson? WT Ford? When did this happen? This is where I could make the joke that she's not country, but rather the size of a country, but that would be crass. And yes, as required by current TV law, Taylor Swift will also be appearing.
The League (FX) Kevin and Jenny find out that The Hills' Kristin Cavallari is in their baby group and, waaay better, Ruxin lets Rafi (guest-but-should-be-regular Jason Mantzoukas) take his son to swim class. There's a funny promo for this episode, but the geniuses at FXNetworks.com won't allow an embed, so please follow this archaic "link": The Breastalyzer.

Also new tonight:
The Big Bang Theory, Two & a Half Men, Person of Interest, Elementary (CBS); The Voice, Rock Center With Brian Williams (NBC); The X Factor (Fox); The Vampire Diaries, Beauty & The Beast (The CW); The Real Housewives of Miami (Bravo); Beyond Scared Straight (A&E); Impact Wrestling (Spike); Jersey Shore (MTV); Childrens Hospital, NTSF:SD:SUV (Adult Swim); It's Always Sunny in Philadelphia, Brand X With Russell Brand, Totally Biased With W. Kamau Bell (FX); Gigolos, Reality Show (Showtime)