Hello to all you line-standing, registration-carrying, party-trumping, card-scanning, ballot-marking, get-the-fuck-out-and-vote enthusiasts! --- Yes, this blog's pale is entertainment, and if you need a political fix, all you have to do is pick up this week's issue of
City Weekly
(or watch TV for five minutes), but I have to say that I really think you should get out and vote. I don't really care which side you vote for, especially since I voted early last week, but I think if you don't do it, then you don't deserve to bitch when things go to shit. If you like being a sheep and letting others tell you what to do, that's your own business, I'd rather have a say. In lieu of a 337 update, here's some random art from downtown SLC.
A bit of event recap: The All Dead show over at Fice last night was awesome, and if you didn't go you really missed out. They had some excellent pieces from locals like Blake Palmer, Vic Back and Dan Christofferson, to name a few, and the vibe was very chill. You can check out all the pictures I snapped of the exhibition in this gallery here, but, honestly, seeing it in person was great.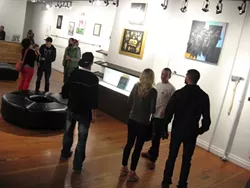 Moving on to events, tomorrow will be the return of
Craft Sabbath
to the Main Library. Over two dozen artists will be lining up their awesome crafts in the main promenade for you to check out and purchase, which for many may be a welcomed opportunity to buy something unique before the holiday rush hits you. The event goes from 1-5 p.m.
Skipping ahead to Thursday, a pair of events from art and film, are on tap, the first being the 24 Hour Art Show at Hive Gallery in Layton. This event was canceled back in October and rescheduled for this week; essentially, you pay to enter the exhibition and receive a 12x12" canvas, take 24 hours to do what you wish with it (within the guidelines) and turn it back in on Nov. 9, then watch the auction happen on Nov. 10. This always produces some interesting works, most of them from college kids looking for an experiment. You can get full details on their Facebook event listing.
Meanwhile, back in SLC, The Depot will play host to the launch of the X-Dance Film Festival. The 13th annual festival will run Nov. 8-11, opting to take an early showing and branching away from the usual film-fest season and showcasing the latest in action-sports films. The festival actually does quite well and usually brings out some top names and companies in the industry to show off new goods and promote the films. If you're into these types of movies, you should check out their schedule and snag a ticket while you can.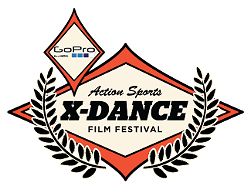 Friday, Nov. 9, will mark an important day in local comedy as Levi Rounds will be performing his last show in Salt Lake City. The multiple award-winning stand-up comedian is taking off for Los Angeles, as is the trek of every comedian when they reach a certain age in their career -- to make it big on the coast just in time to avoid the shitstorm of white snow we're about to get. (Don't give me that look, it snowed before Halloween!) Rounds' last show will be at Mo's Bar & Grill, with Arthur Carter opening up and hosted by Dean Weber. Just $7, starting at 9 p.m. Help send Levi off in style, with some laughs and all of your money.
Next Saturday, there are a ton of concerts happening, but with a holiday on the way there's a specific event I'm focusing on: Vegan Thanksgiving. Every year, this event is put on by those who don't partake in the regular dinner two weeks later, where the focus is that of eating a large, dead bird. Instead, they put together a huge vegan feast and hold a silent auction, with all proceeds going to benefit the Ching Sanctuary. This year, the dinner will take place at the Wasatch Presbyterian Church, and those of you who haven't tried the food might be interested, as meals are provided by some of the best vegan spots in town such as Sages and Vertical Diner.
The rest of next week is mostly concerts, with few events happening, although you should check out Cowboys & Indies at Velour if you're into themed shows. But the final event I'm going to discuss today is Uprising: The Paint Fight. If you can attend this, it is a must, as this will probably be one of the last mass gatherings before it gets too damned cold to do anything like this until late March. These events take place all across the country, where they take an empty warehouse, black it out, bring in a DJ and tons of paint in squirt-guns and other items, throw a giant dance party in white shirts, and then go to town with the biggest paint fight you've ever seen. Think the Festival Of Colors with party music. Best part: They're doing TWO of them -- one at the XSI Factory in Lehi, and the other at a location they just haven't released full details on yet, which will happen on Saturday, Nov. 17. The event is $15 in advance and $20 at the door; if you're looking for one last bash before holiday season gets into full swing, this is your best bet.
As for the blog: Over the next couple of weeks, I'll look into a local music website, see the latest play from Salt Lake Acting Company, check out the works of a local print shop, preview an art show happening soon, as well as a film coming to town, and also the next performance out of RDT. Or, at least that's the plan; who knows how things will go as we enter the home stretch of 2012.?As always, we'll see what happens.
| | | | |
| --- | --- | --- | --- |
| Follow Gavin's Underground: | | | |