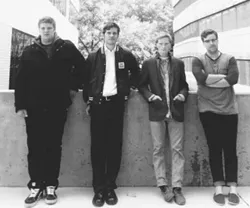 We've got two months left in 2012 and November has already kicked off with a bang, so today I'm looking at October leftovers, new material this week and releases with shows this weekend. --- First up is the debut album from Wildcat Strike, a straight-up indie-rock band comprised of experienced SLC musicians Tony Lake, Jake Rose, Will Tuddenham and Jordan Mendenhall. They only formed earlier this year but have been playing some killer shows around the valley and earning a strong following. The group release their self-titled debut album on Bandcamp back in September and just put out the physical release this week. This is definitely worth checking out -- go find a copy with the band next time you see them live, or download it for $9.
Next up is the debut album from Harmon's Heart, the current main project of Exigent Records' owner Jarom Bischoff. This album is Bischoff at his solo best, with a talented array of backup musicians helping him out. Slippery Slopes actually came out last year as a minor release, but when you're a label owner, you can do whatever you feel like with your own music. So, the album is getting a more formal release this Tuesday. You can currently download a digital copy off the Exigent Records Bandcamp page for a mere $10; yet another one worth checking out.
Looking back a few weeks, in early October we saw the debut release from Thell Carroll. Thell is actually local writer/musician Jory Carroll, who has a hell of a reputation around the city as a freelancer in the music community, but the Demo EP is his first venture into putting out his own music. I'ts very folkish, very acoustic, very solo -- much as you'd expect from a guy and his guitar. This one is worth a listen, and is totally free to download from his Bandcamp page.
While I'm on the topic of EPs, let's get a few others that flew under the radar, starting with the debut from The Word Safety. Not a lot to write about these guys; it looks like they got their start this year forming a four-piece post-hardcore band, but the vocals strongly suggest an whiney-alt influence. The band is so new they don't even have a Facebook, or at least one I could find. If you're into the genre, it may be worth checking out the music, but the vocals leave a lot to be desired. You can download their debut EP Conversations for a "name your price" tag on Bandcamp.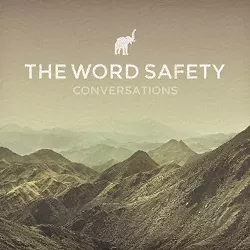 The other debut EP to hit last month was one from psychedelic-rock band Cliffs. The five-piece group seem to be channeling the lighthearted 60's vibe, that fun, peaceful period between where people were switching from three joints a day to two drops of LSD in a sugar cube. The band have a cool vibe going for them, but there are times where it seems like they can't decide if they're a mysterious version of Simon & Garfunkle or a toned down version of The Doors, or if they're both mashed into one. Their EP Experiments dropped early last month; you can also get this one for a "name your price" tag on their Bandcamp page.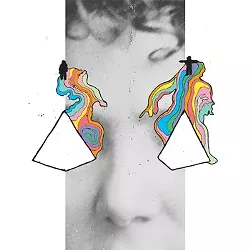 Moving into more recent releases, this past Thursday saw the latest from the Joshua Payne Orchestra. The band have been all over the place since their debut album Zoom hit the vinyl last year. They've been a closing act at festivals and frequent guests for smaller clubs, but most notably they've been playing around town, performing "Midnight shows" in various locations for free all around downtown SLC, ranging from business rooftops to art gardens to business patios. This week, we saw their sophomore album, Ra Ra Ra, hit iTunes and Amazon. No official word yet on a physical release, but knowing the band, i'ts sure to be on vinyl. This is a must to check out.
Going into releases with a show, tonight we'll see the latest from The Arcadians. The latest winners of Velour's Battle Of The Bands have been utilizing that to their full advantage, playing as many shows as they can along the Wasatch Front and building a strong audience, but, of course, the hometown crowd of Provo have been packing their shows every chance they get. Further capitalizing on the win, the group (seen above, courtesy of their Facebook page) released their EP%uFFFDShe Sleeps In Monotone%uFFFDback in July to rave reviews, but there was always word that a full-length was on the way. Now it's here, with an odd cover and title, as they've dubbed it%uFFFDNo More Nightmares. I haven't heard much from the album, but if it's anything like the EP, it'll be worth listening to. You can snag a copy of the album tonight at Velour for their release show, as the band plays with Book On Tape Worm and Seafinch. Just $6, starting at 8 p.m.
Finally, this Tuesday, the biggest release of the month -- and one of the biggest of the year --%uFFFDJoshua James' new album will hit stores nationwide. To try and encapsulate this release in a paragraph just wouldn't do it justice, but simply put, this is the most anticipated album to come out of Utah in the past few years. James may not have the kind of fame that Neon Trees or The Used have garnered, but when it comes to Americana and folk players, he is a superstar on the verge of going big. His latest album, From The Top Of Willamette Mountain, isn't as grandiose or anthem-filled as Build Me This (which garnered him national airplay and a couple of spots on Sons Of Anarchy), but it shows James growing as a performer and a songwriter. The softly strained vocals and every finely tuned acoustic guitar are still here, but with a toned-down band that fits nicely with the catalog of prior works. Even if you're not a fan of the genre, the album is a must listen if just once. You won't see an official release show in Utah until late November at Velour (two shows, in fact), but you can purchase the album online now and physical copies on Tuesday.
Love music, head out, buy local!