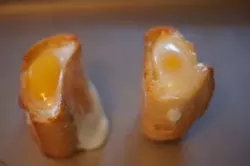 Through the years, one of my favorite food writers and culinary thinkers has been John Thorne. He and his wife, Matt Lewis Thorne, publish a newsletter called Simple Cooking. --- Many of the Thornes' writings have been gathered in excellent books such as Outlaw Cook, Pot on the Fire, Mouth Wide Open and Serious Pig.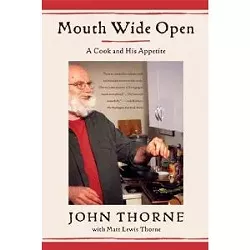 I honestly doubt I ever would have become a food writer had it not been for Thorne. His work made me think seriously about food, as well as to be able to have a sense of humor about it and to enjoy it. So, blame him. 
Thorne's books are chock-full of great recipes, and none is simpler or more satisfying than the bread-cup eggs he writes about in Mouth Wide Open. Bread-cup eggs are a terrific late-night snack or a deliciously simple breakfast or brunch dish. To be honest, the recipe that follows was stolen from Thorne -- lock, stock and baguette. 
I urge you to pick up a copy of Mouth Wide Open and read about bread-cup eggs for yourself. But, in a nutshell, Thorne says he created them after finding he had a number of baguette end pieces on hand and already had too many bread crumbs in his larder. "Inspiration struck," Thorne writes, and he hollowed out the baguette pieces, cracked fresh eggs into them and baked the "cups" in the oven. 
Ingredients: 
baguette pieces, about 4 inches in length -- 1 per person, or as many as you can eat
1 egg per baguette piece
butter
salt and pepper to taste (optional)
Method:
Preheat the oven to 350 F.
Lightly butter an ovenproof baking sheet or dish
To get the rounded end pieces of baguette to stand upright, slice off the very end to create a flat platform. In these photos, I used a skinny baguette. I recommend using a fatter, wider version if you can.
Using a small, sharp paring knife, hollow out the bread pieces cutting close to the crust, leaving about a half-inch intact at the bottom. Scoop out the bread crumbs with your fingers or a spoon.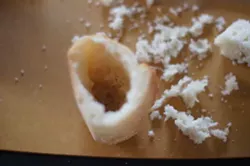 Put a small pat of butter in the bottom of each bread cup and place them on the baking sheet.
Crack a fresh egg into each bread-cup. If you use pieces of bread that are too small, as I did here, the egg may run over the side. Don't worry. You'll just wind up with an eggy exterior. 
Place in the oven and bake for 20 to 25 minutes, depending on how runny you like the egg yolks and whites. 
Finish with a little salt and pepper, if desired.
Photos by Ted Scheffler 
Note: After sharing this recipe with friends, I got some great feedback and ideas about how to accessorize the bread-cup eggs. For example, you could put a little Gruyere or Mozzarella in the bottom of the cups. Or, perhaps some Parma ham and cheese. The possibilities, literally, are endless. And, I'm pretty sure John Thorne would approve. 
For more about John Thorne and Simple Cooking, visit www.OutlawCook.com.