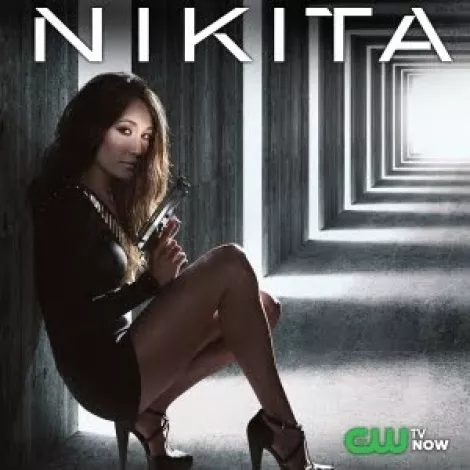 What's new on your glowing buddy this weekend:
Nikita (The CW, tonight) Amanda is back! So is Owen! But more importantly, Amanda! And her new hair! ---We also meet yet another new rogue, borderline-psychotic Division agent (what was the old screening process, anyway?), and Nikita wears something ridiculously short and/or tight (just guessing).
Also new tonight:
Last Man Standing, Malibu Country, Shark Tank (ABC); Undercover Boss, CSI:NY, Blue Bloods (CBS); Grimm (NBC); Kitchen Nightmares, Fringe (Fox); America's Next Top Model (The CW); America's Most Wanted (Lifetime); The Ultimate Fighter (FX); Tyler Perry's For Better or Worse (TBS); Fashion Police (E!); WWE Friday Night Smackdown, Haven (Syfy); Real Time With Bill Maher (HBO); Hunted (Cinemax)
Saturday Night Live (NBC/CW30, Saturday) Anne Hathaway hosts; Rihanna sings; both a have stupid haircuts.
Wedding Band (TBS, Saturday) Series Debut: Having faced the wrath of wedding planners on a handful of occasions as part of the hired music, I didn't see the comedy to be wrung from Wedding Band at first—when the show's planner (played by The Office's Melora Hardin) makes a reference to "cutting off balls and wearing them as earrings," combat flashbacks ensued. But, unlike other TBS original comedies, Wedding Band has no canned laugh track, runs an hour instead of 30 minutes, and is actually funny. Brian Austin Green (still known as one of the original 90210-ers) and Harold Perrineau (Lost, and the current villain du jour on Sons of Anarchy) lead a Seattle wedding band of buds through every ridiculous nuptial theme and mishap imaginable—it's Spinal Tap with cake, and occasionally even rises to the hired-help comic level of the late, semi-great Party Down (Netflix it). That and the Saturday-night timeslot guarantee this won't last long; best check it out now.
Also new Saturday:
iCarly, Big Time Rush (Nickelodeon); Parking Wars, Billy the Exterminator (A&E); Deadly Affairs (ID)
Firefly 10th Anniversary: Browncoats Unite (Science, Sunday) Squee!!! The cast of Firefly reunite and talk about the good ol' days of being fucked over and then cancelled by Fox. See, kids, Firefly was Nathan Fillion's show before Castle …
The Walking Dead (AMC, Sunday) As Zombie Axl Rose would say, "Where do we go, where do we go now, where do we go? Ai-ee-ai-ee-ai-ee …" Needless to say, Rick's going through some shit this week, so, of course, Carl's on point. Come to Brewvies Cinema Pub (677 S. 200 West; 21+) tonight at 7 and feel Rick's pain in The Walking Dead, on the big screen, for free! Courtesy of Big Shiny Robot, City Weekly, True TV, Brewvies and about 25 other sponsors.
Also new Sunday:
Once Upon a Time, Revenge, 666 Park Avenue (ABC); The Amazing Race, The Good Wife, The Mentalist (CBS); The Simpsons, Bob's Burgers, Family Guy: 200th Episode (Fox); Talking Dead, Comic Book Men (AMC); Cupcake Wars, Next Iron Chef (Food Network); Breaking Amish (TLC); Ice Loves Coco (E!); Rehab With Dr. Drew (VH1); Finding Bigfoot (Animal Planet); Robot Chicken, Superjail (Adult Swim); Boardwalk Empire, Treme (HBO); Dexter, Homeland (Showtime)