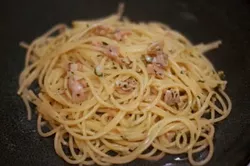 I first started making this simple and inexpensive clam sauce for pasta when I was in college and didn't have much of a food budget. --- It's a great larder meal, utilizing mostly stuff you might already have on hand in the pantry: canned clams, dried pasta and such.
If you'd like to see my clam-sauce recipe using fresh clams, click here. However, when I'm in a hurry and don't want to have to track down and clean fresh clams, this easy-and-quick recipe is still very tasty. If you use minced clams (versus chopped or whole), even the kids will enjoy it.
Ingredients:
2 Tbs. olive oil
4 garlic cloves, peeled and minced
2 cans (71/2 oz. size) clams -- minced, chopped or whole, reserving the juice of one can
1/2 cup white wine
1 Tbs. fresh thyme leaves or 1/2 tsp. dried
1/4 cup fresh parsley leaves, minced
12 oz. dried pasta -- linguine, spaghetti, or whatever you prefer
2 Tbs. unsalted butter
salt and black pepper to taste
Method:
Bring a large, salted pot of water to a boil and cook the pasta to just al dente according to package directions.
Meanwhile, heat the oil in a skillet over medium-high heat and saute the garlic until just golden. Don't burn the garlic!
Add the clams and reserved clam juice to the pan, along with the wine, and cook for about 3 minutes, until the liquid has reduced by half.
Lower the heat to medium-low and add the thyme and parsley, along with salt and pepper to taste. Stir well. (I like a copious amount of black pepper with this dish, but you don't have to use any if you'd rather not.) Set the clam sauce aside off the heat.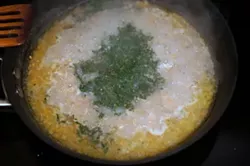 When the pasta is al dente, drain it and return it to the cooking pot. Toss with the 2 tablespoons of butter.
Once the butter is thoroughly incorporated into the pasta, add the clam sauce from the skillet. Toss well and serve immediately.
Note: It's considered bad form in Italy, but I still like to serve fresh-grated Parmigiano-Reggiano with my pasta and clam sauce.
Photos by Ted Scheffler