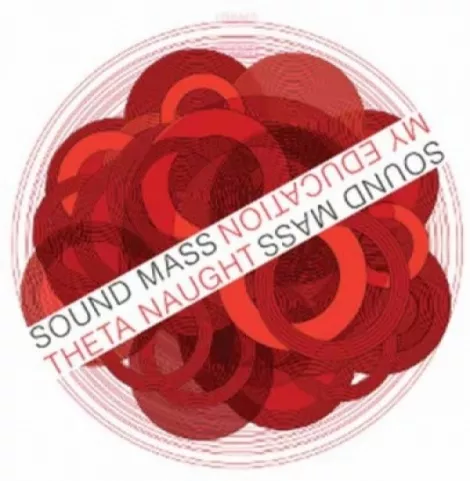 What happens when you get 12 seasoned musicians from two bands that have never met in a studio together for the first time? An epic soundscape full of nuance, as evidenced by the Theta Naught/ My Education collaboration,
Sound Mass
.---
While they have been compared to Godspeed You! Black Emperor, Explosions in the Sky, Pink Floyd, and so on -- "psychedelic mood music" -- the members of this collaboration bring a diverse range of influences, from "punk and metal to classical and jazz to really loud guitar-driven, effects-laden '90s shoegaze and various electronica," notes guitarist Joshua Ogzewalla of the Salt Lake City-based Theta Naught.
And all those influences came out shyly, yet beautifully, when these musicians met. These five lengthy songs were recorded in one take, so what you hear is exactly what happened in the studio that day.
The collaboration has been fruitful thus far, including a showcase at 2011 SXSW, an invite back to Austin for Psych Fest, a recording session with Daytrotter and a recent 10-day tour through the Southwest and the Intermountain West. While My Education is in town, the collaboration will be stepping back in the studio, so expect more tunes to come.
The vinyl-release show, with both bands, will be Friday, Nov. 16 at Bar Deluxe; there will also be a show Saturday, Nov. 17 at Sammy's in Pleasant Grove. Additionally, Theta Naught has said that these shows will most likely be their last weekend performing together, after a 10-year run, because one member is moving. Catch them while you can!
But, anyway, back to the album. Joshua Ogzewalla talks about two songs off of the forthcoming vinyl release:
"Careful With That Saw, Ryan" (side A):

When you bring two bands into a recording session for the very first time, interesting things can happen. This songs begins with a subtle bass line, almost like a pulse setting a foundation. Younger musicians don't always take in everything that's happening in their eagerness to push their own ego to the forefront, but seasoned musicians will actually listen to one another and find delicate inroads to keep building a structure of a song that can actually transport you someplace else. This song does that. It's a slow build to something that feels almost on the edge of collapsing into some great apocalyptic fugue, but it holds you tight and safe with a promise of something beautiful yet to come. It's not what we necessarily set out with any intent to accomplish, it just came about as we released ourselves to the moment.
"Communion" (side B)

This song builds around the harp, with viola and cello and lap slide creating a very ethereal and drone-y sort of chamber piece. By the time bass, drums and guitars kick in, there is something almost threatening and menacing beginning to happen with the track. And it morphs from something you would follow quite naturally and comfortably and dumps you out on the barren shores of time, not sure where you are, how you got there, or if you are even really ready for any of it. And then it just sort of dissipates and you found you never went that far after all.

You can hear more Sound Mass music, and by the album, at the Bandcamp page.