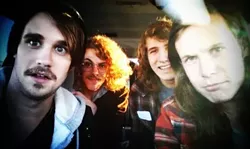 This week, we've got a number of releases to look at, most of them with shows happening this weekend, which has made Saturday the must-see night for new albums. --- Delving into stuff under the radar, I'll start with the debut release from
Zombie Book Club
, a two-man band from Salt Lake City comprised of Sean Mckay and Willy Weyher. The band kinda appeared out of nowhere just a short time ago, mostly playing house gigs around the valley, which, let's be honest, if you're a garage band with the word Zombie in your title then house shows are the way to go. The duo released their self-titled debut album earlier this month along with a
music video
; you should hunt them down and buy a copy while you can.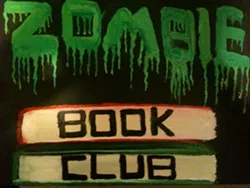 Next is the latest collaboration from local hip-hop performers KonSICKwence and Skip Sanders. Kon has been making the rounds the past coupleof  years, being one of the rougher emcees in the valley, while Sanders has been building his name on the down-low and slowly making his way up the ranks as a fine producer. The two have come together for their debut album: Utah. Jazz. The beats are really cool, grabbing old jazz themes with a hint of the popping vinyl for the rustic touch, while the lyrics hit the local beat hard. It's worth at least a listen, and you can download it off their Bandcamp page.
Switching over to folk, a surprise entry last week came from David Williams. Williams has mostly been touring the west and playing live gigs around the state, but album-wise he hasn't had a new release of his own since 2009. The last album he worked on prior to this was the soundtrack for the film Parade in 2011, which later bled into the recent dramatic film Intro that featured Williams as the lead character. Last week, Williams threw a three-track EP called The Catch up on Bandcamp, selling it for just $2. The album itself is a very different approach to his previous works, and an intriguing one at that; definitely worth checking out.
Another shocker that came out last week was a three-track EP from Desert Noises. The now-four-piece indie-rock band from Provo have been riding the underground tidal wave since the release of their full-length album Mountain Sea last fall, touring heavily and making a strong presence felt across the country. But the band (seen above, courtesy of their Facebook) have become beloved in their hometown and seem as if they're about primed to pop into the national spotlight. So, it should be no shock that the scene immediately buzzed when their EP, I Won't See You, dropped last week on iTunes and on the group's Bandcamp page. You can also buy this little ditty for $2, and yes, it's worth the price.
Moving on to release shows, I'll start with one tonight from Creature Double Feature. The experimental two-man psyche band made up of Davis Johnson and Mason Johnson-Bros formed in the spring of 2012 and immediately hit the all-ages scene with shows at Kilby Court. That's about all there is to say on them for the moment, as the band haven't even been together a full year, but they've already cranked out a couple of singles and this full-length album, Ground Zero. The album has actually been out since July, but the duo are officially celebrating its release tonight at Kilby Court with Stag Hare, Salazar and Your Meteor. $6 at the door, starting at 7 p.m.
While I'm looking at Kilby, tomorrow night it plays host to a second release show from One Way Life, who we previously mentioned on the blog back in October and are finally celebrating their EP release. But they're not the only one happening that night, as there will also be releases in Ogden and Provo, and I'll start in Ogden with Through The Fight. This is a six-piece post-hardcore band featuring two singers who have earned their rock rep through shows and private events around Weber County, going to great lengths to prove you can do well without having to hit SLC very much. This month, the band will release their debut EP Prowler, which from the few tracks now out show that the band have the chops to be really great. They'll be releasing that tonight at Mojos, playing with Refuge, Like Winds To Sails, Flames Breach Our Mouths, The Shores Of Purgatory, Cries Of The Captive and More Than A Remnant. Just $7, starting at 7 p.m.
And then finally, in Provo, we'll see the debut release from Tri-Polar Bear. The two-piece indie-rock combo of Brad Warner and Chris Draudt have been making waves in Utah County for the past year, having a nice combo of loud jams and dance tunes, mostly as a mid-card band for the past few months. But the duo will upgrade their sound to main-event status this weekend as they release their debut EP, Hibernation. If the tracks online are any indication, this is one of those bands that have tons of potential and will only grow over time. You can snag a copy tomorrow night at Muse Music, as they'll be playing with The Danger Kids, The Signal Sound and Sepia Ria.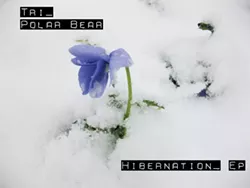 Love music, head out, buy local!