This month's Gallery Stroll was a tad nippy, but it didn't stop the crowds from coming and checking out the shows happening around downtown and other areas. --- As we enter the end of the year, solo and dual showings are far and few between, as the big end-of-year rage is always group exhibitions, which in November make about a third of the overall shows -- both official and unofficial -- a part of the evening.
This past Friday, I visited one of those showings at Slusser Gallery on 100 South, where I chat with namesake owner Mark Slusser about his artistic career and founding the gallery, the showcase you can check out this month that features some prominent local names, and his thoughts on the local art scene -- all with pictures I snapped that night (including a performance from Millie & The Moths) in this gallery here.
Mark Slusser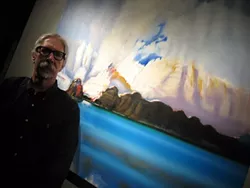 Gavin: Hey, Mark,.First thing, tell us a little bit about yourself.
Mark: I grew up in Salt Lake and graduated from Olympus High School. After that, I traveled extensively in Europe and the Far East. I love Utah, though, and I always seem to wind up back here.
Gavin: How did you first take an interest in art, and what were some early inspirations for you?
Mark: As far back as I can remember, I've always loved to draw. I have fond memories of drawing at my grandmother's table. I think my early inspirations were from the sea coast, the mountains, the desert. Nature is always fascinating to me.
Gavin: You received your BFA in painting and drawing from the University of Utah. What made you choose the U and what was its program like for you?
Mark: The University of Utah is a terrific school. While I was a student there, the art department had wonderful professors such as David Dornan, Paul Davis, Tony Smith, John Erickson, Sam Wilson and David Pendell. I feel lucky to have studied with so many excellent artists.
Gavin: What made you focus on landscape paintings, and what was it like for you honing your skills on that specific genre of painting?
Mark: I've always admired landscape paintings. I started painting landscapes with Doug Snow and Ed Meryon down in Monterey, California, many years ago. They used to offer workshops every year where they took us to the best places to paint and then gave us invaluable instruction.
Gavin: What was it like for you breaking into the local art scene during that time and showing your work off at exhibitions?
Mark: I first started exhibiting at art festivals in Southern California: Little Italy ArtWalk in San Diego, La Jolla Festival of the Arts, and San Clemente Art Festival. These events drew huge crowds with many, many interested collectors.
Gavin: What's the process like for you as an artist when creating a piece, from initial concept to final product?
Mark: I like to paint alla prima, but I inevitably go back and draw everything. For landscapes, I like to paint "en plein air," painting on location rather than from a photograph. For still-life painting, I spend a great deal of time thinking about, and then arranging, the objects and then setting up the lighting.
Gavin: For a period of time you moved to San Diego. What made you decide to leave, and how was your time there working as an artist?
Mark: San Diego was a tremendous inspiration for me because of the exceptional climate, high humidity, and clear air. It's similar to the climate of the Mediterranean, which is ideal for plein air painting. All the pollution blows away. Also, the beautiful coastline was a joy to paint. I think the three years I spent painting there were very important for me as a landscape painter.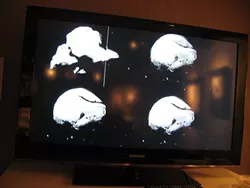 Gavin: What eventually brought you back to Utah, and how do you view your time down there?
Mark: My eldest daughter finished her degree at the University of California at San Diego, and it just seemed like the right time to come back to Utah. I think my wife and I will always want to spend at least part of the year in Salt Lake.
Gavin: How did the idea come about to start your own gallery, and what made you decide to name it after yourself rather than find a catch name?
Mark: Opening a gallery was the logical next step. My family and I love everything about art -- making it, talking about it, working with artists and collectors. As an artist and art dealer, getting my name known locally, and beyond, is very important.
Gavin: When did you come across the location on 100 South, and what made you decide to set up there?
Mark: I've owned the building for many years. I have my art studio there; the large central room in the building was relatively easy to adapt to gallery space.
Gavin: What was it like getting the place set up and choosing who to have on display during the initial first few months?
Mark: At first, I showed my own work, and then little by little, I've added new artists. It's really a fun process -- meeting artists and showing their work.
Gavin: What did you think of the opening reception and the reaction from patrons who came to check it out?
Mark: In November of 2010, I put on a one-person exhibition of my recent oil paintings. I invited everyone I knew, including all my old friends from Olympus High. It was like a really fun high school reunion, seeing people I used to hang out with so many years ago. Every opening reception after that seems to bring in more and more people. I find it very rewarding putting together an exhibition and then showing it to people who are interested in art.
Gavin: What's the process for you in selecting who to display each month, and who are some of the people you've had so far?
Mark: The bottom line is always the same for me. I just want to show the best art I can find, whether it's work by very well-known artists or new artists who have never exhibited before -- Jonathan Fairbanks, Carl Purcell, Randall Lake, Ian Ramsay and Bryan Mark Taylor, to name a few.
Gavin: The gallery itself has done really well over the past year. What are your thoughts on how far it's come, and do you have any plans to expand beyond what you're doing now?
Mark: I just want to continue to help foster and promote the best artists and connect with collectors. My wife, Sherrie, and I also want to open a second gallery in the Bay Area in the next couple of years.
Gavin: For this month's Gallery Stroll, you'll be holding a group exhibition. Tell us a little bit about the show and the artists people can expect to see over the next few weeks?
Mark: On December 7, Slusser Gallery brings the beautiful Southern California landscape to Utah for a Holiday Exhibition featuring 11 top plein air painters from the San Diego area including nationally known artists Carolyn Hesse-Low, Andrea Gaye, and Scott W. Prior. Six top Utah artists will also be featured including nationally recognized artists Randall Lake and Bryan Mark Taylor. There will be live music and refreshments. Everyone is welcome. The exhibition will run through Feb. 8, 2013.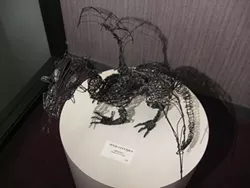 Gavin: What's it been like for you working with these artists and putting on this kind of group show?
Mark: Really fun. I see all this with the perspective of an artist. I understand what it's like to work hard on a piece and then to just want to see the work get some exposure.
Gavin: Going local for a bit, what are your thoughts on our art scene, both good and bad?
Mark: To me, Salt Lake has all the makings of a great art town. The people here are very interested in all aspects of culture -- dance, music, theater, as well as art. I believe Salt Lake can become a hub for art, rivaling the other great art towns in the west, such as Santa Fe, Scottsdale, Laguna and Carmel.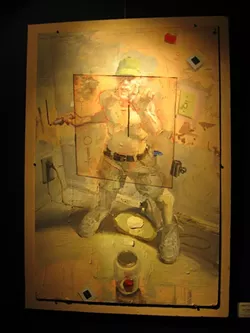 Gavin: Is there anything you believe could be done to make it more prominent?
Mark: I would like to organize a plein air competition sometime in the spring or summer to bring in nationally recognized artists to paint here. The mountains are beautiful, and I think also the city offers many great sites for urban landscapes.
Gavin: What's your opinion on the other galleries around downtown and SLC in general, and do you view them as competition or colleagues?
Mark: Without a doubt, I admire and respect the other gallery owners in town, and regard them as colleagues and not competitors. A strong art market depends on having many galleries bringing art to the community. Clustering galleries is critical to a vibrant local-art market.
Gavin: What's your take on Gallery Stroll as a whole and how it's doing today?
Mark: I think Salt Lake is lucky to have so many terrific galleries opening their doors every month and showing such interesting and varied work. Not all cities have such a strong monthly Gallery Stroll.
Gavin: What can we expect from you and Slusser Gallery over the rest of the year?
Mark: We're very much looking forward to our December opening reception and hope people will drop by to see the work of so many talented artists.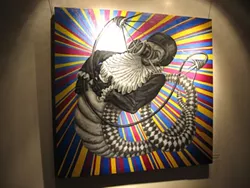 Gavin: Aside from the obvious, is there anything you'd like to plug or promote?
Mark: I guess I'd just like to tell people that my door is always open to anyone who wants to talk about art.



| | | | |
| --- | --- | --- | --- |
| Follow Gavin's Underground: | | | |