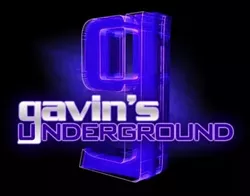 While photographers will establish their own styles and signatures over time, few will go so far as to tackle a genre and make it their own for all of their work. --- Most of what you see from any professional these days is a mixture to showcase that whatever you want, they can do, which is what makes taking on one specific area a career challenge. It's that very thing that's made Kate Moir's work stand out, as she's dedicated most of her work to adding a hint of the macabre or horror to her shoots.
Today, I chat with Moir about her career and the work she's been creating, the style she's adopted, which you'll see throughout the interview, and her own thoughts on local photography. (All pictures courtesy of Moir, profile shot by David Newkirk.)
Kate Moir
Kate Moir Photography on Facebook
Gavin: Hey, Kate! First thing, tell us a little bit about yourself.
Kate: I have been a photographer for about seven years now. I have been a part of the Dark Arts Festival Art Gallery for the past seven years, and have had two exhibits at the Hive Gallery in the last year, as well as various art festivals. I primarily photograph themed and costumed photos with people as my main subject. I am originally from Southern California, and moved to Salt Lake when I was 17. I have been married for almost 10 years now, and currently live in Magna.
Gavin: How did you first take an interest in photography, and what were the early influences on you?
Kate: I first remember stealing my mom's camera when on vacation at 7 years old. The first time I saw a single-lens-reflex camera on television, I knew I would have one some day. I asked for a camera for my 16th birthday, assuming that would be what I would get, and was heartbroken when it was not. Seven years ago, I bought myself my first SLR camera, and have not stopped taking photos since. I would say my biggest influence has been old noir style movies and movies by Alfred Hitchcock. Even though I take still photos, the lighting and feel from these old movies was what I was immediately inspired to try and capture, and has influenced my style in a lot of ways since.
Gavin: Did you attend college for photography, or were you more self-taught?
Kate: I have had no college training for photography at all. I am mostly self-taught, but I have also assisted a few professional photographers to learn from them in the field. I have mostly worked with Jon Woodbury, who is primarily a professional wedding photographer. I have done a lot of trial and error, as well. I will just keep trying until I get what I want it to look like.
Gavin: What was it like for you breaking into snapping pictures professionally, and what lessons did you learn early on?
Kate: I have had a lot of trial and error starting off. I think the biggest lesson I have learned, though, is that once an artist is truly confident in their own style and ability, they are very willing to help teach new artists without feeling threatened, and I have been very grateful for that, as the only formal training I have had has been from other photographers willing to take me under their wing. Also, take chances. As a photographer, I cannot be afraid to approach models I have not worked with before. I have had more success with projects that I did because I needed to express myself than with projects I thought would sell well. Lastly, if I were afraid of rejection from art galleries, I would never have applied and would never have had any art shows. Art Galleries are not at all unapproachable, and I haven't been bitten yet.
Gavin: What made you decide to start your own company and why name it after yourself?
Kate: Originally, I did try to create a company name, but it never caught on. I found that most of my advertising was by word of mouth, and everyone just used my name, so I decided early on not to fight it, and changed everything over to my name. I think that has worked well for me.
Gavin: What made you go with a more modern on-the-move kind of business rather than set up a physical studio?
Kate: For me, having a studio doesn't seem very practical. For one thing, I don't live close enough to downtown Salt Lake to have all of my models and clients come to me at my home were I to set up a home studio. I think setting up a downtown studio would be great, but the overhead costs don't seem worth it when I really don't have a problem packing up all of my equipment and going wherever I am needed instead. I get a lot more variety that way, and anything I would have inside a studio is portable enough to not require a fixed location. I also think my models and clients like working with me because I can come to them if necessary.
Gavin: For your own personal choice, do you prefer traditional film or digital, and why?
Kate: Originally, I had started with film, and I still believe that it has a beautiful quality, especially with black-and-white film, that can be lost with digital photographs. I do, however, primarily use digital at this point as it is just more cost effective for my needs, I find it easier for me to notice if I have made a mistake and fix that on site. Also, digital media gives instant gratification that has spoiled me, and I don't feel I can give that back at this point.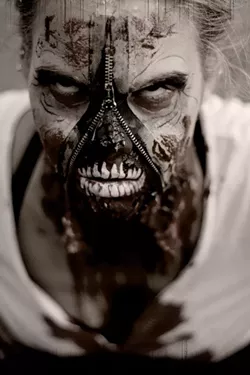 Gavin: What kind of equipment do you choose to shoot with for your main body of work?
Kate: I have a simple Canon Rebel DSLR that I use for everything. It is my favorite camera that I have worked with so far. I also have a set of three studio lights and umbrellas that I use for indoor shoots, as well as some backdrops I have made from upholstery fabric and sheet sets. It is a pretty modest setup, but it has served me well.
Gavin: For your own creative pieces, how do you come up with the ideas of what you'd like to shoot?
Kate: I get inspiration from a lot of things. Sometimes it will be that a song gets stuck in my head that invokes a specific emotion in me, and from there I start working out photo ideas, or oftentimes I will be inspired by found objects from thrift stores or strange items that acquaintances will give me. I also read a lot of fiction and Greek mythology, and a lot of my ideas come from images those stories create in my mind.
Gavin: A lot of the shoots you create tend to focus more on macabre and zombie genres. What's the appeal for you in those areas, and what do you do with yours to separate yourself from trendy photographers?
Kate: I have always been strangely fascinated from a young age by suspense and horror movies and stories in general. I love for my art to be a work of fiction itself, to tell a story, and I always want that story to have at least a touch of the sinister. I feel there is a strange romance to macabre stories because they are so passionate, so they are my favorite to try to create. I feel in this way I differ from a lot of trendy photographers because they try too hard to create either a sex-appeal or a gore effect with similar themes and leave out the story. I feel the story the photograph is trying to tell creates all the sex appeal needed, with a little more subtlety.
Gavin: Do you mess around with the idea a lot when shooting or do you tend stick to the plan you originally thought up?
Kate: I do tend to have a plan for every photoshoot, and I stick to that plan as much as possible, but something is always left open to be decided on the spot. I find I have to be very flexible in what I plan to happen, because weather, costumes, props, and models can all have to be changed at the last minute due to unforeseen circumstances, but I can't be flexible with the feeling the shoot is supposed to portray. That isn't something that can be faked or changed last minute.
Gavin: What's your experience been like throwing exhibitions throughout the city and interacting with the art community, and how has that exposure affected your business?
Kate: I feel I have had a good reception so far within the art community, and that Salt Lake has a lot to offer local artists in the ways of exposure and encouragement, for which I am very grateful. I still feel I have a lot of ground to break to keep moving forward, but I see a lot of opportunities to do so. The exposure I have received so far has helped my business increase quite a bit. More people recognize my name, and I have been hired for outside projects a lot more in the last two years than ever before, which is great!
Gavin: Do you have any plans to expand either on the artistic side or the business end, or do you think you've found a happy medium between the two?
Kate: I hope to expand more with both, but the artistic side is the one I concentrate on the most. I get the most joy from being able to come up with my own crazy ideas and watching them be formed and come to fruition, and I feel I have a lot more to offer the community that way.
Gavin: Moving on to local, what are your thoughts on the art scene and the work coming out of it?
Kate: I love the local art scene in Salt Lake. There is no shortage of art galleries, art festivals and local businesses looking for local talent to showcase, and we are very fortunate for that.
Gavin: Is there anything you believe could be done to make it more prominent?
Kate: I think there needs to be more advertising done to let the community know of local art shows and Gallery Strolls that are happening, and that the members of the community need to make more time to come to these shows. There is a lot of local art being made right now that I think appeals to a lot of the community, but they just haven't seen it yet to let it speak to them.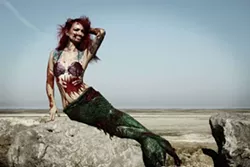 Gavin: Who are some fellow photographer's work you enjoy checking out or recommend to people?
Kate: I am constantly amazed by the artwork of Ryan Muirhead, Jon Woodbury, and Rene & Todd Keith. All four artists have very different styles and themes, but never disappoint in creating work that takes my breath away and inspires me to keep improving my craft.
Gavin: What's your take on Gallery Stroll as a whole and how it's doing today?
Kate: I think more members of the community should take the time out of their busy schedules and seek out these art exhibits in general. I know a lot of my personal friends never went to Gallery Strolls before I started making them, but most will find at least one local artist that they didn't know they love the work of. It fills a hole you didn't realize was there. That said, I think the Gallery Strolls get a very good turnout and a lot of great pieces of art is sold, so I feel it is very successful.
Gavin: While we're on the topic, what do you think of the galleries we have in SLC and the work they do to promote photography as an art form?
Kate: Photography as an art form does not seem to be represented equally at all galleries. I have been to a number of galleries in Salt Lake where photography is barely represented if at all, and other galleries where photography is equally as popular as more traditional paintings on canvas. I think photography as an art form can be judged a little more harshly, especially with the increasing popularity of Photoshop usage, as well as photography being limited in what style of art it can be considered a representation of.
Gavin: What can we expect from you over the rest of the year?
Kate: I will be taking a bit of a break from zombies, as that had been my main focus in 2012, now that the Zombies In Zion show has closed. I am starting on a very adventurous project, which I cannot announce just yet but that I am hoping will be my best to date. I am also working on some fundraiser projects for the Dark Arts Festival Art Gallery at Area 51. The festival will be in June of 2013, but we are working on a calendar to sell in December.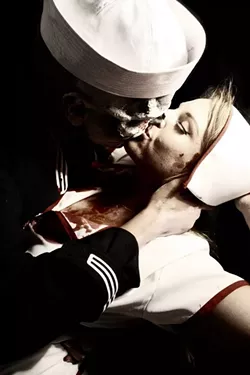 Gavin: Is there anything you'd like to plug or promote?
Kate: I don't have any other projects to promote at this time, but I hope to have more coming up in the near future!
| | | | |
| --- | --- | --- | --- |
| Follow Gavin's Underground: | | | |