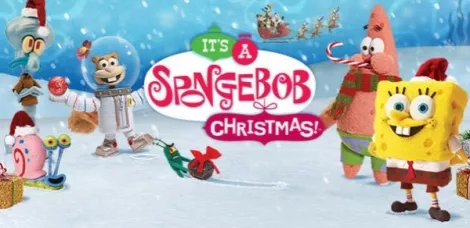 What's new on the glitterbox this weekend:
It's a SpongeBob Christmas! (CBS, tonight) Special: How high are you right now? Because you may want to toke it up a notch for the premiere of It's a SpongeBob Christmas!, a claymation-ish(!) take on the Bikini Bottom gang that's sure to blow pre-blown minds from Washington to Colorado. ---The deal: "Plankton vows to get his Christmas wish, the Krabby Patty formula, by turning everyone in Bikini Bottom bad with jerktonium-laced fruitcake"; jerktonium, a trademark of Karl Rove Inc.
iCarly (Nickelodeon, tonight) Series Finale: It's the end of iCarly, since Carly is now in her 30s and no longer so iCute.
Also new tonight:
Last Man Standing, Malibu Country (ABC); Frosty the Snowman, Frosty Returns, Hoops & YoYo Ruin Christmas (CBS); The National Dog Show (NBC); Tyler Perry's For Better or Worse (TBS); Fashion Police (E!); WWE Friday Night Smackdown, Haven (Syfy); Hunted (Cinemax); Trapped In the Closet, Whisker Wars (IFC)
Dungeons & Dragons: The Book of Vile Darkness (Syfy, Saturday) Movie: Unfortunately, Vile Darkness isn't the singer of an '80s punk band—however, in this half-assed D&D movie, a young warrior (Jack Derges) does take on a monster known as … The Mind Flayer! Hope you have some of the SpongeBob stash left.
Also new Saturday:
Made in Jersey (CBS); Wedding Band (TBS); Too Cute!, Pitbulls & Parolees (Animal Planet); Star Wars: The Clone Wars (Cartoon Network);
Liz & Dick (Lifetime, Sunday) Movie: Holy fuck, has Liz & Dick gotten a load of bad advance press—so, naturally, we're all going to watch it. In this train-wreck biopic, Lindsay Lohan flaps her big ol' lips as Liz Taylor, and Grant Bowler plays … Dick Gorshin? I flunked history.
The Walking Dead (AMC, Sunday) So, Michonne has arrived at the prison just in time for Rick's brain implosion—this leave-the-happy-town plan of yours just keeps getting better, lady. Come to Brewvies Cinema Pub (677 S. 200 West; 21+) tonight at 10 (after Geek Show Movie Night) and mock Michonne's career path in The Walking Dead, on the big screen, for free! It's all courtesy of Big Shiny Robot, City Weekly, True TV, Brewvies and a cast of thousands of sponsors.
Also new Sunday:
Once Upon a Time, Revenge, 666 Park Avenue (ABC); The Amazing Race, The Good Wife, The Mentalist (CBS); The Simpsons, Bob's Burgers, Family Guy, The Cleveland Show (Fox); Talking Dead, Comic Book Men (AMC); Sugar Dome, Next Iron Chef, Chopped (Food Network); Ice Loves Coco (E!); The Real Housewives of Atlanta (Bravo); Sister Wives (TLC); Finding Bigfoot (Animal Planet); Boardwalk Empire, Treme (HBO); Dexter, Homeland (Showtime)