The haunting season may be over, but no one seems to have gotten that memo at a little place around 3300 South and Main. --- Junkyard Zombies is a haunted attraction that takes the zombie apocalypse to a new level, turning the giant warehouse location that used to be the legendary Rocky Point Haunted House into a wasteland for the undead in a laser-tag format for an exciting shoot-and-run experience. The bad news about this attraction: There's only one week left to head over and enjoy the games, which means this week is about to become its busiest since opening.
Today, I chat with the founder of Rocky Point and creator of Junkyard Zombies, Cydney Neil, about her longtime run with the former haunted attraction, her time away from Utah, this new high-tech variation and a few other topics. (All pictures courtesy of Junkyard Zombies.)
Cydney Neil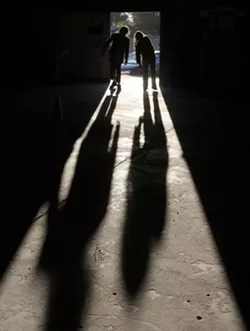 Gavin: Hey, Cydney. First thing, tell us a little bit about yourself.
Cydney: Grew up in Utah, owned and produced the Rocky Point Haunted House from 1986 to 2007; known as "Queen Of Haunts" in my industry. I love beautiful clothing and cars, love to ski, golf, write, design just about anything, to read and to talk. Ironically, although spirits and all things haunted are intriguing to me, I don't love anything gory or horror related. I'm not even a big fan of Halloween. But I do love the beauty, depth and interest of anything aging, rusting, rotting and decomposing -- unless it smells bad, of course!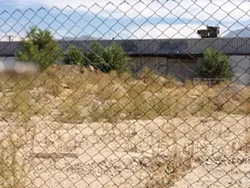 Gavin: When did you first take an interest in horror and haunted attractions?
Cydney: Well, our childhood home had a very long hallway with closets, cupboards and bedrooms all the way down it. Every Halloween, we would turn it into our own haunted house, or haunted hallway, I guess. We had a big family so we would all hide in different rooms and areas and then one person at a time would walk down the hallway and we would jump out and scare them. It was great fun. Between that, and the fact that I grew up with The Musters, The Addams Family, Nightmare Theatre and The Twilight Zone, we learned to love all things haunted early on.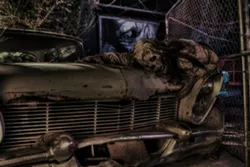 Gavin: You created and owned Rocky Point Haunted House. How did that opportunity come about and what was it like for you to put that together and run the attraction for so long?
Cydney: My brother, Neil Crabtree, actually started the Rocky Point Haunted House back in 1979 in a building in Ogden that my family had built and owned. Rocky Point was one of the first haunted attractions in the world at the time. At that time, I wanted nothing to do with Halloween or anything haunted. But when Neil left the business, my father continued it and I came along in 1986 and, very unexpectedly, took it over. I actually planned on shutting it down, only to leave it open that first year and then the year after and the year after that ... fast forward 20 plus years, having built it into the largest and most popular haunted attraction in the world, I decided it was finally time to shut it down -- go figure. At first, the phrase, "If you can't be with the one you love, love the one you're with" was my mantra, as I could not have imagined myself producing a haunted attraction. That helped me focus on the moment, but after it became clear I was going to be with this "one" for a while, I actually fell in love with all of it, from my misfit cast and crew to the macabre design element. It was all very exciting and far more interesting to me than ordinary design and business. Every element of the event and business had such character and depth, and it allowed me to use every one of my skills, from business to marketing and event production experience to make-up, acting and design. It was the perfect place for me for so many reasons, and looking back, that phrase proved very valuable, as Rocky Point actually became the "one" I loved, perhaps the "love" of my life.
Gavin: For years, Rocky Point was a staple of the community during the fall, and to this day it's still talked about. How was it for you having such an impact on the city?
Cydney: Every part of the haunt was rewarding to me, from the actual design and production to running it to all the people involved, the success we enjoyed, the money we raised for charity, the awards we won through the years and, yes, to the impact on the community and the support we enjoyed for so long. I'ts always cool when you work so hard at something and people love it and support it and recognize you for it.
Gavin: What eventually made you decide to shut it down rather than pass it onto someone else, and what was the final year like?
Cydney: I know this never makes much sense to others, but Rocky Point was a "mission" of sorts for me. I created and ran it with constant direction from God, frankly. There were thousands of young people involved and they were my responsibility and I had to come to understand that through the years. I trusted the direction I was given and followed it. When the direction came to end the "mission," I trusted that. Although it was an insane decision as a business person, it was the right thing to do at the right time for so many other reasons, which I am still coming to understand. Again, from a business perspective, it was worth a lot of money and I think many of my staff would have liked to see it stay, and of course, the public. But it just didn't feel right, it wouldn't have been the same, and again, it wasn't the "direction" I received. Although it has seemed quite confusing since, at the time, that was very clear.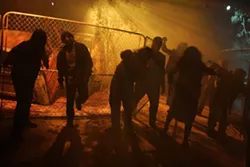 Gavin: I've read that you spent the past few years caring for your father until he passed. How was that period of time for you and being able to spend time with him?
Cydney: My father was the most significant person in my life. He was my teacher, my mentor and the only steady "man" in my life. I both loved and struggled with the responsibility of taking care of him as he was preparing to leave this earth. The moment he died was the hardest moment of my entire life and being without him here has remained difficult for me since. However, the only reason he lived four years and left this earth in such peace was because I left my business when I did and had the time to be with him ... and that is why I trust that "direction," as there was no way I would have known that at the time; it's all quite amazing and very humbling.
Gavin: Where did the idea come from for Junkyard Zombies?
Cydney: I had the idea for a laser-tag Zombie-killing attraction back in the Rocky Point days, but the idea for the Junkyard came when I drove by our building and, because of the current construction on the site, it looked like a junkyard. And my Dad was a bit of a junkman, of sorts, so it seemed fitting. And everything -- from the building to the cars, my cast and crew, myself, and many other elements of this event, -- all have been brought back to life in a way, at least for this moment.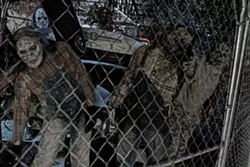 Gavin: Why did you decide to make this an interactive experience for people to play in rather than just an attraction for people to walk through?
Cydney: From the beginning. We had already done a haunt. If we were going to do anything, it had to be original. Again, my Dad instilled that in me as he was a true original.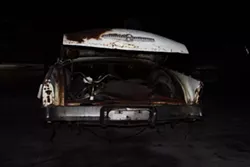 Gavin: How did you get involved with Battlefield Live Utah, and what did they bring to the table to make this a reality?
Cydney: Robert was referred to me by a laser-tag-gun manufacturer out of California. He just happened to have 100 very cool guns and he was spending the winter in Mexico, so he could spare them. He was very generous and donated most of the rental fee for the use of the guns. There is no way we could have done this without him, as the guns are very expensive to buy or to rent.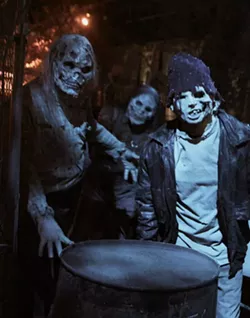 Gavin: What made you decide to bring it back to the old Rocky Point location, and what kind of a challenge was it fitting the building back to code and redesigning it to the wasteland environment?
Cydney: The only reason I did this event was because I walked into our building and Andrew, the new owner, said I could use it. I hadn't planned on doing anything until that day. It all seemed meant to be and none of it made sense unless it was in our building. It was quite a feat and very expensive getting it back in any shape to put the event on, and it isn't the ideal space, for many practical reasons, but it had to be there. That was and still is a home of sorts to us and we all needed another moment in it. I think the public likes the nostalgia of being there, as well.
Gavin: You opened up the Junkyard earlier this month. What was the initial reaction from people who came to check it out?
Cydney: Although, to me, it is way too simple, everyone who comes loves it. It's actually a very cool set, and where else can you go in and shoot live zombies with a big gun?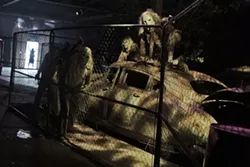 Gavin: Considering the popularity of the genre and how obsessive fans are, how satisfied have the diehard fans been compared to the regular patrons?
Cydney: Everyone seems to love it. They're craving it. It just makes sense with all the video games people play these days. Entertainment has to be interactive and i'ts always appealing when guns are part of it.
Gavin: Depending on the success, have you given any thought to expanding the run or returning to do this next year? Or was this simply a one-time event?
Cydney: It was meant to be a one time event, but as a creator, it will be hard not to at least explore the long-term possibilities. I have a ton of ideas to make it much cooler; we'll see. I would have to find an investor, so if you know of any ...
Gavin: You're entering the final week that it will be running. Do you have any special surprises lined up for the final week or will you simply be looking to get as many people in as you can?
Cydney: Definitely, we need to get as many people there as we can, so please come down, everyone, and bring your friends, family, neighbors and co-workers! The prizes will be awarded that week so someone will be super-lucky and, hopefully, super-excited to get to be in our movie we're making with Teddie Films in the set.
Gavin: What can we expect from you and everyone involved with this project over the rest of the year and going into next?
Cydney: Not sure ... this was a major detour for us, so I'll wait for more "direction," I suppose.
Gavin: Aside from the obvious, is there anything you'd like to promote or plug?
Cydney: Yes, the obvious: the Junkyard Zombie event through Dec. 1 at 3401 South Main St, we're open this Thursday to Saturday at 7:30 p.m. We close when we run out of Zombie Killers, usually around 10:30-11:00 p.m. And then. please watch for more information about our Kickstarter campaign to help raise funds for the Rocky Point Haunted House documentary, and the parody video we will be creating with Teddie Films in the junkyard, coming to their YouTube channel in December!
| | | | |
| --- | --- | --- | --- |
| Follow Gavin's Underground: | | | |