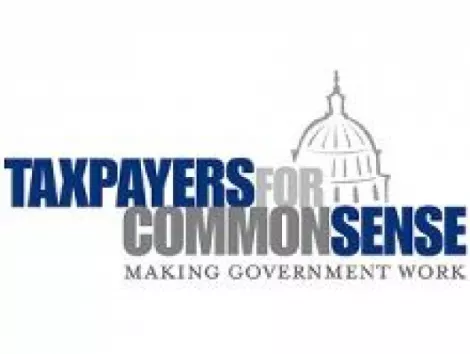 A federal subsidy that would funnel $50 million to the oil-shale-development industry -- which is still not commercially viable, and may not be for decades -- has caused watchdog group Taxpayers for Common Sense to call the subsidy a boondoggle that harkens back to billions of subsidies the government made in the '70s and '80s that failed to return anything back to taxpayers.---
Oil shale has been considered a possible energy boom waiting to happen, considering the vast fields of oil shale beneath parts of Utah, Colorado and Wyoming. But many experts say the resource is decades away from being commercially viable, and critics, like those of the nonpartisan Taxpayers for Common Sense, say plans to dump millions in subsidy are very premature.
Sen. Ralph Hall, R-Texas, the Chair of the House Science, Space and Technology Committee, has proposed $10 million in annual subsidies for the industry for the next five years. In a press conference, Jim Spehar, mayor of Grand Junction, Colo., called the proposal foolish and unnecessary.
"This is a subsidy the industry hasn't asked for and comes at a time when the nation is driving off the fiscal cliff," Spehar says. He says it doesn't match the industry's response, which he says has been the "go slow" approach, pointing out that major players like Chevron* have even scaled back their oil-shale research and development. Spehar joined the taxpayers group in criticizing the subsidy, pointing out the previous hefty investment of taxpayer dollars the government made in the area that returned no profits but left local government on the hook for infrastructure costs associated with the resource exploration and development.
According to the group's report during that time, the government $3.2 billion loan guarantees and $3.7 billion in price guarantees failed to kick-start the industry, a warning they say that taxpayers need to heed before supporting any more investments into the fledgling industry. "Taxpayers have a right to know how their money is being handled," says Autumn Hanna of Taxpayers for Common Sense, "or in this case—gambled."
"The city of Rifle [Colo.] just paid the financing for sewer infrastructure done back in the '80s at the tail end of the last oil-shale boom," Spehar say. "Local taxpayers paid that for an industry that went away."
The center also worries that federal regulations later in the year will set the royalty rates for oil shale at 5 percent, a recommendation made in 2008. Spehar says that standard royalties for other gas and oil developments are traditionally 12.5 percent. Spehar says that a responsible tack would be to create an oil-shale trust fund that would offer funds to offset costs to small cities and towns that have to provide extra services, construction, build roads and finance other costs related to having oil-shale companies use their backyards as their commercial laboratories.
"Absent some sort of mechanism for that, local taxpayers [will have to pay] for it when the impacts are the most serious," Behar says.
*This post has been clarified as to which company has scaled back oil shale operations