The legendary American punk-rock band NOFX is alive and kicking -- still making tunes that question America's political choices, and still, in general, raising hell. And frontman Fat Mike is just as rambunctious as ever.---

NOFX is a busy band. They just released their 12th studio album, Self-Entitled, and just finished filming for the second edition of the band's documented journey across the world, Backstage Passport 2. Fat Mike has been busy with other projects, like collaborating with his gorgeous professional-dominatrix girlfriend, Soma Snakeoil, by scoring the fetish film Rubber Bordello. So, interviewing Fat Mike is a daunting experience -- where to begin?!

NOFX stops in Salt Lake City on Saturday, Dec. 8. Find out more information here.

City Weekly: What has been your drive after all these years to continue playing punk rock music?
Fat Mike: Well, it's really the best job in the world, and we are probably having more fun at it now than we ever have. And why do we play punk rock? Well, because punk rock is clearly the best kind of music and the most fun and hardest to play. Why would we not do it?
CW: Was there an particular inspiration, such as a band or anyone in particular, that led you to pick up the bass?
Fat Mike: No, certainly not. My friend got a guitar for Christmas, so we started a band. So, my friend bought a drum set, and I bought a bass.
CW: Is there a specific message that you hope the band's latest album, Self-Entitled, can deliver?
Fat Mike: Not one specific message, just different songs. I like how the first song on the album, "72 Hookers," is pissing people off. A lot of people think it's a joke song, but, seriously, when you're sending people over to the Middle East to kill people, it's never going to stop the war. But if you make them happy, it would stop the war. By killing people, it's certainly not going to stop anything. And it was also based on fact. There were forced suicide bombers that were caught before their bombs went off, and the reason they were all doing it was to get the virgins. None of it was American hatred or politics; it was just to get laid. So, it's pretty simple. And people give me shit because they say it's an anti-Muslim song, and it's not really anti-Muslim, although I am anti-Muslim -- but I'm anti-every religion.
CW: Is there a concert venue, town or city that you would like to see NOFX perform in or at?
Fat Mike: We haven't played Bangkok yet. We want to play there. And we haven't played Vietnam or India, but I don't want to go to India. I don't really give a fuck about the venue.
CW: Can you remember any crazy experiences that stood out to you the most as you traveled the world and filmed the second season of the band's documented journey, Backstage Passport 2?
Fat Mike: I think the most rewarding part was finally getting to play Colombia. It was the third time that we tried, and there were 30,000 to 35,000 people there. It was just a really amazing show, and, man, we got the best drugs ever! It was a good time. We play in front of a couple thousand people, usually sometimes 5,000, but playing to 30,000 was fucking great. One of the other fun things was that we were up all night partying in Peru and an earthquake hit Chile. There were tsunami warnings in Lima and we were in Lima, so we all went down to the beach to check it out, but no tsunamis ever hit. The Philippines and Africa were also pretty crazy.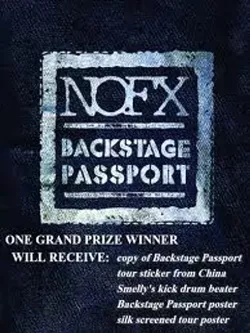 CW: Are there any legends you look up to when it comes to playing punk rock music?
Fat Mike: I don't really look up to anyone as heroes or anything like that, but I do like Darby Crash and Sid Vicious. But I'm 45 now, so it's not like I'm trying to follow in their footsteps.
CW: You just wrote an entire film score for the fetish film Rubber Bordello that your girlfriend wrote and directed. How is Rubber Bordello different from other porn films out there?
Fat Mike: It's a fetish film. It's not about fucking. It's about shiny clothes, bondage and S&M. I think it's the only film of its kind since silent movies. It's funny, and no guys get any cum shots. It's super-fucking dirty, but it's not like any other porn films. It's an art film. It was fun to make something that was completely different from anything that I have done before.
CW: What intrigued you to do a project like this?
Fat Mike: My girlfriend and I share the BDSM scene. We have a dungeon in L.A., and we are building one in San Francisco now. She's a professional dominatrix and I'm her submissive. So, it's not like we just jumped into this not knowing anything, it's just what we do.
CW: How did you meet the lovely Soma Snakeoil?
Fat Mike: I rented her dungeon for a party. I had a party there with Sum 41, Alkaline Trio and some other friends of mine and she brought a lot of doms, and we brought a bunch of girls. We had a bunch of girlfriends there, everyone brought their girlfriend, and it ended up that all the girls wanted to get beat up by the doms. Anyway, it was a long, fun night and Soma and I really hit it off.
CW: How do you personally feel about the current music that's being played on the radio today?
Fat Mike: It's kind of hard for me to say, because, honestly, I don't listen to the radio. I haven't listened to the radio since I was 11. It's like when you have records, cassettes, CDs and IPods, why would you listen to the radio? Listening to what someone else tells you they think is good, you know, it's crazy. Yeah, I just don't listen to radio these days.