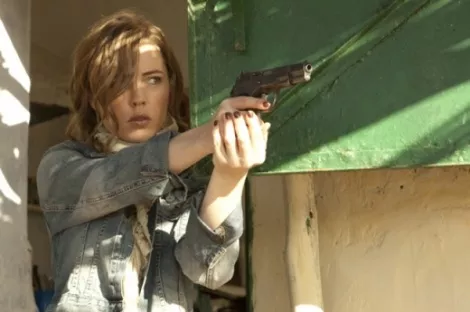 What's new on the talky box this weekend:
Hunted (Cinemax, tonight) Season Finale: Melissa George's spy-soap ends its first season, at which point she will no longer be hunted—at least not until next year, since Cinemax might go forward with Season 2 even though production partner BBC has dropped out. ---If a strictly Cinemax version contains more violence and nudity, I guess I can learn to live with it.
Also new tonight:
Last Man Standing, Malibu Country (ABC); Undercover Boss, CSI:NY, Blue Bloods (CBS); Grimm (NBC); Kitchen Nightmares, Fringe (Fox); Nikita (The CW); The Ultimate Fighter (FX); Fashion Police (E!); WWE Friday Night Smackdown, Haven (Syfy)
Xmas movies (Saturday): Read all about 'em in True TV.
Also new Saturday:
American Giving Awards (NBC); Saturday Night Live: Jamie Foxx, Ne-Yo (NBC/CW30); Wedding Band (TBS)
Dexter (Showtime, Sunday) Just in time for Christmas, Dexter learns that the man who killed his mother has just been released from prison—how convenient! All this, and Masuka in an elf costume! God bless us, every one!
The Simpsons (Fox, Sunday) Portlandia comes to Springfield, literally: Fred Armisen and Carrie Brownstein guest as the Simpsons' new straight-outta-Portland neighbors, and soon the whole town gets a hipster makeover. Looks like it's time to move to Shelbyville.
Yet more Xmas movies (Sunday) Read all about 'em in True TV.
Also new Sunday:
The Amazing Race, The Mentalist (CBS); Bob's Burgers, Family Guy, American Dad (Fox); Cupcake Wars, Next Iron Chef (Food Network); The Real Housewives of Atlanta (Bravo); Robot Chicken, Superjail (Adult Swim); Homeland (Showtime)