Piccata (also spelled "picatta") is a general term that restaurants and cooks use, usually to describe scaloppine-style meats and poultry served with a lemon-and-caper sauce. --- Veal piccata is a classic example, but chicken piccata is also quite popular. I've also used thin-sliced turkey and pork successfully, and I'll bet a mild-flavored fish fillet or even shrimp would be great with the following piccata sauce. I've even heard of people making piccata with calf's liver.
Ingredients:
1 lb. veal scaloppine, pounded thin
flour
3 Tbs. unsalted butter
1 Tbs. extra-virgin olive oil
2 lemons -- 1 juiced, and 1 cut into thin slices
1/4 cup white wine
salt
white pepper
1 Tbs. capers
1/4 cup fresh minced Italian parsley leaves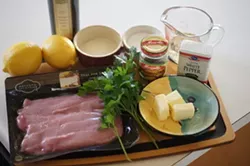 Method:
Place a quarter cup or so of flour on a plate. Just before cooking, dredge each piece of veal in the flour and place them on a clean plate.
In a large skillet, heat the olive oil and 2 tablespoons of the butter over medium high.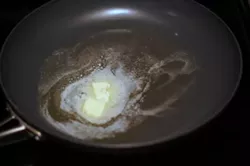 When the butter's foaming begins to subside, begin placing the veal scaloppine into the pan. Work in batches, if necessary. You don't want to crowd the pan.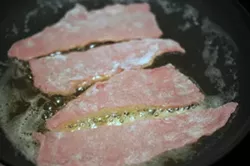 Cook the veal until just lightly browned on each side -- about a minute or less per side. Move the browned pieces of veal to a warm plate.
When all the veal is browned, add the wine, lemon juice and capers to the skillet and cook until the liquid is reduced a little -- 2 minutes or so.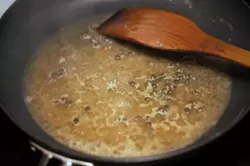 Add the remaining tablespoon of butter to the sauce. Taste for seasoning and add salt and white pepper, to taste.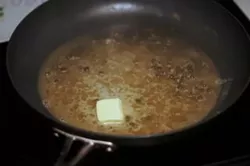 Turn off the heat and return the veal, along with any veal juices that have accumulated on the plate, to the pan with the piccata sauce, just to warm through.
Serve garnished with parsley and lemon slices.%uFFFD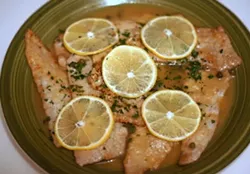 Photos by Ted Scheffler