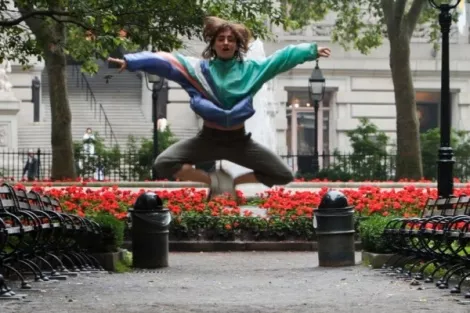 One of the most exuberant, exhilarating films you'll see this year is a celebration of unbridled creative expression -- and you can watch it online, for free, right now. ---
Director Jacob Krupnick's Kickstarter-funded Girl Walk // All Day is a hard project to summarize: part music video, part experiment in audience-participation documentary, part oddball romantic triangle. The 70-minute film is set to the entirety of the album All Day by mashup artists Girl Talk, itself a musical "found art" piece mixing music from dozens of artists including the Ramones, Electric Light Orchestra, Peter Gabriel and Black Sabbath with hip-hop lyrics by the likes of Jay-Z and Ol' Dirty Bastard. But the "story" is its own wildly original creation, following an unnamed dancer (Anne Marsen) as she flees the restrictive confines of a ballet studio to dance her way to the Staten Island Ferry and across to Manhattan, launching a dizzying all-day performance.
There's a modicum of plot in the girl's story, as she eventually interacts with other "characters" who are in on the creation of the film, including Dai Omiya and John Doyle as a pair of men who pursue her at various times. But Marsen also spends much of the film trying to pull the everyday New Yorkers she encounters into her performance -- generally unsuccessfully, but when she does manage to find willing participants, there's such an exuberance to the spontaneous result that Girl Walk // All Day becomes one of the best case studies ever for crowd-sourced art also becoming crowd-created art.
At the center of it is Marsen, who should become everyone's new art hero: Not only spinning her high-energy one-woman choreography through New York City landmarks like Yankee Stadium and Chinatown, but beating her fists against the seen-it-all complacency of Manhattanites to create new in-the-moment art. It's the kind of work built on pure love of creation, and it's hard to resist the smiles it inspires.
The lyrics are frequently not suitable for work, but check out the 12 chapters of Girl Walk // All Day here. Get ready to see what artistic joy looks like.