Among the many deserving artists who received Arty Awards this year, one of the more eye-catching creations on the list came from Reclaimed Sentiment. --- The unique collage pieces featuring such wonderful pieces like Joesph Smith seeing a TV dinner, a girl playing with a baked ham, fish people in the bathroom and Jesus visiting door-to-door with a vacuum cleaner, have caught the eye of many a gallery patron during group showcases and solo exhibitions. The former Poor Yorick staple has made quite an impact on the local art community over the years and become synonymous with the underground art culture of Salt Lake City.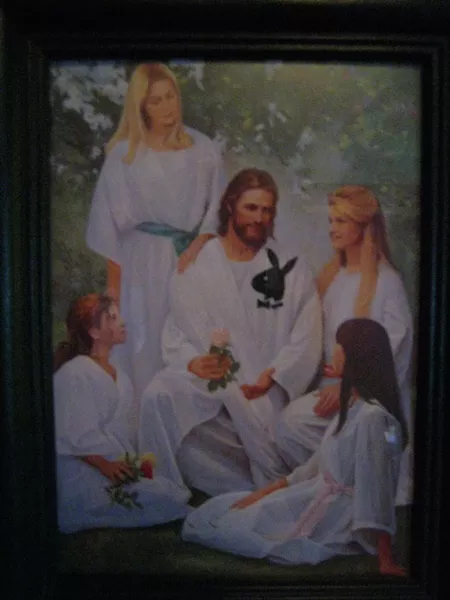 Today, I chat with the artistic mind behind Reclaimed Sentiment, Phoenix Ostermann, about her career and how she creates her works, going from an art-collective to her own studio, thoughts on local art and a few other topics. (All pictures courtesy of Reclaimed Sentiment.)
Phoenix Ostermann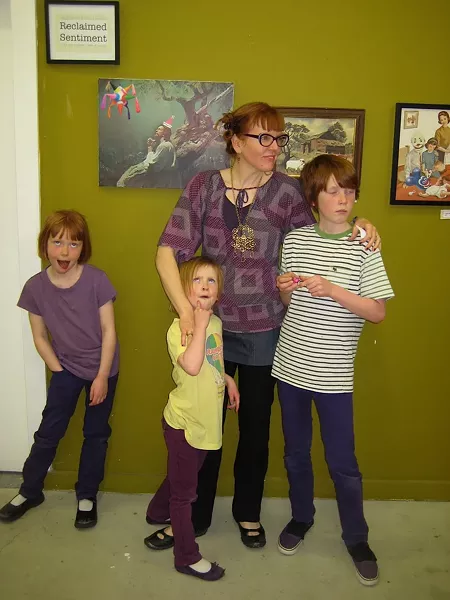 Reclaimed Sentiment on Facebook
Gavin: Hey, Phoenix. First thing, tell us a little bit about yourself.
Phoenix: I find that vacuuming offers a great deal of personal fulfillment. The whirring sound is soothing and changing out the disposable bag makes me feel important, ridding the world of all that filth. I am currently growing out my bangs, which most days is frustrating, but I know the end product will be worthwhile. I like when I can run my fingers through my hair and have that windblown look. You just can't do that with bangs. I appreciate a good pair of sharp scissors. You know you have a good pair when you have a whole pile of Christmas gifts to wrap and you don't really have to cut at all -- the scissors just glide across the paper and you're done with the pile in no time. Good scissors makes me believe I have special powers. Which is probably why I do collage.
Gavin: What first got you interested in art, and what were some early influences on you?
Phoenix: From very young, I loved art history. I loved paging through the same art history book on our family bookshelf over and over, until I had all of the artists memorized. We did not have any original art on the walls of my childhood home and never even talked about art, but my best friend's house was filled with art and modern furniture. I didn't appreciate it at the time, but looking back, I see how that family's aesthetics had a huge influence on me, and where I naturally gravitate artistically.
Gavin: You went to college originally studying art history. What made you choose that for your major, and what was that time like for you?
Phoenix: My academic focus was actually on French and linguistics, all the while studying art history and taking studio classes -- which I was terrible at, by the way. Studying French allowed my to study for a year in France, which in turn offered a remarkable opportunity to travel and see so much amazing art, which is really where my happy place is: going from museum to museum. It was during that year abroad that I discovered Egon Schiele in Vienna, who happens to be an artist from whom I draw a lot of pluck. He was so amazingly prolific and so fearless in his brush strokes and his subject matter and then died at 26. Unbelievable, really. I felt very free at that time, like we all do when we are young, but had NO idea I would have a future in art or specifically collage. But I loved soaking all that art in.
Gavin: What sparked your interest in collage art, and what were your early experiments like with the genre?
Phoenix: When you work in collage, your medium is everywhere you look -- magazines, advertising, all ephemera, really. I like the accessibility to the medium and I really like the parameters that are already set as far as scale, color, etc. It offers an immediate challenge for me in the way I like to tell stories with collage. Early experiments took the form of postcards for friends, murals on my collage apartment walls, decoupaging found furniture in the way homemakers did to their wastebaskets in the '70s -- stuff like that. I never really took it seriously until about seven years ago.
Gavin: What made you decide to pursue that as your main art form, and where did the name Reclaimed Sentiment come from?
Phoenix: I don't know that it was a conscious choice to pursue collage. I really just like cutting stuff up. Examples of that popped up when I was young. In an early assemblage piece I made, early as in 1977, I cut up a cardboard box and made a pretty great replica of my parent's Mr. Coffee. I do remember seeing collage in that family art history book and thinking, "That's art?? That's cool." And tucking that realization away in my back pocket. As for the name of what I do, Reclaimed Sentiment came very organically. The concept of "reclaiming" has been hot for some time, trendy. When I take a found, '80s Hallmark plaque and paste something snarky over the sappy image, for example, I have forever changed our relationship with it and the feelings originally conveyed. I also like the idea of product branding. Associating my art with a brand, I hope people come to believe that coming back to it over and over gives them a sense of consistency. Like, "I laughed at that once. I bet I will laugh again."
Gavin: How did the opportunity come about to move into Poor Yorick Studios?
Phoenix: Well, that pluck I talked about earlier is what got me a studio at Poor Yorick. I was friends with Poor Yorick's Brad Slaugh, and after he and Tracy Strauss acquired the current studio spaces on Crystal Avenue, I told him that I might sorta kinda be interested in the smallest space in the building the size of a walk-in closet. He basically responded with, "I didn't know you were an artist." Well, I wasn't. I asked him if I had to tell him what I was going to do in there, because I really didn't have a clue, and he put his arm around me and told me I could do anything I wanted. Thanks, Brad.
Gavin: I read that when you moved into Yorick, you had discovered your artistic voice. What was it about that space that changed things for you, and how was your time there?
Phoenix: After a woman has had three babies in five years and you put that mom in a closet by herself, she is guaranteed to emerge with a new voice for something. I was pretty determined to have a creative outlet that also offered me some solace. The only real free time I had was early in the morning a couple of days a week, and I was often the only person in this cavernous building during that time. It was really intimidating most days to have this self-imposed pressure to be creative at these exact moments, and I wasn't always productive, but dammit -- I did discover a voice for collage eventually, and I even showed some pieces that first year Poor Yorick had an open-studio event. The response to my work was positive enough that I kept at it.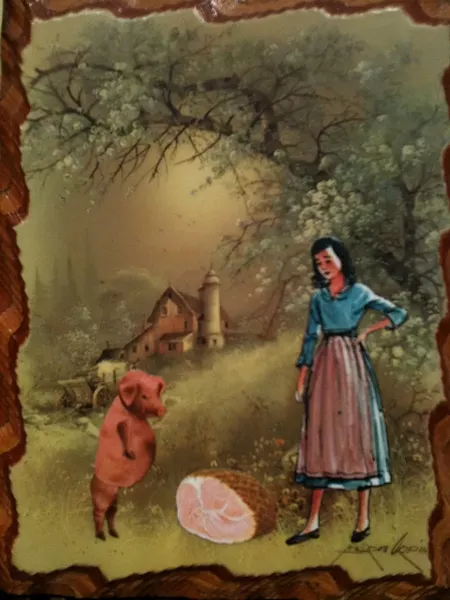 Gavin: How does the process go for you when deciding what to create for a new piece?
That process starts at the thrift store. When combing the "art" section, I only buy the pieces that I have a visceral response to. When I look at it and can think immediately of an idea for it, then I buy it. This is for practical purposes, really, because I love stockpiling backgrounds on which to work, but my studio's storage space is quite minimal. The same goes for the books I buy. Most of my collaged stories are told with illustrations from mid-century childrens books. While shopping, I will thumb through a potential book, and if I don't see at least four images or so that I know I will use, I won't buy it. Creating a piece often means piecing together a concept I thought of outside my studio, then finding all of the necessary elements in my vast library of images. Sometimes, I will storyboard prospective pieces, changing key figures over and over until something really funny emerges. Those spontaneous pieces are especially fun for me and are usually the ones my fans like best. They are reminders for me not to over-think or complicate the message. Anyway, the main requisite for any piece of Reclaimed Sentiment is humor. And each piece needs to pass the husband test: If Michael doesn't laugh, then I know I need to rework it. Also, a huge part of the finished product is the title, the real crux of many of the works. A lot of my collages don't make sense to people until they read the title, so I need to get that part just right. I have been known to employ Michael for those because I tend to develop very complex stories behind seemingly simple pieces and he helps me reel it in and be concise. Et voila! A new Reclaimed Sentiment baby is born!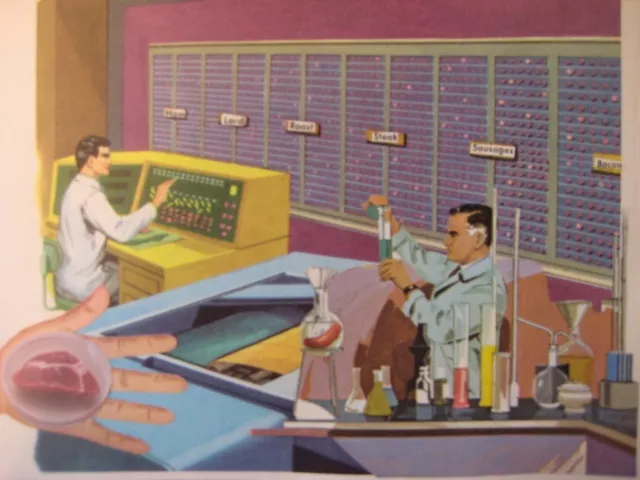 Gavin: Where do you gather up the pieces you use to make the collages, and how do you catalog everything you don't use for possible future pieces?
Phoenix: Deseret Industries supplies most of my fodder, but the really fun part of having a very specific style is that I receive really fantastic gifts, mostly ephemera, from fans! I am an organized person, and when my studio became more and more cramped, I decided last year that I needed a filing system for all the things I had not used but already cut out of books and for all of the fan gifts. So, I have folders for specific categories or themes that I tend to use over and over. I tend not to cut an image intricately unless I know I am going to use it, because it is often more fragile and harder to hold on to for a future piece; cutting intricately also takes up the greatest amount of time I spend in my studio, so I don't do it until I have to. As for all of the books I have, they, too, are organized on my shelves very specifically: science, animals, Native Americans, space, fairy tales. My favorite books I have are illustrated dictionaries. When I really NEED to find a banjo, for example, it it so much easier to turn to "B" in the dictionary than spending an hour pouring over a 100 books until I find one. I have a fairly strong photographic memory and I might remember having seen a banjo in a book that contained that one crying hippo, for example, so those mental files do also help narrow it down for me.
Gavin: What made you decide to leave Poor Yorick and set up your own studio at home?
Phoenix: My lack of real free time dictated that decision. I was having to bring my kids to my studio more and more, and was getting less and less done each time. It just didn't make sense to continue to write a rent check for a place I might only hang out in a couple of hours a months when it came right down to it. I would be lying if I told you I wasn't sad to move out, but I also have to admit that ya just can't beat the accessibility of having a basement studio. Now, I have the freedom to slip down there when everyone is doing homework for a quick 15 minutes of brainstorming or cutting, for example. The fact that I have to keep reminding the kids not to borrow my precious scissors aside, I am very happy to have a home studio.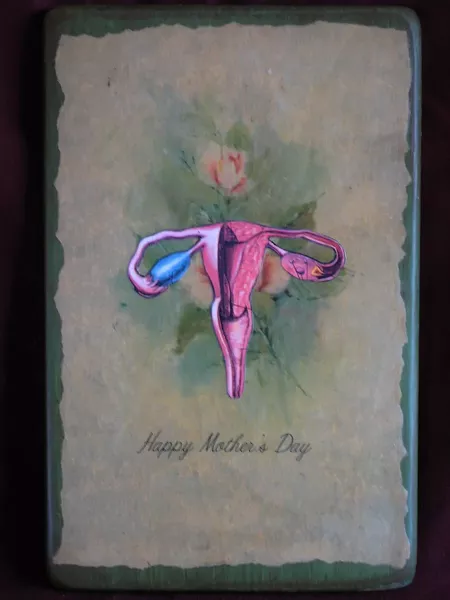 Gavin: How was it for you breaking out and doing more solo and group exhibitions, and what's the general reaction you've received from people beyond the group studio setting?
Phoenix: The beauty of being a part of Poor Yorick was the biannual open-studio event. So once I moved out and no longer had those opportunities to show my work, I had to try hard at putting myself out there as an artist and start thinking seriously about getting a gallery's attention. My first break-out happened with the help of Shilo Jackson of Kayo Gallery -- she told Gentry, from the now defunct Frosty Darling, about my work and Gentry asked me to make pieces to sell in her shop. We were a good match. One of my biggest and fave fans came from her having found a piece of Reclaimed Sentiment in Frosty Darling five years ago or so and she still follows Reclaimed Sentiment and continues her support to this day -- shout-out to Molly!) Sometime early on, I also did an unprecedented online auction, on Facebook, actually, that really gave me my early chops. I created 30 pieces in 30 days and I sold them all in 30 minutes (and made gobs of money). With that, I created a serious fan base with lots of positive feedback. Then came invitations to a couple of group shows, but my big break came from a lovely librarian at the Sweet Branch Library who believed in me and offered me my first solo show! That's when I really started to get some real local recognition. What followed were successful solo shows at Stolen & Escaped -- sadly, no longer in existence -- and Nox Contemporary: big thanks to Amanda Hurtado and John Sproul. Somewhere in all of that, I really felt like I had arrived on the SLC art scene, and started calling myself an artist, out loud, when people asked, "What do you do?"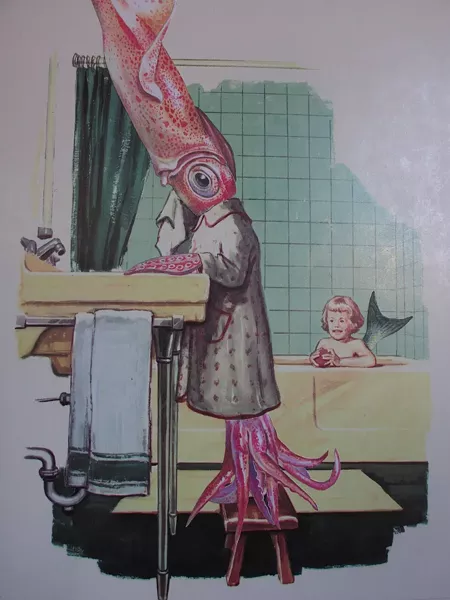 Gavin: Recently you won an Arty award from City Weekly for your work. What was it like for you receiving that kind of recognition from local media?
Phoenix: Man, oh man, was that cool! That Arty sits very proudly on my studio desk -- only slightly altered, of course. There is an interesting path that led to that award that started with my solo show at Nox last November. The City Weekly sent a guy to my studio to do a small piece for the "what to do" section of the paper, which then prompted said guy to push for a front-page feature in the online art mag 15 Bytes, which led to all kinds of recognition from all over the place, which eventually led to me winning that Arty for Best Second-Hand Artist. So, a huge thank-you goes out to Salt Lake's fearless art critic extraordinaire, Ehren Clark, who has done so much for Reclaimed Sentiment. Also, having the media's attention for your work is really what all of the mothers of all of the artists all over the world want to see -- something tangible that they can put in a scrapbook! So, thanks, City Weekly, from me and my mom!
Gavin: Looking ahead, are you planning to branch out into other forms of the genre, or more toward expanding on what you're currently doing?
Phoenix: Reclaimed Sentiment made a departure in the current Holiday Group Show at Nox Contemporary, exploring a more decorative kind of collage, a collage that is not funny or snarky. I know, really strange. But I think the six pieces I made really work, and I will take this opportunity to declare that Reclaimed Sentiment now reserves the right to be serious at times. I do like to tell stories, so that won't ever totally go away. I like to have hidden messages, I like to make people think and I like to challenge people's thinking about what they think art is. I really don't know what Reclaimed Sentiment will look like next year, or even next week. I am influenced by so many things around me that even I am surprised at what direction takes form. The noise in my head tells me to push the envelope, to really challenge people's view of art and the world around us. But, I really don't know yet what that looks like. For my hardcore fans, rest assured that some things will never go away: Cephalopods live in a cozy place in my heart, as do chunks of fleshy meats.
Gavin: Moving on to local, what are your thoughts on our art scene, both good and bad?
Phoenix: If I were to answer this honestly, I would best express myself through my artistic process: Close your eyes now and picture a provincial scene replete with a babbling brook and a rainbow. Now, picture a cote du tempting body of water, a steaming pile of shit, with well-coifed, hand-holding robots dancing around it. Salt Lake City is this beautiful place with talented artists and well-meaning gallerists. Unfortunately, to dip your toe in that cool water that is the SLC art scene, you you must first realize that the appreciation just isn't there. The only real support comes from other like-minded artists who are not in the habit of filling their homes with your art. Those in Salt Lake of whom can afford to are not interested in buying original art. Maybe they don't know how, or maybe they just have really bad taste. Whatever the case, I am down on the scene at this momen,t and my studio is starting to fill up with un-sold art and that is unfortunate. Boo! Hiss!
Gavin: Is there anything you believe could be done to make it more prominent?
Phoenix: "I believe the children are our future." Whitney Houston really was on to something there, non? My husband and I make a habit of dragging our kids every month to Gallery Stroll. We are trying hard to raise art-appreciators and, hopefully, the world's future art collectors. But that doesn't do much for the here and now. We have a wonderful Friday evening dedicated to visiting the city's galleries, and yet it is always the same non-art-buying people who come out in fits and starts. Really, I don't think the climate around the art scene is going to change any time soon. Being able to serve alcohol in the galleries would go a long way, honestly. That always tends to loosen the purse strings and it makes the galleries more of a social destination. If we can just get them in there, we can get them to buy art. Theoretically. Right?? Le sigh. Places like Poor Yorick, Captain Captain and Guthrie Studios are fighting the good fight for artists by opening their doors, selling the art for cheap and putting 100% of art sales into the hands of the artists. That can't be wrong.
Gavin: Who are some local artists you like checking out or recommend people should look for?
Phoenix: I am always looking for space on my walls for a good Dennis Reynolds -- an elusive character but worth seeking out, in my opinion.
Gavin: What can we expect from you over the rest of the year and going into next?
Phoenix: You can expect to see me being able to pull all of my hair into one ponytail. You can expect that I will rearrange my studio at least two times, because that is what I do to better streamline my craft. You can expect to see me trolling the aisles of the downtown DI at least once a week. But most importantly, you can expect a proper website for Reclaimed Sentiment! It's been a long time coming and now I need to pull the trigger on that.
Gavin: Is there anything you'd like to plug or promote?
Phoenix: Please go see Reclaimed Sentiment at Nox Contemporary's current group Herb and Dorothy Show through Jan. 4. And I would like to direct your readers to check out my artist page on Facebook at "Reclaimed Sentiment." It is the best way I know to get the word out about future shows, collages I am currently working on and it's a place for fans to see past works of which there are hundreds buried there in various albums from past shows and open-studio events from way back when. Thank you, Gavin, for this opportunity to spread the Reclaimed Sentiment love!



| | | | |
| --- | --- | --- | --- |
| Follow Gavin's Underground: | | | |