Beyond performances at Weber State University and the occasional event at Perry's Egyptian Theatre, there isn't a lot of theater to speak of in Ogden. --- Not like it's the city's fault or anyone in particular; there just hasn't been a focus for many independent companies to come in and showcase their works, leaving most Ogdenites to travel down to Salt Lake City for a show. But that's going to change very soon, as the brand-new Good Company Theatre has taken up residence along the Historic 25th Street in the heart of one of the town's nightlife areas, with a season of productions on the way looking to bring more people in over the coming year.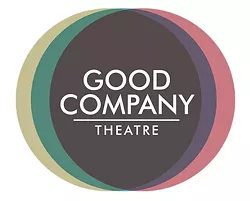 Today, I chat with Good Company's founder and actor Alicia Washington, discussing her career in local theater and forming the new company, as well as her thoughts on the theater scene in general. (All pictures courtesy of GCT.)
Alicia Washington
Gavin: Hey, Alicia. First off, tell us a little bit about yourself.
Alicia: Hi! I'm a local gal who loves the arts.
Gavin: What first got you interested in performance art, specifically theater, and what were some early influences on you?
Alicia: I was raised in a really diverse and tight-knit pentecostal church. There were so many activities and programs to participate in, and my mom encouraged my sister and I to be extremely involved. Everything from writing/performing short skits to perform during Sunday services to singing in the choir to acting in holiday cantatas and pageants, we did. Also, I was fortunate enough to have some really fantastic school teachers who celebrated creativity. Dressing up as headmistress Miss Trunchbull from Roald Dahl's Matilda to give a book report in the 6th grade is a highlight, and I credit performing as the Queen of Hearts at age 10 with turning me on to the joys of the stage. Well, that, and the TV show In Living Color. I still dream of being a Fly Girl with decent comedy chops.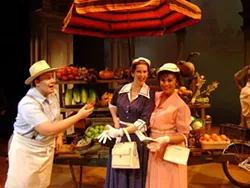 Gavin: What was it like for you breaking into local theater, and what were some of your early professional roles?
Alicia: Once I realized how much I loved being onstage, I started to research theaters near where I grew up in Layton. My ambitions were straightforward: perform anywhere that would hire me. Thankfully, my mother was willing to drive me around to all my auditions and rehearsals. Since there are so many theaters in Utah, once I started auditioning I never stopped. In my ballsy teenage naivete, I went out for jobs completely out of my league. At 15, I wanted to work with Utah Musical Theatre in Ogden, so I auditioned. Even though I wasn't cast, the creative staff were incredibly supportive, and gave valuable feedback that made me a better actor instantly. Some of my first shows outside of school were at the Terrace Plaza Playhouse in South Ogden, which was a great introduction to community theater, and I performed in some musicals at the Layton Amphitheater. After that, it was attending college that really propelled me to the next stage in my professional development.
Gavin: You received you bachelor's in musical theater from Weber State University in 2010. What made you choose WSU, and what was your time like there?
Alicia: Like most college students, I changed my major several times. I decided to go to Weber State because I received a small scholarship, and it was close to home. Even as I bounced from major to major, I always found myself checking out the theater scene at Weber State and longing to be onstage. After looking at the call board for auditions and going to some productions on campus, I decided to take a musical-theater dance course. It was love. I knew that I had to be in the program. Soon enough, I was hanging around the performance department and auditioning for student projects. Then, a now-dear friend told me to audition for a department tuition wavier, which I received. I cannot express how fantastic and multifaceted the experience I had in the department was. The program was difficult and rigorous but the environment always felt supportive. From running the sound board to directing to sound design to performing, I was given the opportunity to try all aspects of theater.
Gavin: Most recently, you've been involved with Salt Lake Acting Company. How did you become involved with their company, and how has it been performing for local audiences at that level?
Alicia: The origins of SLAC are so inspiring. A group of local theater professionals decided to branch out from the more established system and create a smaller company dedicated to new work and supporting the actor as artist. These ideas resonate with my own about how to approach and be involved in theater. So, I was really excited when I auditioned for and was cast in Saturday's Voyeur in 2009, my first show with the company.
Gavin: How did the idea come about to start up your own theater company in Ogden, and where did the name come from?
Alicia: I've always been invested in contributing to and sustaining a strong and varied arts community. Good Company Theatre is a response to my experiences in the vibrant artistic scene in Ogden. Over the years, I've built a strong network of talented friends and colleagues, and we've fantasized about a place where we could collaborate on new projects, continue to work on our craft, and to be in constant dialogue about what we love, which is doing theater. As for the name, well, it's simple and approachable. I wanted the public, future actors, and collaborators to know they're welcome here.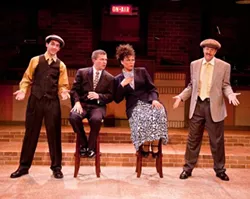 Gavin: Why did you decide to form one with its own location rather than form the company and take up residence at a theater in the area?
Alicia: It felt important to have a dedicated venue for rehearsals, workshops and performances. Also, it was important for Good Company Theatre to feel independent.
Gavin: How did you come across the location on Historic 25th Street, and what made you eventually decide to take the building for your own?
Alicia: After I made the decision to start my own company, and to do so in Ogden, I began looking at locations all around town. The process felt like Goldilocks and the Three Bears. One space would be too big. Another, too small. Many were way too pricy. When I toured my current space, I fell in love. It is perfectly scaled to host the types of events and projects I, Good Company, will produce. Instantly, I could visualize comfortably and happily fitting there.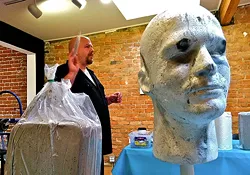 Gavin: Considering the places nearby such as The Athenian, Brewskis, Roosters, Wiseguys and The City Club, what kind of pressure was there to put in a great spot that fit in with the local vibe?
Alicia: Ogden is awesome. My neighbors have all been incredibly supportive and open-minded about a new theater company in their midst. Historic 25th street is the heart of Ogden and it's where everyone comes to be entertained. Additionally, I feel like I have a shot in hell here.
Gavin: What was it like for you taking the building and transforming it a proper theater with a stage and equipment?
Alicia: The only transformation that's taken place so far is a fresh coat of paint and some new floor. We're keeping it simple. I'll be installing a very basic lighting system for performances. Part of my love of the space is its ability to be transformed.
Gavin: How did you go about choosing your inaugural season, and what plays did you finally decide on?
Alicia: Good Company Theatre's inaugural season asks, Where do your passions lie? I selected a season that explores that theme in a range of ways: Topdog/Underdog by Suzan Lori-Parks, Cowboy Mouth by Sam Shepard, Romeo and Juliet by William Shakespeare, Fences by August Wilson and Passion by Stephen Sondheim. I wanted the community to be exposed to pieces they may or may not know in new ways that are tied together with this common thematic thread.
Gavin: You had an official opening in November to introduce the theater to the public. What was the turnout like, and what kind of reaction did you receive from the city?
Alicia: The turnout for the opening was phenomenal. It accomplished exactly what I wanted, which was to allow people to see the space and to begin discussion about Good Company Theatre.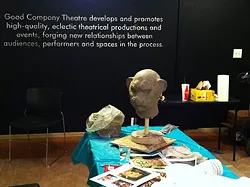 Gavin: I understand you'll also be putting together workshops down the road. What kind of workshops do you hope to offer?
Alicia: The workshops will focus on keeping the actor trained. I am currently solidifying the first round of classes. Check the website for details.
Gavin: The 2013 season is currently comprised of works by established modern playwrights or classics. Will you be bringing in original works from local writers in the future, or do you plan to stick to nationals and favorites?
Alicia: Original works by local and national playwrights are exciting, and I look forward to producing new works in the future. For the first season, I selected pieces by well-known playwrights that tell a common story in unique ways. My ultimate goal is to ensure that all productions Good Company Theatre mounts align with the mission statement.
Gavin: With Ogden being a college town, how much do you wish to work with WSU's acting program?
Alicia: Very much and in any and every way possible. My second show of the season, Cowboy Mouth, was originally mounted as a final project for a directing course at Weber State last year. I hope to continue working with students, faculty and staff.
Gavin: Being an independent company, what are the biggest challenges for you to gain an audience compared to the bigger touring acts and established organizations in Utah?
Alicia: The biggest challenge right now is just to get Good Company Theatre's name out there. Being new on the scene, it's vital that all the events, productions and classes are well-publicized.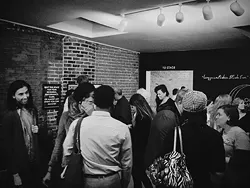 Gavin: What's the overall goal you have in mind for Good Company, and what kind of an impact are you hoping to have on the community in the long run?
Alicia: The mission of Good Company Theatre is to develop and promote high-quality, eclectic theatrical productions and events, forging new relationships between audiences, performers and spaces in the process. I want to develop a reputation as a well-known, professional theater company that is in a constant state of evolution, where artists and patrons can exchange ideas, thoughts and energies.
Gavin: Moving on to statewide stuff, what are your thoughts on local theater, both good and bad?
Alicia: I appreciate that Utah has so many options when it comes to theater. Above that, I love that Utahans support theater.
Gavin: Is there anything you believe could be done to make it more prominent?
Alicia: Increasing public access to information about cultural events in and around their cities and across the state.
Gavin: What are some of the productions you've enjoyed from 2012, and are looking forward to over the rest of this current theater season?
Alicia: Into The Woods at The Grande, Xanadu and Charm at Weber State, Red at SLAC and Of Mice and Men at Pioneer are some of productions I enjoyed. I wish I were able to see them all. As far as upcoming productions, I'm looking forward to weaving Good Company Theatre's season into the mix.
Gavin: What's your take on the push to "bring Broadway to Utah," and how do you feel it will impact the theater community?
Alicia: People will see the type of theater that piques their interests, whether the production is a national tour or a staged reading. It's our job as theater professionals to continue providing the public with as many diverse, well-produced options as possible.
Gavin: Aside from the obvious, is there anything you'd like to plug or promote.
Alicia: Throughout my life I've been empowered to take risks, both personally and professionally. Founding Good Company Theatre has been no different, and without a supportive arts community more than willing to nurture my ideas and projects, I would never have gotten it going. In order for theater in Utah to remain strong and dynamic, we have to enfranchise one another and remain open to new perspectives. I'm ecstatic and proud to continue that tradition.



| | | | |
| --- | --- | --- | --- |
| Follow Gavin's Underground: | | | |