Specialty mugs and glasses have been around since there was liquor and beer to pour into them, and in a modern age where a label means everything to the drinker, people enjoy having something defining on the side of their mug. --- But, when you've got companies charging over $150 just to have their emblem painted on the side of a stein, it nearly becomes on investment on sentiment for something so fragile. So, if you're gonna pay the cash, you'll want to get something worth your scratch.
Local glassworks designer Zach Martinez has been making a line of glasses and mugs created from the very bottles the drinks were poured in. Along with some added painting techniques, he's created a plethora of beverage holders (and even lighting shades) for people looking for something unique for their personal bar. Today, I chat with Martinez about his business and the creative process behind the glasses. (All pictures courtesy of ZaxWorx.)
Zach Martinez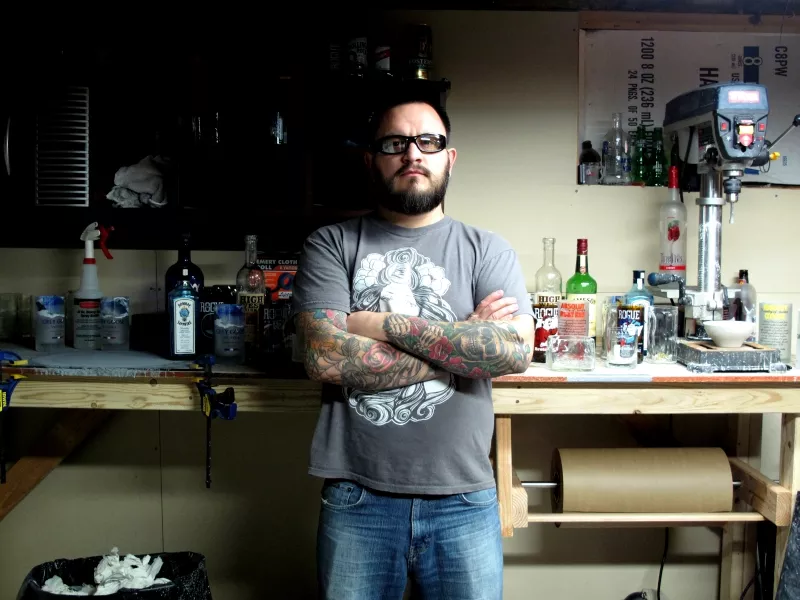 Gavin: Hey, Zack. First thing, tell us a little bit about yourself.
Zach: My name is Zach Martinez. I'm 30 years old, I was born in Salt Lake City, grew up in a shitty small town called Vernal. I like creating art, in many different ways. I have a wonderful wife, Sarah, who is more than I could have ever asked for. I poop once a day, usually in the morning, after my first cup of coffee.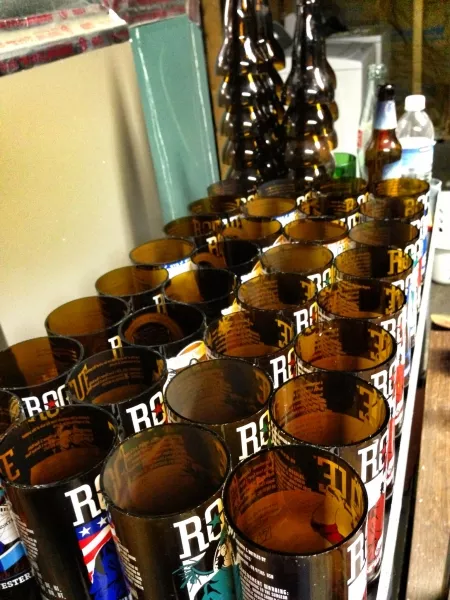 Gavin: How did you first take an interest in art, and what were some early influences on you?
Zach: I have been interested in art as far back as I can remember. As far as how that happened, I'm not sure. I can say that one of my earlier influences was my dad. Now, before you go thinking my dad was some great person, think again. The only artistic influence I had from him was art sent to me from the Utah State Prison. It was good art, but it was still art that he was sending to me to try and make up for lost time, which is a whole other story.
Gavin: Did you attend college for any special courses in art, or are you more self-taught?
Zach: I have no formal training. I'm self-taught. I am of the thinking that NOBODY is born with a "gift" of being artistic. I think anyone can learn how to produce art, all it takes is dedication. Some proper training always helps, too. But it's not 100% necessary, in my opinion.
Gavin: What drew your interest toward glass works, and what was it like for you learning to work with them?
Zach: Not gonna lie, I got the idea from someone else. I don't think I "stole" their idea. I'll tell you what happened from my perspective: I sit on my ass all day at a boring, unfulfilling desk job, where I constantly fight falling asleep every goddamned day. When I would come home, all I would do is watch TV, play Xbox or play on the Internet. That got old and I was really tired of it. So, one day I stumbled upon this video on Vimeo. When I first watched it, I think I watched it at least five times. For me, it was so inspiring and I related to it so much. It just resonated with me and I couldn't stop thinking about it for days. About six months before I saw this video, my wife and I bought a gift for a very close friend that happened to be two glasses made from liquor bottles. Once I watched that video, for some reason, I immediately thought of those glasses. I remember thinking when I first saw those glasses, "This is cool, but I could do it better." Perhaps it's the perfectionist in me that noticed the flaws in those two glasses right away. Either way, I was determined.
Gavin: When did you start working with liquor bottles and learning to cut the glass?
Zach: I started from the beginning working with liquor bottles and beer bottles. I used various YouTube videos as reference, to try and find out the best way to cut these bottles. In the end, I created my own process out of this collective knowledge I gained from all of the research I did.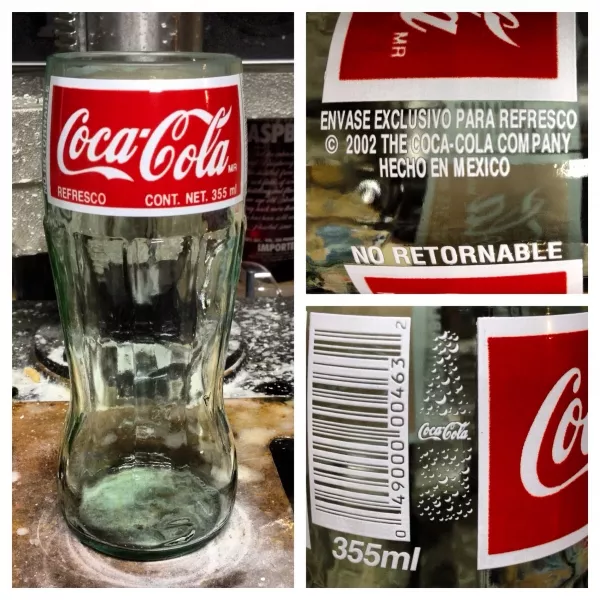 Gavin: How did the idea come about to turn create your own business around them, and why ZaxWorx for the name?
Zach: This was out of a whim. I decided to create a website for my products, and I got a good response as far as hits go. What came with doing that is the pressure of creating a name. ZaxWorx is sort of a hybrid between Zach's and Glassworks. I came up with ZaxWorx. It's nice and universal and it doesn't limit me to one type of product.
Gavin: How do you go about collecting all the bottles you use, and how do you determine which ones will be the best for cutting?
Zach: I have several bartenders saving me bottles, and I've told them which bottles will work and what ones won't. So, they are on the same page as me.
Gavin: What's the process like for you in creating a glass, from the bottle to the final product?
Zach: The process is kind of a pain in the ass, and it took me a long time to get it down; about a year, actually. It's basically a four-step process: cutting, grinding the inside, grinding the outside, then hand-polishing.
Gavin: How is it for you incorporating much of your own art into these bottles, and how do you decide what you'd like to add to each one?
Zach: I honestly don't incorporate any art into the bottles themselves. I choose bottles that already have some sort of art on them, so that they are distinguishable from a plain glass. Usually, bottles with peel-off labels are the ones I don't use, unless they have some sort of embossing on the glass, like Jameson Whiskey bottles, for example. As far as art goes, I make watercolor paintings that are inspired by tattoo imagery.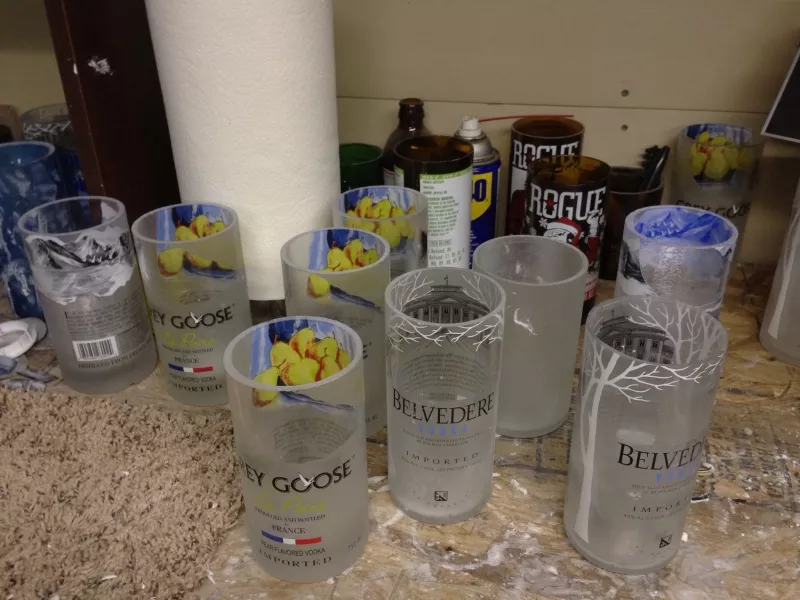 Gavin: What are some of the kinds of bottles you've worked with that turn out the best?
Zach: I think my favorite ones are High West. They are hand-blown in Mexico by one guy and they are just really cool-looking, I think.
Gavin: You also create custom versions for hanging lights. What made you decide to do those, and how much different is the process?
Zach: I have seen people selling them online for ridiculous amounts of money, like $100 for just one! They are much easier to make. They don't require near as much polishing as the drinking glasses, either. It was basically a no-brainier to start making those.
Gavin: How was it for you starting up the business online, and what's the response been like from local patrons?
Zach: So far, the website has been nice to have just to tell people at craft shows to visit my site, or that they can contact me through the site. It gets daily traffic, which is nice, but I've only had five people actually make a purchase through the site. I've made the most sales at craft shows, so the response from locals has been great.
Gavin: You've also received some verbal support from local podcasts and other business owners. How has it been having that kind of promotion and support for your business?
Zach: That has been great, actually. I have definitely noticed an increase in traffic and also made some sales as a direct result.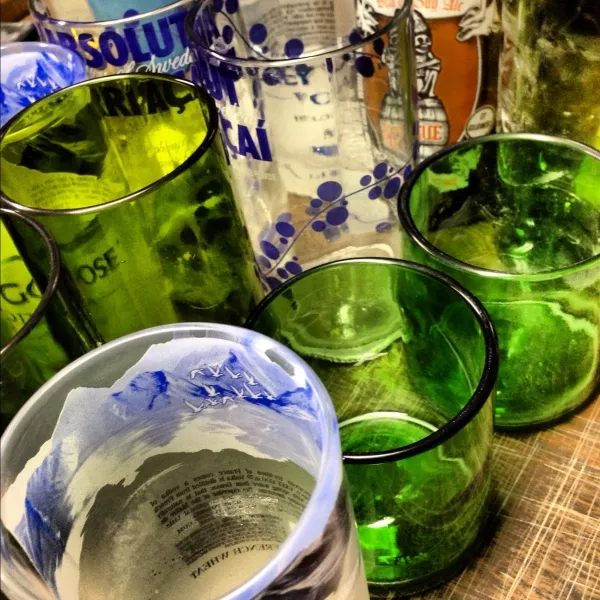 Gavin: Do you have any plans to expand on your business, or are you good with things as they are for now?
Zach: I think I'm good with where it is now. I've been super-busy this last month, but I think once the holidays are over it will slow down. Then I think I will focus more on promoting and trying to keep my sales consistent.
Gavin: What can we expect from you and ZaxWorx going into the new year?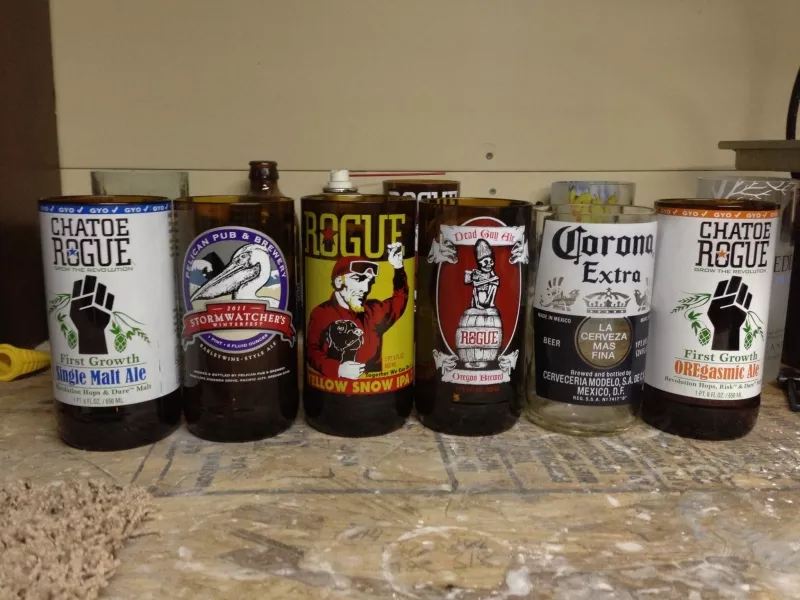 Zach: I guess I kinda just answered that in the last question. Expect to be annoyed by my Facebook posts, ha ha!
Gavin: Is there anything you'd like to promote or plug?
Zach: My website, of course. My three favorite podcasts, Geekshow Podcast, The Mediocre Show and Obviously Oblivious; go listen to them now! Some of my favorite bars in town, Brewvie's, Lucky 13, Gracie's and Poplar. My favorite local tattoo shops, Lost Art Tattoo, Yellow Rose Tattoo, ONI Tattoo, Big Deluxe Tattoo, 27 Tattoo, Cathedral Tattoo, Heart Of Gold Tattoo, Painted Temple Tattoo -- there are more but I can't think if them at the moment. Also, the Salt Lake City International Tattoo Convention; be there!
| | | | |
| --- | --- | --- | --- |
| Follow Gavin's Underground: | | | |