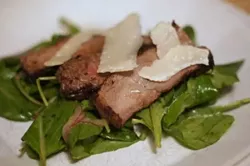 If the holiday season weighed you down a bit, here's a relatively light, easy-to-assemble salad that's great for lunch or a simple supper. --- I make this salad whenever I've brought leftovers home from the steakhouse, rather than feeding them to the dog. Sorry, Beau!
Ingredients:
1/2 to 3/4 lb. cooked steak, sliced
6 cups arugula (you could also use baby spinach or a mixture of both)
1/2 red onion, thinly sliced
1/2 Tbs. honey
1/2 Tbs. Dijon mustard
3 Tbs. olive oil
1/4 cup freshly-squeezed lemon juice
1 tsp. finely grated or minced lemon zest
salt and pepper, to taste
shaved Parmigiano-Reggiano, for garnish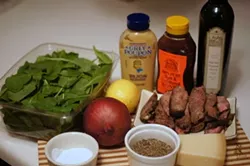 Method:
In a small mixing bowl, combine the honey, mustard, olive oil, lemon juice, lemon zest and salt & pepper to taste.
Whisk the ingredients together thoroughly to make a dressing for the salad.
In a large bowl, toss the arugula with the sliced onions.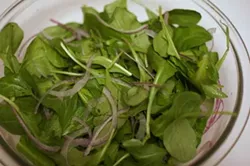 Drizzle the salad dressing over the greens, just enough to lightly coat them. The arugula shouldn't be soggy.
Place some of the dressed arugula on individual serving plates and top with steak slices (either warm or cold).
Garnish with shaved pieces of Parmigiano-Reggiano. I use a potato peeler to shave the cheese.