I've seen some decent Salt Lake City-based indie films before, but nothing quite like Salt Lake DVD Vol.2. Locally produced and extremely low-budget, this "Blockumentary" sets out to break the Mormon stereotype associated with Utah and simultaneously highlight SLC's small, but extant black culture -- a tall order for any film.---
Shot and directed by Hair King Barbershop owner and rookie filmmaker, James McCullar (otherwise known as J Mac), Salt Lake DVD Vol.2 is, on the surface, difficult to watch. At first glance, it comes across as a 49-minute mishmash of nonsensical shout-outs, drunk chicks making out and interviews with awkward ex-Mormons (sometimes without any teeth). That being said, there's something about this film that I really love.
This Jack Mormon got all of his teeth knocked out at the same bar ... Willie's.
I'm not sure what it is exactly; maybe it's a mixture of pre-YouTube nostalgia and the fact McCuller's film is reminiscent of something David Lynch would produce. Either way, the film feels like a patchwork of unintentional genius. Shot for under $10,000 with an unsteady flip-cam, the Chicago-bred McCullar attempts to show viewers a side of SLC that they're probably not accustomed to. He more than exceeds, and the result is an urban film that is both cringe-worthy and refreshingly entertaining.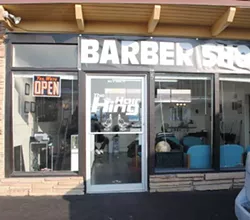 I met up with McCullar at the Hair King last Saturday to discuss his film and, of course, get an uptown fade. If you're wondering how this could be his first film while the title is Salt Lake DVD Vol.2, it's because there is no volume one. "I did a little market research and found out that nobody ever watches volume 1. So I just called it volume 2," explained McCullar as he casually buzzed the back of my head.
If you've never set foot in the Hair King, I should mention that the place is small and easily missed when you're driving down 3300 South. It's a one-room barber shop that is split in half, with two barber chairs and a waiting area on one side and a merchandise wall on the other featuring gold chains, oversize watches and custom sneakers.
McCullar has been in this location for two years now. But he has over 15 years of experience cutting hair and has been the go-to barber for celebrities such as Terrance Howard, Genuine, Slim Thug, Jamal Tinsley and Lamar Odom. 'Usually, they all get bald heads with beards," said McCullar, "which sounds easy, but it can be tough to do if you got a funny lookin' head."
As he worked on my peanut-shaped head, McCullar admitted that when he travels out of state, much of his time is spent arguing on SLC's behalf. "When I go out of town and a female asks me where I'm from, they're, like, "Salt Lake?! There ain't nothing but Mormons there." So, I have to spend 30 minutes explaining that we got black people here, too ... and clubs. They don't think there's one black person here because they haven't heard a single urban thing about this place."
This is a passionate topic for McCullar and it's touched on quite a bit in the film. At one point, he interviews local comedian Chi Black, who dispenses advice to any African-American males considering a move to Utah. "Nigga, trains are more lethal than niggas out here. Shit, all you got to do is just look both ways before you cross the tracks line."

The word "nigga" is probably used in this film more than Django Unchained.
The other half of the film is spent profiling "LDS" kids at local bars and house parties. While at Batters Up, a Hispanic man, who's completely blasted, talks about his past LDS life while attempting to stand upright. "They put me in the water and said I would feel all nice and all my problems would be gone. Then I came out and was all, like, "What's up with this shit?" I'm just sayin' ... I'm a Mormon dog."
Salt Lake DVD Vol.2 jumps back and forth between these two topics rather sporadically, and even goes into a random segment about "What does hip-hop mean to you?" followed by a group of chicks yelling, "Salt Lake DVD, bitch!" But inbetween the shout-outs and drunken awkwardness, the concept of the film is interesting enough to hold weight. It's also the only indie film I've seen that attempts to discus Utah's African-American culture.
"The black culture [in Salt Lake] has a long way to go to be recognized," said McCullar. "We got African-Americans doing big things and there's whole bunch of those guys that come to this barber shop everyday."
Salt Lake DVD Vol. 2 will be officially released Feb. 12 on CreateSpace.com, iTunes and Amazon. Also, check out the official release party at Inferno Cantina on Feb. 12. Head over to HairKingSLC.com for more details.
Photos by Nicole Jaatoul Screengrabs from SoleKing