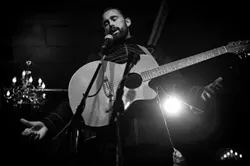 This weekend's set of releases come from mostly familiar bands to the local scene, either new ventures or continuations of what they left off with, and one new band to add to the mix. --- I start with the latest full-length album from the
Daniel Day Trio
, who have a brand-new set of covers for your listening pleasure on their 2013 release,
Black On Black
. If you've never seen the band live, I really have to ask whether or not you get out because they are literally everywhere at dozens of functions and private gatherings. They even played the 2012 Arty Awards for
City Weekly
. If you're a sucker for jazzy covers, find a copy of this album and guess who all is on board.
Moving on to releases with shows this evening, first up is the debut album from the band In Color. The group is a four-piece indie piano rock group based out of Provo, comprised of Sam Decker, Dan Leach, Jake Pettigrew and Josh Maurer. The band have got a mixture of classic R&B beats set to piano riffs and some newer, slow, indie stylings to their sound, which may not be everyone's favorite, but it's worth a listen for those looking for a change of pace in their rock. The group will be releasing their debut self-titled full-length album tonight at Kilby Court along with The Direction, Creature Double Feature and Josh Frank. Just $6, starting at 7.
Meanwhile, across downtown we'll see the first full-length release from Huldra. The five-piece ambient-metal group has been on a tear lately, bringing out the crowds to their shows and gaining tons of respect from fellow musicians. It's kinda strange to think the band has had so much exposure and respect locally and they haven't even been around for two years yet! Their debut EP and the split with Dustbloom both got praise across the board from local critics, and now they look to capitalize on that with their first big album titled Monuments, Monoliths. You can pick up this metal masterpiece at their release show tonight at The Shred Shed as they play with Oxcross, Eons, and Founders of Ruin. Just $5, starting at 7.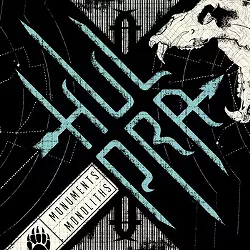 And then finally, a shocking release no one expected as we see a brand-new album from Drew Danburry. Danburry (seen above, photo by Mark Johnston) was a music machine just a few years ago, recording and touring relentlessly, until his last album, Goodnight Dannii, seemed like a final farewell -- especially since he opened up his own barber shop along University Avenue in Provo which, from my understanding, has been doing awesome. But out of the blue this week, Danburry alerted everyone to his brand-new EP, The First Pillar -- five tracks, which he's giving away for free in a ZIP file via his Facebook page. It's definitely worth checking out, and it's free so you can't complain about the price. 
Love music, head out, buy local!