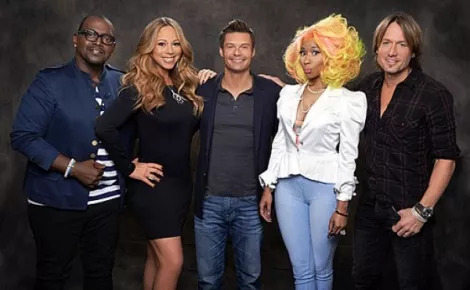 What's new on the toob tonight:
American Idol (Fox) Season Premiere: Three new judges (Mariah Carey, Nicki Minaj, and Keith Urban), one old dawg (Randy Jackson) and the same rollout of shitty karaoke 'Merica loves year after year—in declining numbers, so maybe there's hope for actual music in the near future. ---Until then, suck on this "talent" …
Ghost Mine (Syfy) Series Debut: It's about ghosts in a mine. Seriously. Coming next from Syfy: Ghost Laundromat.
Workaholics (Comedy Central) Winter Premiere: Says here, "The guys strive to be the funniest ones at an office roast." Maybe they should put that kind of work into being the funniest ones on Workaholics—bam!
Also new tonight:
The Middle, The Neighbors, Modern Family, Suburgatory, Nashville (ABC); Criminal Minds, CSI (CBS); Arrow, Supernatural (The CW); WWE Main Event (Ion); Hot in Cleveland, Happily Divorced (TV Land); Toddlers & Tiaras (TLC); Amish Mafia, Moonshiners (Discovery); Shipping Wars, Barter Kings (A&E); Ghost Hunters (Syfy); Top Chef (Bravo); The Soup, Love You Mean It With Whitney Cummings (E!); American Horror Story (FX); The Kroll Show (Comedy Central)