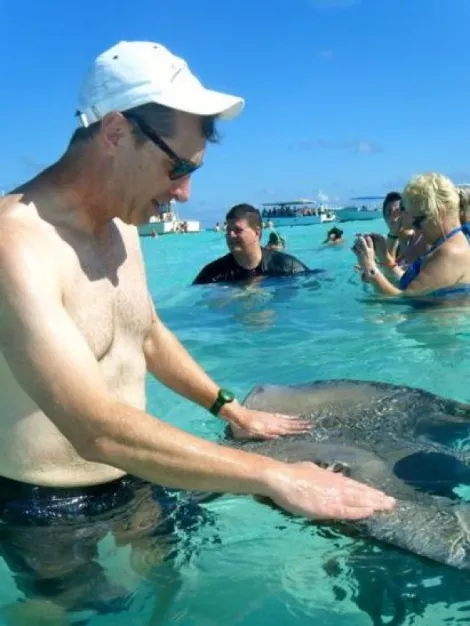 There are plenty of places you can go to swim with trained and captive dolphins in an enclosed area, pet sea turtles at an aquarium or get splashed by a whale during a show, etc. Then there's
"Stingray City"
just off
Grand Cayman Island
in the Caribbean. Just find somebody with a boat, pull up to a giant sandbar, step out into the clear, blue, chest-deep water and before you know it, stingrays wider across than a double bed are swimming right by your legs. ---
The name "Stingray City" makes it sound like some sort of organized, commercial sea-life park, but it's really just a series of sandbars in the North Sound of Grand Cayman where anybody can pull up and start looking. Fishermen used to clean their catch there and the stingrays would feed on the fish guts. Just like Pavlov's dogs, the stingrays started to associate the sound of a boat motor with mealtime and swim up to get dinner. Snorkelers and divers found they could even feed the stingrays by hand. Today, tour operators bring squid meat to attract them.
In theory, anybody with a jet ski can head out to the sandbars to feed the rays and even pick them up to pet. If you approach a ray from the back, they could sting you, and if you're not careful, you might step on one and hurt either you or it. We did a tour through Resort Sports, which also offers a number of other types of tours around the Cayman Islands, and had a great time.
The stingray skin is a combination of slick and rubbery. It feels weird at first but then you get used to it, and start noticing other things, like how far apart the stingray's eyes are set and whether they are looking at you. The closer you look, the harder it seems to believe that this creature lives on the same planet with you. The mouth looks scary, and we didn't try want to get near it, but when you feed them it just feels like a vacuum cleaner hauling the squid in.
While getting to pet a ray is definitely one of the highlights of the trip, the bigger thrill may be simply standing in clear water, looking down, and seeing rays go by right next to you, occasionally even brushing your legs. It's a sea-life experience you won't soon forget, and it's with creatures who actually roam free in the sea and interact with humans, not because they have trainers cueing them, but because they're whoring themselves out for a free meal.
Hmmm ... maybe humans and rays aren't so different after all.
The Travel Tramps write regularly about their treks in City Weekly and host the weekly Travel Brigade Radio Show.