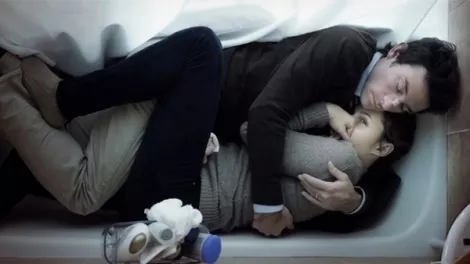 The 2013 Sundance Film Festival kicked off the way it pretty much always kicks off: with a couple of movies, and a whole lot of speculation. ---
While the relatively recent move away from a single Opening Night film to a slate of several options gets the buzz going a few hours earlier, opening Thursday at Sundance is almost always about settling in and gearing up. The schedules are out, creating Plans A, B and C depending on what tickets turn out to be unbelievably hot, and what last-minute invitation to a party requires re-shuffling everything on your screening schedule.
As usual, there's "buzz" for stuff based purely on subject matter (notably sex and/or hot-button controversy, as in the case of films like Lovelace, Anita, After Tiller) or star power (Nicole Kidman in Stoker, Naomi Watts in Two Mothers, Joseph Gordon-Levitt and Scarlett Johansson in Don Jon's Addiction). But a couple of unusual cases set the buzz bar higher than usual for movie buffs: Upstream Color (pictured above), writer/director Shane Carruth's long-awaited follow-up to Primer; and Before Midnight, the third visit with Ethan Hawke and Julie Delpy's Jesse and Celine characters from Before Sunrise and Before Sunset. The line for the few available press tickets to Midnight's Sunday-night public premiere inspired early risers an hour before the press office opened -- which speaks volumes at a festival where sleeping hours are at a premium.
Among the opening night premieres was an entry in the U.S. Dramatic Competition, writer/director Cherien Dabis' May in the Summer. She plays the titular May, the American-raised daughter of a Palestinian woman (Hiam Abbas) and American diplomat (Bill Pullman) visiting Jordan to plan her wedding—a wedding, it turns out, about which she has serious reservations. Dabis spins the story off in a dozen different directions, from the antagonism of May's Christian mother towards her daughter's marriage to a Muslim to the relationship between the sisters to the emotional fallout resulting from May's parents' divorce. She keeps the characters' interactions spiky and unpredictable, which would be intriguing if those characters felt more compelling, or if the tone didn't bounce between strident melodrama and goofy farce. Weirdest of all, one of the most obvious punch lines is immediately followed by the sound of a passing jet, bringing the region's volatility suddenly to the forefront. Yet it's also as if Dabis were tacitly admitting that none of the stuff going on in this story is really all that important in the big picture.
Weird tonal shifts work slightly better in Crystal Fairy & the Magical Cactus and 2012. Michael Cera plays Jamie, an American who has come to Chile for the express purpose of ingesting the mescaline-charged San Pedro cactus. Joining the journey with a trio of local brothers is another American, Crystal Fairy (Gaby Hoffman), a hippie chick Jamie impulsively invites (and instantly regrets doing so). Cera's tightly wound persona gets a great twist, as he captures a guy so intensely focused on his mind-expanding adventure that he treats all the people around him like crap, while the New Age-y earth mama Hoffman is playing moves deftly from caricature to character. The episodic adventures do eventually start to overstay their welcome, and the shifts from broad comedy to earnest drama are at times jarring. But it actually proves to be pretty perceptive about a certain brand of youthful narcissism dressed up as exploration.