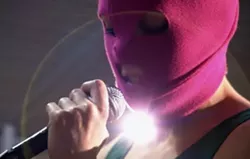 "Art is not a mirror held up to reality, but a hammer with which to shape it." -- Bertolt Brecht. So begins the saga of three Russian performance artists, members of Pussy Riot, found guilty of hooliganism for a satirical performance in a Moscow cathedral, which is portrayed in an important documentary,
Pussy Riot -- A Punk Rock Prayer
, showing at Sundance Film Festival this week.---
Pussy Riot formed the same day that Putin took office again in Russia, to use metaphor and art as a nonviolent means of protest. The group, wearing brightly colored balaclavas, would perform guerrilla concerts -- places like Red Square to the "punk rock prayer" at Russia's most important cathedral, which has since come to international attention (watch a video below). We meet the three feminists who were arrested -- Nadia, Masha and Katia -- but the anonymous anarchist movement continues after their arrest. However, these three woman in particular deserve to be celebrated for their composure, their challenge to the Russian government system before and during their trial.
Director Mike Lerner and Maxim Pozdorovkin follow the story of Pussy Riot's formation, their idealistic approach to change and their persecution, in Pussy Riot -- A Punk Rock Prayer. The narrative, filmed over six months in 2012, is aided by interviews with the three women's parents, along with footage shot by the Russian Film Agency during the bizarre and intricate trial. The filmmakers had incredible access to the latter, however; during the Q&A at the Salt Lake City screening, they said that they would have loved to have been able to interview the women in jail.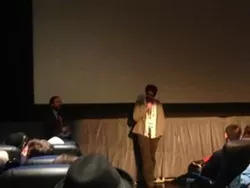 During the course of the film, it's said that punk rock especially, and performance art to a lesser extent, did not exist in Russia previously. There was no God-Save-The-Queen '77 movement. As teens and adults in other world powers have been demonstrating and protesting through song and art for decades, Pussy Riot was radical in this regard. But it wasn't the vehicle of their art that offended Russians, and the many folks who pressed charges there, it was what these people perceived as the group's infringing on their freedom to worship -- a point that most people aren't aware of outside of Russia, said the filmmakers. "They walked into the heart of Russia and took a shit," said one protester interviewed. "It's god's Shit," the song performed at the church, isn't about Pussy Riot's disdain for worship but about what they perceive as a lack of separation between church and state, and the inability for women to lead service in the church.
Pussy Riot is not a band, said the directors, they are a performance-art troupe inspired by the Viennese Actionism movement. After press from the Guardian spread, the filmmakers decided to follow the story. There were several concerns that intrigued them to make this film, they said during the Q&A: how a people can challenge the limits of freedom through art; how dangerous freedom of expression can be and how that is perceived in Russia and other countries; and what art can do to push the limits of expression.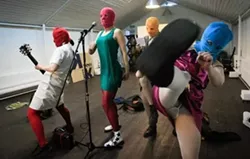 The Pussy Riot story is dichotomous. While the jail time these woman are serving (and currently sewing police uniforms, said the director) is unfortunate, it was a pivotal case that rippled to have worldwide attention, turning heads and questioning the power of art. They are martyrs, in a sense, even though they or the filmmakers would not say that. Sometimes, nonviolent acts have the most profound effect.