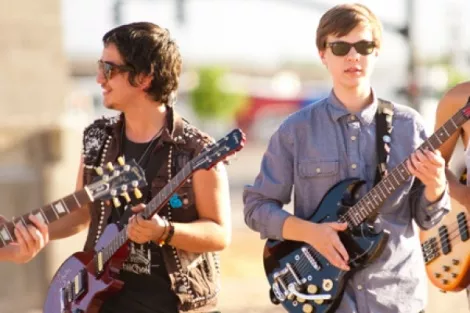 "I've been meaning to talk to you about something for awhile, about your problems with the syrup, and your problem with denial," sing Vinny Cavalcanti and Nick Miller on "Psychological Cool Guy," a tune that won first place in the GRAMMY Foundation and MusiCares Teens! Make Music Contest.---
Cavalcanti and Miller (pictured above) were part of Mystique, a band formed as part of nonprofit media-art provider Spy Hop's Musicology program, an intensive, yearlong band experience. For more info on Spy Hop and the program, go here.
"Psychological Cool Guy" is a tune about how an individual can succumb to drug and alcohol addiction and reveals the deep concern friends have for his unhealthy lifestyle. "One of the goals of Musicology is to push students to think about what they're writing and what the message is. They usually begin the year with no idea that they can write conscientious, thoughtful songs," said Jeremy Chatelain, Spy Hop's Musical Arts Instructor, in a press release. The song helped the duo win backstage passes to the Grammy awards rehearsal on Friday, Feb. 8, an iPad, a cash prize and an opportunity to release their song with Clarity Way Records.
The nationwide contest is a collaboration with The Partnership at Drugfree.org and a part of National Drug Facts Week. "This program provides an exceptional opportunity to showcase the combined work of the GRAMMY Foundation, MusiCares, and The Partnership at Drugfree.org, and it provides a unique opportunity for teens to share their perspectives on the issues of addiction," said Neil Portnow, President/CEO of The Recording Academy, the Grammy Foundation, and MusiCares.