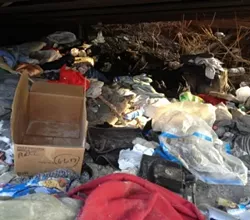 There is something quietly devastating about spending a day with Joel Hunt, a physician's assistant with the Fourth Street Clinic. He shows that homelessness isn't an issue, or even necessarily a choice. It's a compendium of human lives clinging at straws with which they try to build the best shelter they can.---
Trying to understand the potential impact of Medicaid expansion on people's lives for this week's CW cover story on Medicaid and health-care reform, I rode with Hunt, whom his patients call with much fondness 'Dr Joel' and his assistant Leticia Vasquez in a van that desperately needs replacing. He revealed that the fabric of lives out there on the margins, surviving one day to the next, are remarkably diverse.
After we visit the Sunrise Metro public-housing complex, Hunt drives to a spot by the Jordan River, where two men are camping in the bitter cold. Hunt takes their vitals, fills a prescription and hands out water.
Scott eats rice out of a fire-blackened tin can and complains of chronic back pain and a hand infection. He had built himself a small lean-to-cum-cabin out of panels. The police had told the 50-year-old from Arizona to take it down. He has a small, open-faced black metal box in front of his shelter where pieces of wood smolder. He wants to apply for Medicaid, but lost some of his papers.
"I know Medicaid would change my life," Scott says. If he could get help with his chronic back pain, he would have more energy to look for work, "rather than lay there and hope it gets better."
"If I could write four prescriptions, it would be for ID, social security number, birth control and housing," Hunt says.
Scott builds a small fire in the metal box, while another homeless man, Randy, moans at the cold and huddles by the meager flames. "We're just kind of hoping the weather breaks," Scott says. "Hopefully, things will change for us."
Later in the afternoon, Hunt finds two patients panhandling on the corner of 2100 South and 700 East in Salt Lake City. Jeff and his partner, Tammy, who's inside a nearby coffee bar keeping warm, are both 51 and have been homeless for six months. "He's doing his best to keep us together," Tammy says, noting that a shelter would require them to separate at night. They slept in a stairwell Christmas Eve.
"Insurance is real hard to come by right now," Jeff says. He's also dealing with chronic back pain, Tammy with depression, both with addictions and using opiates to self-medicate. When asked what he would say to the Legislature about expanding Medicaid to the homeless, he says, "If you're not completely crippled or don't want to pretend that you are, and at the same time be functional in the city, it's so hard to do. I can't get a job without insurance and Medicaid. If you don't have things to pawn or sell or a family to help you, all you're left with is breaking the law."
At the end of a long, ferociously cold day of tracking down homeless patients, Hunt pulls over near an entrance to Interstate 15 and walks down a snow-blanketed piece of land, marked off on one side by passing traffic and the other by a wall, behind which white vapor rises above houses. Between the wall and a row of bushes are several tents.
"Fourth Street, VOA," Hunt calls out. There is movement inside one of the tents, and then a tall man emerges, followed shortly by his female partner.
The young man says his name is "Alexis" as he munches on a chewy granola bar—the preferred snack of Hunt's patients because of their dental issues, Hunt says. Alexis talks about how two people "can keep their body temperature right where it's at" if both possess the following items: one garbage bag, one T-shirt, water and a jacket. Hit the walls of the tent, and ice falls down. Both are heroin addicts, Hunt says.
Alexis says Medicaid expansion would "make it so people don't judge you. You walk into a hospital and you don't got what everybody got, they look at you different." He recalls he and his partner going to a hospital with pneumonia, being given Tylenol and water and then "they let us go. I thought that was funny." Expanding Medicaid, he says, "should make everybody equal."
Hunt still worries that expansion to the vulnerable population he so diligently serves would mean that Medicaid would become "a scarlet letter." But, he adds, "at least the people caring for them would know they are going to get paid."
But the most haunting sight of the day is not the individual people, each struggling with their own burdens and needs, but rather a child's yellow toy car. Under several railway bridges by the Jordan River, vapor rising from its black surface, Hunt finds the remains of campsites: a few beer cans, boxes, discarded sleeping bags. One site has a mattress pushed up against the wall, from which a series of sunglasses hang in a row.
A second bridge campsite has several abandoned children's toys, including a yellow toy car, suggesting a family had been living there perhaps before the record-low temperatures drove them away.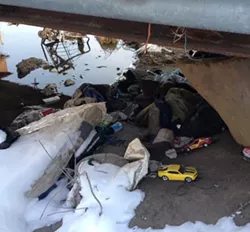 That toy spoke of trying to maintain a semblance of normalcy, of a boy running it backward and forward on the dirt while looking out at the river. It spoke of clinging to hope that things would get better, one day.