One of the most creative but kinda overlooked crafts are those made from paperworks. --- Simplistic by nature and decorative by design, artistic works made out of paper have become a staple of the local craft community, and have even produced several small businesses from Utah on Etsy that have become best sellers. Take, for example, the creations coming from Isabell's Umbrella, who has created lovely stationery, stickers, magnets and an array of other works that have turned her designs into must-have home items.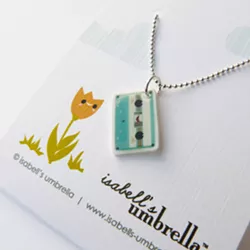 Today, I chat with the founder and creator of Isabell's Umbrella, Ashley Giessing, about her artwork and career, creating the small craft company and rising into success, thoughts on the local art scene and a few other topics. (All pictures courtesy of Giessing.)
Ashley Giessing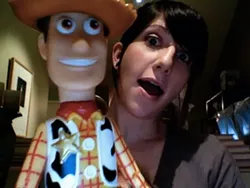 Isabell's Umbrella on Facebook
Gavin: Hey, Ashley. fFrst thing, tell us a little bit about yourself.
Ashley: I am a corporate designer by day, a wife, and mother to three little monkeys at night. I am someone who is obsessed with books, stationery, pens and old cool things.
Gavin: How did you first take an interest in art, and what were some early influences on your work?
Ashley: I have always enjoyed art from an early age. In school, art was always my favorite subject, and my schedule always centered around it. I remember the first time I met James Christensen, I was mesmerized by his work. I think this was the first artist I really fell in love with. Since then, there are so many more: Helen Dardik, Suzy Ultman, Mike Lowery, Susie Ghahremari, to name just a few.
Gavin: Did you have any kind of education in art, or were you mainly self-taught?
Ashley: I took art classes in school and in college at Salt Lake Community College, but I am mainly self-taught.
Gavin: When did you start working with crafts, and what drew you to working with stationery and papered works?
Ashley: I have always been obsessed with stationery; collecting it, writing letters to others -- there is just something special about receiving handwritten notes. So, I thought, why not combine my love of illustration with my love of stationery by creating something that you not only want to keep yourself, but compels you to want to share it with others.
Gavin: How did the idea come about to start up your own business, and where did the name come from?
Ashley: I have always dreamed of being able to start my own business, and be my own boss, to do something that I truly love, and to have the satisfaction of creating something that others love, as well. I have always loved the name Isabell. One of my early illustrations was of a girl holding an umbrella; I called her Isabell. One night as I was discussing names with my husband, Mat, he suggested Isabell's Umbrella. It was perfect, and the rest you can say is history.
Gavin: What was it like for you starting out and putting together your catalog of paper goods?
Ashley: It is a time consuming process. At first, we just threw stuff out there. I had a group of illustrations and not much thought was put into it. Now, there is more reasoning and planning that goes into our releases.
Gavin: What's the process like for you when creating something new, from the idea to final concept?
Ashley: 99% of my designs starts out on paper. Some are really rough, others are very detailed illustrations. I have several notebooks that I carry with me at all times, recording thoughts and ideas. From there, I go with the idea that I am most passionate about at that particular time. I take my sketch, scan it, and redraw it in Illustrator, creating a finished illustration.
Gavin: When you find something that works, do you play around with it and create variations or do you like to stick with the original?
Ashley: Both. It really depends on what it will be used for: note cards, art prints, magnets, etc. Sometimes, I am not 100% happy with it, the coloring, or positioning, etc. So, I will continue to work with it until it is perfect for the use I have in mind for it.
Gavin: Originally, you started out selling items on Etsy. What made you go through its shop rather than start your own website, and how was it selling to a broader market right off the bat?
Ashley: Etsy made it easy to start my business, and gave me instant exposure. I am not a web guru; there is so much I don't understand about search-engine optimization, etc, and to be honest, going the Etsy route just seemed like the right and only way to go at the time.
Gavin: This past year, you got involved with Craft Lake City. What was it like working that festival and showing off your works to local craft lovers?
Ashley: I have been so lucky to be involved with Craft Lake City from the very beginning, and I hope this will never end. The wonderful volunteers who work that show, and all of the wonderful people at Craft Lake City – they really have the artist's best interest at heart and bend over backward for us. Each show just keeps on getting better and better. The exposure is amazing – it is such a great opportunity to interact with customers, and to find other artists who share your same passion.
Gavin: Over time, you've branched out into other areas like bookmarks, note cards and, most recently, magnets. What has it been like for you expanding your business and goods, and how well has it played off on the customers?
Ashley: Not everyone is as passionate about stationery as I am, but that doesn't mean that they shouldn't have something just as cute, but more to their interests. It has been fun to expand our offerings; creating a little diversity in our products has allowed us to grow our customer base but still stay true to our mission of creating products you want to share with others.
Gavin: You've also started selling your works in local retail like Weller Book Works. What made you decide to branch out to physical locations, and what's the response been like?
Ashley: My goal when I started Isabell's Umbrella was to offer my products to retailers. Eventually this year, we have really begun to focus in this area. We were absolutely delighted when approached by Weller Books; I love that shop, and it has always been a dream to have our line available there. We hope to add other local shops to our growing list of retailers, so, really, we are hoping that this is just the beginning.
Gavin: Are there any other areas of paper crafts you'd like to start creating, or are you good with the items you're creating now?
Ashley: I recently purchased a Chandler & Price Letterpress. I took the semester-long course in letterpress up at the University of Utah, and have always dreamed of owning my own press. This last summer, through the word of a friend, I learned of a press that was for sale. We made the trek, and loaded the 1,500 lb. press in the back of my father-in-law's truck and brought it home. It was one of the most nerve-wracking experiences of my life, but well worth it.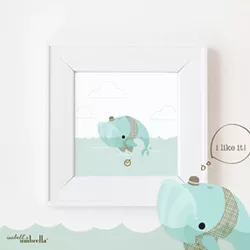 Gavin: What's your goal for Isabell's Umbrella, and where do you hope to take the business?
Ashley: I have always dreamed of exhibiting at the National Stationery Show in NYC; I am hoping next year will be the year for us. We want to continue to grow our list of retailers and introduce our new line of letterpress note cards.
Gavin: Going local, what are your thoughts on the Utah art scene, both good and bad?
Ashley: I think there has been a great push in the showing and appreciation of local artists. We have amazing artists who live here, and it seems like recently, people are really starting to notice.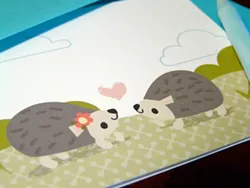 Gavin: Is there anything you believe could be done to make things more prominent?
Ashley: I think Craft Lake City is doing a great job at this by offering their artist workshops. I think that there are a ton of great galleries, and shows -- Beehive Bazaar, Farmers Market, etc. -- that really promote local artisans.
Gavin: While we're on the topic, what are your thoughts on the craft scene, and who are some artists you believe people should be checking out?
Ashley: There are so many, but my friend Candace Jean comes first to mind. Another is Courtney Blair -- Afternoon Delight on KRCL -- who creates amazing band posters.
Gavin: What's your take on events like Craft Sabbath, Beehive Bazaar and Craft Lake City and the work they're doing to promote local craft?
Ashley: Really, what would this scene be like without these amazing individuals behind Beehive, Craft Sabbath and Craft Lake City? They have allowed artists a way to share their love and passions with others. They do all the hard work and get little recognition. I can't imagine the amount of time and work that goes into putting together these events -- they are truly an amazing group of people!
Gavin: What can we expect from both yourself and Isabell's Umbrella over the rest of the year?
Ashley: A new line of letterpress paper goods. To continue to grow our retail presence, and -- fingers crossed! -- to illustrate a children's book.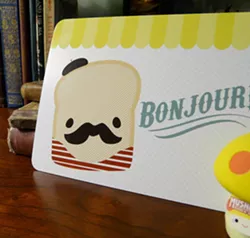 Gavin: Aside from the obvious, is there anything you'd like to promote or plug?
Ashley: My friend Courtney Blair's show on KRCL. She has a wonderful taste in music. We also began offering a subscription service at Isabell's Umbrella called Snail Mail Compendium, which offers a monthly package lovingly curated with a collection of Isabell's Umbrella goodies. We offer one-, six-, and 12-month subscriptions, making it affordable for any budget. Anyone interested can find out more information by visiting our Etsy shop.
| | | | |
| --- | --- | --- | --- |
| Follow Gavin's Underground: | | | |