While living in New York City, my grad school colleagues and I used to eat at least weekly at an inexpensive little Indian restaurant in the East Village called Curry Mahal. And, nearly every week I'd order the same thing: vindaloo. --- Vindaloo is a type of curry that comes originally from the state of Goa, on the western coast of India. It's a wonderfully fragrant-and-fiery blend of spices, along with a slight tang from vinegar.
In Goa, pork is commonly used to make vindaloo. At home, I often use chicken or shrimp. But you could also use veggies, tofu, potatoes, rabbit, turkey, beef, fish, or any number of other main ingredients. So, feel free to experiment. Don't let the number of ingredients deter you; this is actually a very simple dish to make. It just incorporates a wide variety of spices.
If you'd like your vindaloo hotter, add 1/4 to 1/2 tsp. cayenne pepper to the spice mixture.
Ingredients:
1/4 tsp. ground cloves
1/4 tsp. ground cardamom
1/2 tsp. ground dry mustard
1/2 tsp. ground cinnamon
1/2 tsp. ground ginger
1/2 tsp. ground cumin
1 tsp. ground tumeric
1 tsp. ground coriander
1 tsp. salt
1 tsp. ground black pepper
1 tsp. red chili flakes
1 1/2 Tbs. cider vinegar
3 Tbs. canola or vegetable oil
1 large onion, minced
3 garlic cloves, minced
1 14.5-oz can diced tomatoes, drained
1 lb. raw shrimp, peeled and deveined
juice from 1/2 lemon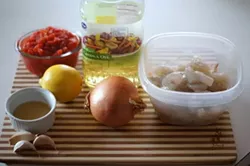 Method:
In a small mixing bowl, add all of the spices, salt, pepper, and cider vinegar.
Mix together well to form a paste.
Heat the oil in a large saucepan over medium heat. When the oil is hot, add the onions and garlic and cook until soft and just translucent, about 3-4 minutes.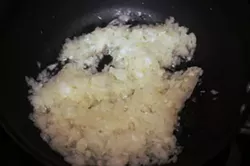 Stir the spice paste into the onion mixture and cook for about a minute, to release the aromas and flavors of the spices.
Add the tomatoes to the pan and stir well.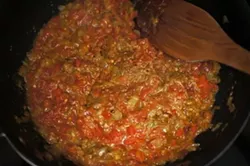 Bring the mixture to a simmer, then reduce the heat to low, cover the pan, and cook for 15 minutes. Stir occasionally.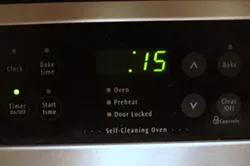 When the 15 minutes is up, remove the cover and add the shrimp to the pan.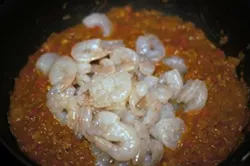 Cook, stirring frequently, until the shrimp are just pink.
Add the lemon juice to the pan and stir one more time.
Serve with hot basmati rice and naan or other side dishes, like dal.
Photos by Ted Scheffler