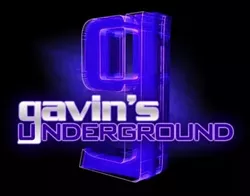 While we're sitting in the middle of ski season, there's a sure bet that if you haven't purchased new equipment after taking your old gear down the slopes once, you might be thinking about it now or for next year. --- Like anything else, skis and poles don't last forever, most getting broken or lost, so inevitably, if you're a frequent visitor to the resorts, you'll be buying something new every year, and at least one company would like you to consider their product (for the good of the environment) before you dive back in.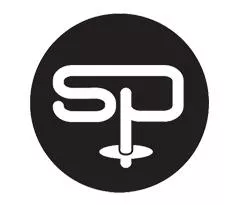 Soul Poles is a Utah-based company specializing in eco-friendly ski and trekking poles. The handmade poles are carefully chosen from specific materials to ensure durability and functionality while still keeping to the all-natural products used to create everything from the handles to the coloring products that make every pole unique or custom. Today, I chat with co-founder Bryon Friedman about his career as a skier, the idea and influence behind Soul Poles, the business in general and a few other topics from the former U.S. Team skier. (All pictures courtesy of Soul Poles.)
Bryon Friedman
Gavin: Hey, Bryon. First thing, tell us a little bit about yourself.
Bryon: To be honest, I'm kind of all over the map -- I guess that's the Gemini in me. I'm a skier at heart but surfing is my favorite pastime at the moment. There's a different element to the ocean; it's not like skiing a mountain -- the ocean is alive and you have to respect that every moment. You also have to respect the mountain at all times but it's a different energy coming at you. I'm also a musician and have been writing and recording songs for about 10 years. In the past, my songs have been influenced by personal experience, but after taking a break from music to start Soul Sports -- our first product is Soul Poles -- I've been writing a lot more universally. Finally, I'm the co-founder of a nonprofit that provides skiers with disability when they are injured. How's that for all over the map?
Gavin: How did you first take an interest in skiing, and what was it like for you growing up in the sport while living in Park City?
Bryon: My dad put me on skis when I was 3, but we didn't move to Utah until I was 8; then I started racing at 10. We moved from Atlanta to Park City, so it was a big change. You really don't have much of a choice when there are three resorts starting down at you, begging to be skied. It just made sense to go play and hang out with friends on skis. The mountain raised us and Park City had a great race program that developed some of the best racers in the country. I was fortunate to be coached by some amazing people and get the opportunity to attend the Winter Sports School.
Gavin: What made you decide to go pro, and what made you go toward professional competitions and global tournaments rather than jump on the extreme-sports runs?
Bryon: I remember it clearly. Park City had a World Cup race every November back then and we watched from the sidelines, front and center. Seeing some of my heroes inspired me, and I decided that's what I wanted to do. It just made sense to me; I was 12. Ever since then, it was tunnel vision to make the U.S. Ski Team and race on the World Cup and Olympic level. I never considered other extreme sports, In my opinion, downhill skiing is still the original extreme sport. I've been clocked at over 90 mph, flown hundreds of feet, and spent my fair share of time in the hospital.
Gavin: You joined the U.S. Ski Team and raced for over a decade. What was it like being a part of that team and competing for the U.S. during that time?
Bryon: It was an exciting time. The U.S. Team was just starting to become a force to be reckoned with. Daron Rahlves and Bode Miller were winning in all four disciplines and the coaching staff was all-time. There was a great vibe for a while there. I had the opportunity to travel the world and ski in some of the most beautiful places in the world. It all seems like a blur at this point, but it was good living and an amazing time in my life.
Gavin: I read that you were sidelined for a few years with a leg injury in 2005. What happened to cause the injury, and what was it like for you getting back to competition form?
Bryon: 2005 was a game-changer for me. I broke my leg in a gnarly downhill crash in Chamonix, France. It was rough because it's the first time I stood in the starting gate of a World Cup and knew that I was going to win. I was skiing the best in my life and had been top 10 in the last two World Cups but my plans were quickly sidetracked. I crashed going about 65-70 mph, my leg broke on impact and I cartwheeled 50 yards until coming to a stop. Unfortunately, my ski didn't come off so my broken leg twisted around every which way you can imagine. I was in surgery a couple of hours later, where they managed to save my leg but butchered it in the process. Eight surgeries later, I was put back together again. My scars actually looks like a shark bite -- no joke. That's what I tell people if they don't know me; it's an easier story to tell, haha. Getting back to form was both frustrating and excruciating. It took three years before I could race again, but I managed to work my way back onto the World Cup team. Ultimately, that crash ended my career. I couldn't find the gas pedal anymore. I was scared to push it and nothing was worth the pain I had gone through. Nothing.
Gavin: What made you decide to retire and pursue a career in music?
Bryon: It wasn't really a conscious decision to pursue a music career. During my recovery period, I opened up emotionally. I had a lot to think about, a lot to contemplate, as my career flashed before my eyes, and writing songs was my outlet. I was in a lot of pain both physically and mentally and music just made sense. Fortunately, I have some great friends who are amazing musicians -- Trevor Nealon and Damien Roomets -- and they encouraged me to record an album. I think they realized what I was going through and they wanted to help me out. It was our form of communication. At that time, I was living in Santa Barbara, which is a magical place to recover. I met a lot of great friends there who also inspired me to play more music, which ultimately developed into a career.
Gavin: When did you and Erik Schlopy first meet and become friends?
Bryon: I met Erik when I was a kid. I still have a poster signed by him when I was probably 13 or 14. He was one on my idols. Eventually, we became teammates and started training together more frequently. When I was injured, Erik was one of the only guys who visited me in the ICU in Chamonix. He and his wife, Summer Sanders, scrubbed in and kept me company for a couple of hours; I'll never forget that. Over time, we became really tight and started World Cup Dreams Foundation together to help athletes who are injured and need financial support to get back on their feet and back to competition.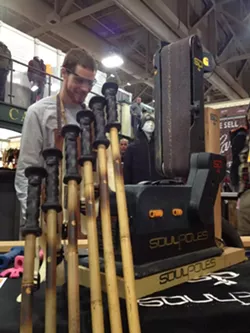 Gavin: How did the idea for Soul Poles come about, and what made you decide to form a business together?
Bryon: It started as Erik's idea to bring back bamboo ski poles. He was driving across Europe after he decided to retire from ski racing and the idea came to him. He told me about it, and after a year went by it kept sticking in my head and we decided to start to develop our first prototype. I love the creative side to marketing and branding and came up with the branding/marketing strategy and off we went to SnowSports Industries America to see if people were interested in buying our product. We secured a few early orders from some great shops so we decided to go for it and take the next steps to form a business.
Gavin: Where did you find the specific bamboo to make the poles, and how are they tempered to create a lasting ski pole?
Bryon: Choosing our bamboo was one of the most important decisions we were faced with in the beginning. There are over 2,000 species of bamboo and we narrowed it down to three that we liked the most. After testing them on the mountain, we eventually chose a species native to China that is very strong, resilient to cold weather, grows straight and is beautiful aesthetically. The first year, we relied on a distribution company to source our poles but we weren't getting the quality we needed for the hard-core skier. That's when I decided to go to China and actively search for a more reliable source. It was an incredible trip, and I eventually found a small family in a southern province of China that sources bamboo for fly-fishing-rod manufacturers in the U.S. The entire family picked us up at the airport and invited us to stay at their home. We rode motorcycles along dirt roads, looking for the best poles we could find and decided to work together. Now, most of our poles are stronger than aluminum and act like a natural carbon-fiber. Supply chain is everything. We also figured out more consistent way to treat our bamboo using a dry kiln. Each pole is dry-kilned at a specific temperature and re-hydrated to maintain its health and strength. Our process has became a science, and we back our product with a one-year no-questions-asked warranty. Even still, we have improvements to make. As a manufacturer, you can never become complacent.
Gavin: Considering the process that goes into making a standard pole, what steps do you take to make sure everything is done eco-friendly?
Bryon: Our goal is to leave no footprint behind. Obviously, this is impossible, but we strive to keep lowering our footprint and do our best to offer a premium eco-friendly product. For example, we use recycled materials and/or post-industrial waste for all of our grips and baskets. We also use a recycled PET plastic weave for our straps. Lastly, we use a zero-waste production while injection molding our parts. At the very end of the molding process, we regrind all of the different color materials, regrind it and mold it together. It make a really cool gray color, which we call Zero Waste.
Gavin: Prior to setting up the company, how much testing went into these poles until you know you had a quality design and product?
Bryon: Before we signed the papers to form the company, we tested bamboo poles for an entire winter. We would leave our poles outside during cold fronts, put all of our parts in freezers and test them again, and ski really, really hard with them. Not only did they hold up, they became the focal point of everyday lift-line conversation. It eventually became a social litmus test: Is this person sitting next to me going to notice that these poles are made from bamboo?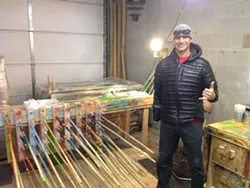 Gavin: What was it like for you to launch the company, and what was the early feedback like from the public?
Bryon: It was one of the scariest things I've ever done. Not only is it a financial risk, I basically gave up my music career for the time being to get it started. Fortunately, the early feedback was positive but we still had our skeptics. Some of the early poles that went out into the world were not our best. We were still learning about bamboo and how to make it stronger for skiers. Fortunately, there were a lot of patient early adopters who loved and stood by our product. By the end of the season, Powder Magazine rated us Gear Of The Year for 2012, which we were absolutely stoked about!
Gavin: Like any snow-gear company, you've got a team of riders who use the product. What was it like building that team, and who are some of the standouts you have today?
Bryon: Building a team is like building a family. You only want to work with people who share the same vision and are like-minded. Fortunately, we have some of the best skiers in the world who share our vision. Some of the standouts are Tatum Monod, Kaylin Richardson, Tessa Treadway, Brant Moles, Reggie Crist and Matty Richard.
Gavin: As a local company, near so many major resorts and being sold in local shops, how important was it for you to keep the company in Park City rather than expand and hit a coastal city like so many others do?
Bryon: Keeping it local is very important to us. Without the support of shops like Cole Sport, Backcountry and Bahnhof Sport, we wouldn't have signed the papers. Most importantly, it's the early adopters we are thankful for. We are forever indebted to your trust in our product, and we can't say enough about how thankful we are that you understand what we're doing. It's the best feeling when people see your product and get it immediately. In my opinion, it's a no-brainer to use a renewable resource vs. that of aluminum or carbon fiber, which is mined from the Earth.
Gavin: Aside from the ski poles, you also make trekking poles, but you've mainly stuck to winter sports. Are you looking to expand into other areas of winter and summer gear down the road?
Bryon: Although Soul Poles is our first product, we have plans to make more yea- round products that bridge the gap of winter and summer. This summer, you will see the world's first 100% renewable koozie made entirely from bamboo. We're calling it the Bamboozie. We also have hoodies and Tees made from recycled materials including plastic beer bottles, soda bottles and x-ray film.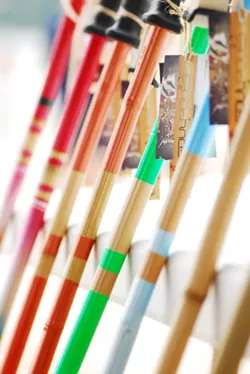 Gavin: Where do you hope to see the company over the next few years, and what kind of an impact do you hope the company has on the sport?
Bryon: Our mission is to create sexy products for soulful people. Our plan is to grow sustainably by producing products that last and to do so as eco-friendly as possible. All of our products have to pass through three filters: First, they're made from 70%-or-more recycled and renewable resources; second, they can be infused with art and style; and third is that they are functional. If an idea doesn't pass one of these three filters then we don't make it.
Gavin: What can we expect from you and Soul Poles over the rest of the year?
Bryon: We are taking the shop on the road to ski towns all over the West. This gives more people the opportunity to get their hands dirty and build their own equipment. So far, it's been very successful and a lot of fun. Look for us in your ski town, or drop us a line if you want us to make a trip to yours.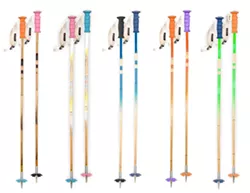 Gavin: Is there anything you'd like to plug or promote?
Bryon: Haha ... thanks for the opportunity. If you'd like to build your own poles online, you can go to our website to design your own set of soul poles. And if that isn't custom enough, drop us a line at info@soulpoles.com to schedule a time to visit our shop and build your own.
| | | | |
| --- | --- | --- | --- |
| Follow Gavin's Underground: | | | |