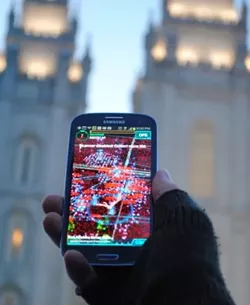 On a cold Thursday evening in downtown Salt Lake City, 31-year-old Web designer Sam Garfield is walking up Main Street, heading toward Temple Square. He stops next to the historical marker at the First National Bank, pulls out his Android and hacks the shit out of it with an XMP Burster. "I'm just gonna do a little damage while I'm here," he says, while tapping away at his phone.---
Obviously, the building is still in one piece. But on Garfield's phone it would appear he's done some serious damage. You see, he is one of thousands of people who take part in a new interactive game from Google called Ingress. The following is a trailer that won't explain a damned thing, but it will show you how epic and mysterious it's supposed to be:
The game, released back in November, is sort of like Foursquare meets World of Warcraft. Basically, the entire planet is split into two teams, The Enlightenment and The Resistance. Played entirely on an app for Android phones, Ingress uses Google Maps to force gamers out of their basements and into the real world. The point? Take over or "hack" portals for the good of humanity. The more you hack, the more you level-up. As we all know, it's important to level-up:
Now, bear with me as I try to explain this thing with little-to-no nerd jargon. OK, these portals (like the First National Bank sign) are embedded with code and are usually historical landmarks, statues or obscure street art (though, to much bitching and moaning, Google recently added its first commercial portals, Jamba Juice and Zip Car). Anyway, here in Salt Lake City, most of these portals are located in and around Temple Square. Ingress players refer to this area as "ground zero."
Now, in order to interact with portals, gamers need energy. This energy is called XM or exotic matter. It appears on the map as little fuzzy dots around the city, and players have to walk over the XM in order to collect it. The more XM you have, the more crap you can do in the game (which makes me think players should utilize rollerblades). "When I first started playing, there was a ton of XM over in The Gateway," pointed out Garfield. "Basically, it appears in places you never want to go."
Look at all that fuzzy XM just waiting to be eaten.
As I look down at Garfield's phone, Temple Square is a sea of blue dots. It would appear the Resistance are dominating the area. However, Garfield aligns himself with the green team, or the Enlightenment. To him, the Resistance are a bunch of brainwashed assholes rebelling against the freedom of thought. "I'm part of the Enlightened because I like the idea of progressive thought and spreading enlightenment," he said, as we headed toward Temple Square. "It makes sense that Utah is controlled by the Resistance right now. It definitely aligns with the current political climate."
An
Ingress
map of Salt Lake Valley's many portals.
Garfield may seem overly passionate about a fictional cell-phone game, but according to him and other players, Ingress isn't just an interactive version of Risk. Apparently, there's a deep philosophy and political subtext to the game. Like a viral marketing campaign, the story of Ingress is propelled by a virtual corkboard, where players can learn more and more about the story as it progresses. As Garfield puts it, "It's like playing a J.J. Abrams movie and we have no idea how it will end."
I don't think I'm alone here when I say that if Ingress ends up being anything like J.J. Abrams' Lost, then a lot of fanboys will be pissed. But unlike that shit-awful show, Google has a planned and concrete ending to Ingress and, supposedly, it will wrap-up sometime in 2015. I have to admit, the more the game's story was explained to me, the more it reminded me of Ralphie's disappointment at Little Orphan Annie's secret decoder ring:

Let's just hope Ingress doesn't end with "Remember to Drink Your Jamba Juice."
Don't get me wrong -- Google is great and all. But as we walked around downtown, I began to wonder if Ingress were just a creative way to harvest data for Google's evil empire. "What if this whole thing is an elaborate ploy to collect walking patterns for Google Maps?" I asked. This question didn't shock Garfield at all. "I mean, yeah, there are some theories that the game exists to help launch the Google glasses, which are supposed to come out in a few years. It wouldn't surprise me if Google turned us all into autonomous drones."
When we arrived at Temple Square, I expected to see a battleground of players running around and hacking portals, but it just seemed like business as usual. A few tourists were snapping photos and people seemed like they were on their way home. Garfield hacked a few spots while we were there and we waited around for anyone to show. Nothing. He looked down at his game feed and pointed out that there seems to be a lot of action over in West Jordan. "You know, most of this game is played late at night, like 4 a.m." he said. "Bullshit," I thought. "Who the hell would get up at 4 a.m. to play this game?"
The next morning, I received an email from Garfield, "I just checked and it looks like Temple Square is mostly green now. We will see how long it stays that way." I then realized that Garfield wasn't full of shit -- downtown really has become a goddamned turf war for nerds. In other words, there was a firefight and there will be more to come.